MyProximus Enterprise for professionals
Published on 09/08/2019 in News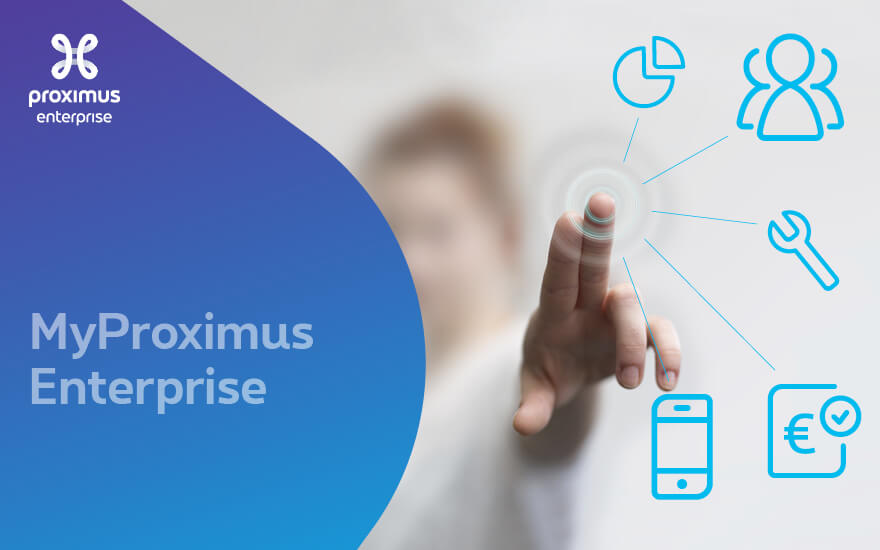 Have you heard about the MyProximus Enterprise portal for ICT professionals? You receive round-the-clock access to smart apps, divided into functional categories, that you can use to manage all aspects of your company account.
No MyProximus Enterprise account yet?
For The ICT Manager
As CIO, it is important to scale your network in line with the evolving needs of your business in time. To do that, you need reliable data on your company's network. So MyProximus Enterprise offers you the possibility of requesting this crucial information:
The performance of your Proximus Explore network
The network availability
The bandwidth used
The peak data traffic times
The support of your critical applications
An overview of scheduled interventions on the network
In addition, you can prepare trouble tickets or request modifications to your infrastructure, such as extra virtual servers in the Proximus data center, on line.
For the fleet manager
Are you responsible for the mobile devices and price plans in your organization? If so, you need a clear idea of mobile use in your company. MyProximus Enterprise gives you the tools to:
Link mobile numbers to user names and organize them in groups
View standardized or specific reports on mobile use
Make simple modifications, such as blocking a SIM card or activating roaming functions
For the administration
The first thing you can do is switch to digital invoices: it's better for the environment and more efficient. In addition, it's handy to be able to view your invoices at all times so as to have a clear idea of the costs. Via MyProximus Enterprise, you can:
Choose the invoicing method
View invoices on line
Consult reports to have a clearer idea of your costs pattern
Discover the smart digital services for companies and authorities:
The MyProximus Enterprise professional portal is accessible via the homepage of the website. You will also find the web form to request access here.
Register as Digital Access Owner on MyProximus.