Mobility
Published on 01/06/2015 in Inspire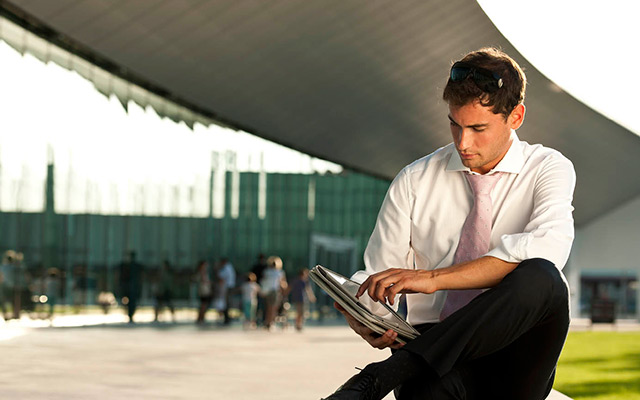 Today's companies need to be mobile: more and more companies have workers in different time zones. Your customers, too, have become more mobile and expect the same from you. How can mobility increase your productivity while keeping both your customers and your team happy? We talked to three organisations that recently revamped their operations.
Ten years ago, life was still easy as pie. Showing up at the office was all one had to do, because that was where the infrastructure was: telephones, desktop computers, fax machines and the company's data. Nowadays, almost anybody could work from home. VDAB (the Flemish office for labour mediation) is a case in point. Their clients and services have become more mobile—job fairs and traineeships are all the rage. As a result, communication with their clients needs to be mobile, too. VDAB's clients now have a host of access points to its services. This has forced the office to adapt and to accept a growing number of homeworkers. "This was set in motion about two years ago, at the launch of Google Apps," recalls Paul Danneels, CIO VDAB. "It allowed our team to access all documents and files while on the move, and further boosted by an exponentially rising demand to use one's own mobile devices." Thanks to Google Apps, files and e-mails can now be viewed over the internet. "We jumped on the bandwagon, because we need to be open to the outside world."
New Way of Working
New Way of Working first and foremost means that time and place are less important than a job well done. Thus, workers are free to decide where and how they want to work. They are given the opportunity to organise their work in any way they see fit, which has become possible thanks to unlimited access to the network and ubiquitous connectivity. This is expected to result in better and more efficient service to the company's clients.
The New Way of Working is multi-facetted. Proximus, too, has launched a New Way of Working project and allowed about half of its workforce to work from home one or two days a week, in joint consultation with their colleagues. "Working from home is only a small part of the overall project," explains Erik Hendrix, the business development manager at Proximus, citing three stakeholders who are involved in such a project: the facilities department that manages the premises, the IT department and HR. All three are concerned. The New Way of Working indeed requires a new office environment (with a growing number of flexdesks) as well as a matching division of labour. According to Erik Hendrix of Proximus, the biggest challenge of any flexworking project is how the HR department deals with it. "They need to explain the concept to the entire workforce, i.e. 14,000 individuals." Communicating this in the right way is key, as is a revised HR approach that includes flexible rewarding. At Proximus, for instance, workers can convert their time to money or the other way round.
Yet, a Flexible Way of Working first and foremost affects the workers themselves. When the financial solutions group DLL moved to a new building, the management decided to also revise the way in which people worked, and introduced both flexworking and working from home. "We asked all our departments to share their ideas about what the new building should look like," reports Wendy Nuyts, Country HR Manager at DLL. Every department was invited to appoint a spokesperson. "The response to this initiative was overwhelming."
Devices
In addition to the workforce, HR and premises, mobile devices are crucial for a successful implementation. New devices indeed allow people to work almost anywhere. Bandwidth has long ceased to be a bottleneck. Nowadays, people expect to be able to work anywhere: heavy traffic and external appointments often force them to work either from home or while on the move. Ultimately, more flexibility allows them to provide better service for their customers.
The latest generation of mobile devices makes mobile working easier than ever before, thanks mainly to smart iPhone and Android devices. Tablets are on the rise, too, in the corporate world: according to research conducted by Computer Profile one company in four in Belgium has already switched to tablets. This migration towards mobile devices is expected to grow exponentially as the devices become more powerful.
Lots of organisations, like VDAB, offers their workforce discounts on the mobile devices of their choice and pay for their internet subscriptions at home. Paul Danneels: "Our 5000 workers can choose their mobile devices on a dedicated portal, and we take care of providing technological support in terms of security and accessibility. Emails, documents and the calendar are accessible in the cloud 24/7."
Result
At VDAB, maximum availability is considered a big plus, because workers no longer have to be on-site but can stage job fairs, meet potential employers and simply work from home. Thanks to Google Apps and the internet, they can now access all files and communicate with co-workers from wherever they happen to be and therefore spend less time at the office. This has boosted VDAB's efficiency.
In addition to an efficiency hike, Erik Hendrix cites savings with respect to office space and fuel consumption as obvious advantages. And there is more: workers seem happier and more committed to their assignments. "90% of our workers stated that their job satisfaction has increased thanks to this initiative. After our New Way of Working project was launched, short-term sick leave dropped by 25%," he gleams. "Obviously, we will have to wait a little longer to decide whether this trend is here to stay, but it is still a positive signal. Short-term sick leave, or absenteeism, is considered a good indicator of job commitment."
Exactly how mobile are companies today?
Almost half of Belgian office workers (48%) are free to work from home from time to time
Almost three in ten (29%) work at an office with flexdesks (the notion of dedicated desks is being dropped in part).
Owners of mobile devices using their own devices for and at work
Which privately-owned mobile device do you use for your work:
Smart Phone: 45%, Tablet: 21%, Laptop: 14%
Not quite a quarter of European IT managers (24%) believe that their company provides sufficient support for mobile work
Companies that switch to tablets for job-related purposes: 2012: 9% – 2014: 24%
One
One magazine is the Proximus B2B magazine for CIOs and IT professionals in large and medium-sized organisations.
Other articles of One