Sustainable innovation begins by listening to the customer
Published on 26/10/2017 in Inspire 
Innovation is a must in every business. We all want innovation that leads to sustainable growth. How do you start? According to two specialists from Vlerick and Solvay Brussels School of Economics and Management, the basis for innovation is a deep interaction with the customer. Together with two Proximus directors, they exchanged thoughts on Marketing Innovation.
Watch here the full video of this panel discussion on strategic innovation
Doing better day by day
It seems to be a dilemma: a business has to produce and deliver every day and yet, at the same time, it needs to set aside time, money and people to innovate. Because, without innovation, you can't continue to grow or make a difference. It doesn't have to be a dilemma.
Ideally, you can innovate as your business operates. You can create the right mindset in your business at all levels of your organization. Every member of staff has creative ideas and can see something, read something, hear something. And has contact with the customer at various moments in the purchasing process. The answer is often within reach. And it lies in the little things. For instance Amazon – well known for innovating – maintains that 70% of their added value comes from small, incremental and evolutionary improvements. Not revolutionary interventions, but 'doing better' day by day.
Innovation often involves trial and error, and mistakes can lead to new insights. So it is important to allow for failure and to encourage your staff to try out new things.
What does the customer want?
Of course, everything revolves around the customer. He or she indicates what direction we should take and not the reverse. What good are 'likes' or thousands of followers if they don't buy? To be successful in business, knowing what the customer wants is crucial and timeless. Listening to the customer is not difficult. Everyone who is in contact with the customer can listen, ask the right questions, start a discussion.
So daily contact with the customer can bring a lot of information. This approach requires a new mindset: being prepared to listen and to understand what the customer is looking for and then doing something with the things you hear.
After listening, the next step is interaction with the customer: asking questions by telephone, e-mail, web or other channels is obvious. One new method is hackathons or hacking marathons during which you hold brainstorming sessions about a project with a group of people. Or co-creation, which involves developing new services together with customers. In both cases, the customers feel very much involved and you establish a special link.
No wonder that these days, major innovations no longer come from big groups, but from SMEs. They are close to the customer and are able to adopt a different approach quickly.
Focusing in and zooming out on three levels
To succeed, you can look at your business through three possible lenses: the short, medium and long term.
With the first lens, the short term, you focus on what can be improved now. Small, incremental improvements, evolution rather than revolution.
In the medium term, you zoom out and look for solutions. Which solution can you implement for which problem? Take a look at the customer journey and ask yourself this simple question: what does the customer do ten minutes before or after purchasing or using my service or product.
In the long term, you go a step further and look at how your service or product can be replaced by something totally different in the digital world. How can the same job be done by the digital twin of your product or service?
Everyone can innovate
Innovation is an opportunity.


Divide the challenge into small parts and build up an innovative path, step by step.

Your business can never be too close to the customer.


Contact is essential to find out where you can innovate. So don't outsource this contact.

Every business can innovate.


It is no longer the big companies that force the small ones out of the market, it's the fast entrepreneurs who overtake the slow ones.
Some tips to innovate:
Enter into dialogue with the customer
Talk to the customer is the motto. And everyone in your company can do that, every time they make contact. The important thing here is to provide a structured system for that feedback. What do you do with the information gathered? So plan time to discuss this together. Organize advisory boards, where you meet systematically with customers to discuss what needs to be improved and above all, how.
The three-lenses approach
Talk to the customer, fine, but what about? Use the simple three-lens approach: short, medium and long term. If every member of staff is part of this concept, then everyone can contribute something. And there is room for every idea, so all the feedback will count. Product innovation is divided into small, feasible steps which, moreover, are perfectly quantifiable.
Innovate, for whom?
Many marketing people look to the so-called millenials. But there is also the silver society. The former are digital natives, while the latter are digital immigrants. Both need to be on board and feel comfortable with your range. There is not just the customer. Pigeon-holing them is too restrictive. Make sure there is a human touch as well as the digital touch, so that everyone feels involved.
Innovate in any case
Innovating often comes down to cannibalising income. Income from one product is transferred to another service. In itself, this is not serious, and better that than it being transferred to your (new) competitor. Innovating also means choosing how you use your people. So make deliberate choices, even if they are (temporarily) painful, and be ready to review them regularly with a view to the long term.
"One handy tip is to use three lenses to look at innovation. With the first lens, you look at what you are doing at the moment and what can be improved. If you zoom out, you can look at innovation through the second lens, based on solutions to a known problem. The third lens offers an even broader perspective and seeks a totally different business model."
Marion Debruyne, dean of the Vlerick Business School
"It's about establishing a link with the customer in every phase along the way. If you take the time to observe your customers, listen to their needs, likes, wishes and fears, you will gain valuable insights. Forget the distinction between B2B and B2C, now that there is C2B and C2C, as well. Instead, focus on H2H, human to human, that's what it's all about."
Sandra Rothenberger, professor of Strategy, Governance, Marketing & Innovation at the Solvay Brussels School of Economics & Management
"Sustained innovation is not possible without a cultural transformation in your company. It calls for a corporate culture where people dare to and are permitted to take risks, and where a failure can be valuable, too, as long as lessons are learnt from it."
Jan Manssens, Director Strategy & Innovation at Proximus
"Innovation is absolutely essential. So why don't we do it? There is huge pressure to achieve short-term results, whereas innovation requires investment in the long term, as well. It's a balancing act, where the company has to deploy people and resources to achieve both ends, both in the short and the long term."
Jan Paesen, Head of Marketing Enterprise Market at Proximus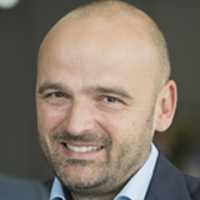 Perspective
Magazine and online blog for business leaders, brimming with new insights for a fresh look at their company.
Other articles of Perspective