The connected manufacturer
Published on 15/04/2020 in Sectors 
Connectivity in the Industry 4.0 area is hyper crucial, supporting your always-on and secure production.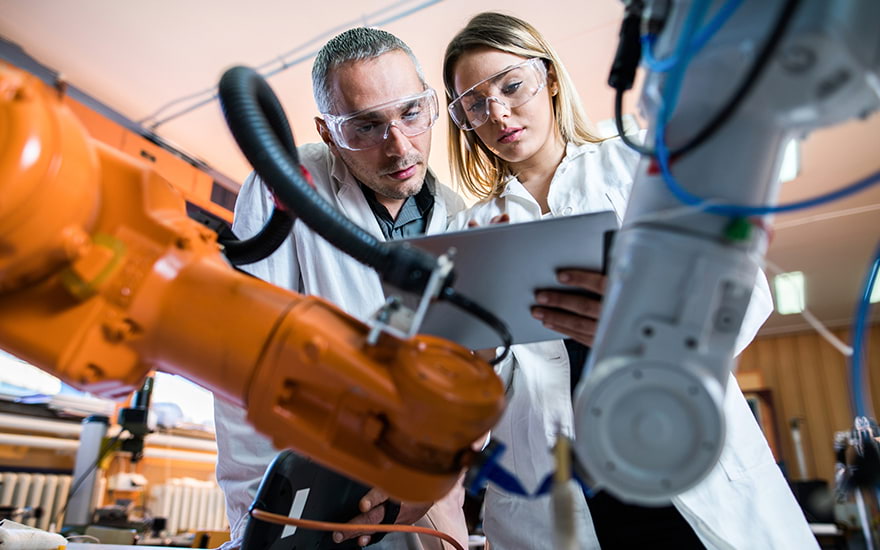 Always-on connected manufacturer
Every minute of non-production is costly.How can you avoid unplanned downtime and be assured that your smart factory plant processes run smoothly? Connect assets to processes, systems and people.
Companies report on average 10–12 percent gains in areas such as manufacturing output, factory utilization, and labor productivity after they invested in smart factory initiatives.
Deloitte
As a connected manufacturer you rely on modern business processes and innovative Industry 4.0 concepts. This requires:
Fast data transfer with low latency
Business continuity via data redundancy
Strong data security
High bandwidth and low- latency increase your level of productivity whether you're only just embarking in your IoT journey or you're already investing in artificial intelligence like machine learning, deep learning, etc.
Our technical staff is now able to communicate with our suppliers from anywhere within our new building.
Martijn Mennen CIO Agristo
1. Fast data transfer with low latency
Rely on a private and secure network that assures fast connectivity. The Industry 4.0 manufacturer collects a massive amount of data to generate useful insights and improve efficiency, speed and quality of operational activities.
Taking the first step towards a digital supply network? Discover how Optical fiber, Campus network or SDx infrastructure ensure high bandwidth availability and low latency.
Customer Stories
VPK Packaging uses fiber to support their centralized ICT model.
At VPK Packaging, all applications supporting their business processes (such as sales order, production planning and transport optimisation) are managed by a central ICT model. For flawless operation, the company relies on fiber.
Volvo
Volvo cars opted for Fiber and secured its future by fast order placement and guaranteeing delivery. They can focus on strategy, while IT focusses on implementation and flawless operation of fiber.
We can now be certain our bandwidth grows along with our product range and that we're ready.
Marc Scheir, Volvo Cars
This is why Volvo opted for faster connectivity
2. Business agility through flexible data storage
The choice of hosting your applications onsite or in the cloud is often made depending on their level of criticality.
Digital transformation challenges in manufacturing will have a very high impact on the evolution of your key ERP apps ("SAP HANA like").
Proximus has the capabilities to provide you with a range of solutions from on premise to public cloud and hybrid cloud solutions covering best of both worlds. This offers you the agility in moving apps from on-premise to cloud if needed.
Discover how you avoid risking costly downtime
3. Strong data security
Cyberattacks cause gigantic production and financial loses.
Being a connected manufacturer makes you more vulnerable to attacks on your system. Secure your company and entire production process by:
Collecting and analyzing raw data in a single system across all IT systems
Responding quickly to both known and unknown threats.
Detecting advanced and emerging attacks early