The Internet of Things: the revolution has begun
Published on 09/11/2017 in Inspire 
The Internet of Things (IoT for short) is little by little revolutionising our day-to-day experiences. The Gartner Forecast estimates there will be 20.4 billion connected devices by 2020: this represents infinite possibilities. Let's delve further into this IoT trend that is now part of our reality.
What is the IoT?
Both technology and market development, the Internet of Things is based on the connectivity of everyday things, both to each other and to applications. The possibilities are endless when devices, machines and other things are equipped with sensors and connected to the Internet.
The current technological context is ideal for the development of the IoT: technology costs less, mobile Internet is better and better and more devices are manufactured with built-in sensors and Wi-Fi capability. In fact, all devices can potentially be transformed into a connected device. According to the Verizon study, "State of the Market: Internet of Things 2017", 73% of company leaders questioned are currently running IoT projects or are considering it.
The future for businesses
The IoT will slowly expand into all sectors: asset tracking, stock control, transport, smart city applications, energy conservation… the IoT will develop around three major themes:
Operational excellence

Process optimisation is the root of operational excellence. Company processes that have been digitised are fully automated. These processes are analysed in real-time thanks to the IoT. It is therefore possible to act in a timely manner, often even before an actual problem arises.

The processes go through a platform that is accessible by all: collaborators, clients, partners and connected devices. This creates a unique and single ecosystem. The real innovation lies in the automated management of things (as they are often physically located outside the geographical confines of the organisation), remotely and in real time.

The Benefits for a company or organisation :

Guaranteed continuity of any activity;

Reduced overall cost;

Smaller risk of errors;

Focus on creating added value.

Customer experience

The availability of modern technology has increased customer autonomy. The customer experience is therefore optimised through permanent availability (always-on), coherent response times and secured systems. Having said that, mega data and smart supercomputers will not fully replace the experience and social intelligence of human beings just yet. Companies must combine mega data and employee expertise.

Flexible organisation

When at work, collaborators want the same user friendliness and productivity they can get at home. The work methodologies are adapting, through the IoT, to the needs of employees. No longer is it the other way around.

To be able to meet the expectations of today's consumer, enterprises engage in collaborations within their own markets, but also with suppliers, stakeholders and customers. Thanks to these collaborative efforts, companies develop better performing products, and personalising them…
The stakes of the IoT
Such a (r)evolution does not come without its fair share of questions. There are three concerns that require attention.
Data security. How can you efficiently protect the data that is being aggregated?
Data sharing. The European Union will again have to consider legislation regarding the handling of personal information.
Data storage. Each device in the IoT produces a small quantity of data. How can you properly sift through this data?
And what about you in all this?
The transformation potential of the IoT is enormous, perhaps even comparable to the introduction of electricity back in the day. It brings with it an improvement in efficiencies, ease of use, faster services that offer better quality, reduced costs…
It is therefore essential to keep a close eye on this evolution that can potentially influence your sector. You must gauge the impact it could have on your activities. Think about what the IoT can mean to you today. Your competitors have already begun doing just that! Connectivity solutions exist (Wi-Fi, 4G, and the LoRa network to name but a few), as do the sensors (which come equipped with long-life batteries) and the software platforms. The only missing piece is you.
Know everything about wifi, 4G and LoRaWAN™
Do you want to know more about the Internet of Things and discover how we can help you develop into a digital leader?
All our IoT solutions Questions about IoT?.
Read other articles
---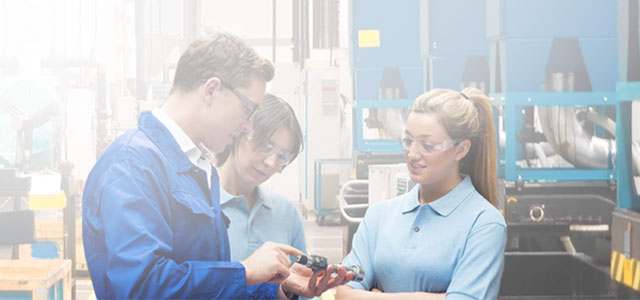 Internet of Things has a revolutionary impact
A flexible company whose processes are more efficient and more effective? It's possible with the Internet of Things. Follow the latest evolutions.
More info
Perspective
Magazine and online blog for business leaders, brimming with new insights for a fresh look at their company.
Other articles of Perspective