IoT helps Bebat collect batteries more efficiently
Published on 12/07/2021 in Customer Stories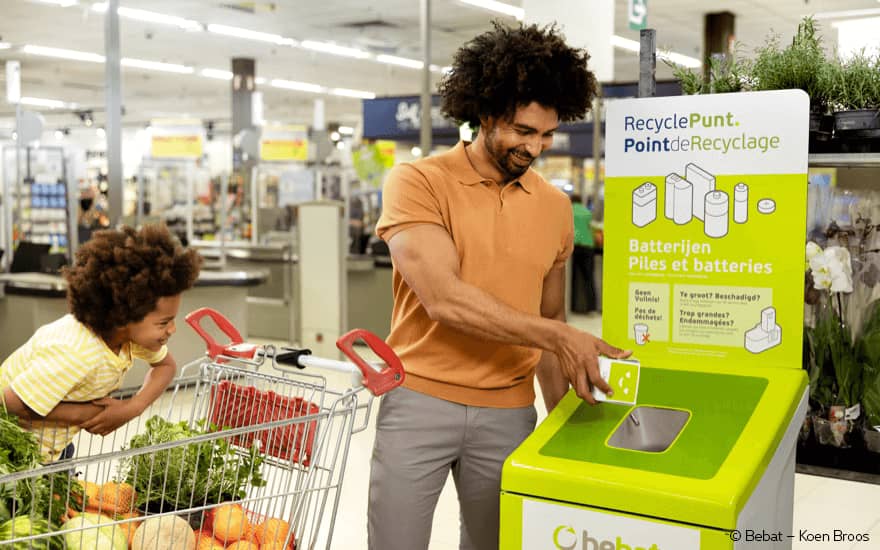 Data analysis makes Bebat's collection network smarter. A large-scale IoT project in cooperation with Unitron Connect is making managing battery collection points smoother and the entire logistic process more efficient.
BebatNew window is responsible for the collection and recycling of batteries. Bebat was founded by battery producers as a non-profit organization. Through Bebat, they comply with their legal obligation to accept used batteries in return. Today, Bebat manages a network of 24,000 collection points. Consumers can dispose of their batteries at the well-known green containers in recycling parks, supermarkets and other shops, schools and companies.
With its network, Bebat annually collects 3,600 tons of used batteries, 90% of which it then recycles. The residual waste of the average Belgian contains barely one battery per hundred kilos. This makes our country the leader in Europe.
Seven years ago, Bebat started its first IoT project. A sensor tracked the fill rate of the containers. When a container was almost full, Bebat automatically received a message that it was time to collect the batteries. That meant that there was no need for anyone at the location - for example in a department store or a school - to monitor the container. "The market for sensors and IoT solutions has since then evolved significantly," says Nele Peeters, Director Marketing, Operations & Innovation at Bebat. "So we started looking for a way to make our network even smarter."
More Efficient Logistics
At Bebat's request, Unitron ConnectNew window developed a new IoT solution. "We specialize in purpose-built IoT," says Jan Bogaert, Business Unit Lead at Unitron Connect. "We build hardware tailored to a specific IoT issue." Here, it was about a modular expandable solution for Bebat containers. The solution consists of sensors that can do more than just monitor the content, a tailor-made antenna and a battery that can power the container for a long time.
With the new solution, Bebat mainly aims at optimizing its own logistics. "The availability of more detailed information on how full the containers are should enable us to organize the collection of the batteries even better," said Peeters. "When we empty a container somewhere, we will also empty any other containers in the area that are not quite full yet. That way, we avoid having to send another truck to the same region the next day. That way we make our transport planning more efficient."
IoT provides us with additional information. That allows us to organize the collection of batteries more efficiently.
Nele Peeters, Director Marketing, Operations & Innovation at Bebat
"The whole exercise fits within our ambition to scale up further," said Peeters. Bebat is growing from 1,200 to 20,000 connected containers. The new sensors can measure very accurately. This is especially important when measuring the fill rate. Containers in department stores fill up much faster than in, say, a pharmacy. Bebat must therefore plan the collection of these various types of locations differently.
Batteries From Electric Vehicles
Bebat is also expanding its activities. It has developed a special container for collecting electric vehicle batteries. Unitron Connect equips this with a sensor that measures the temperature. "When storing such batteries, this is essential," said Peeters, "because there is a risk of ignition." In the long term, Bebat wants the sensor to not only send out an alarm if there is a fire, but also start the extinguishing process. An accelerometer also detects when the container moves which is useful as an extra safeguard against the theft of these valuable batteries.
Unitron Connect relies on Proximus for connectivity. "We are working with a combination of narrowband-IoT and LTE-M," Bogaert continued. "Proximus provides a solution for national roaming. The container always connects to the nearest antenna, even if it belongs to another operator."
Proximus provides a solution for national roaming. The sensors always connect to the nearest antenna.
Jan Bogaert, Business Unit Lead at Unitron Connect
Further Expansion
The rollout of the containers with the new IoT solution will start in the summer of 2021. Recycling parks will start followed by retail, schools and businesses. "By the end of this year, we want to equip eighty percent of our pick-up points with the new system," Peeters concluded. "After that, we're going to expand further. Schools are running special campaigns raising funds with each kilogram of batteries they collect, for example for sports equipment or a school trip. We're looking at whether we can collect data through the sensors to keep the schools better informed."
Which network best fits your IoT project?
IoT sensors monitor the temperature of vaccines