Interview with Peter Bal, 'CIO of the Year 2015′
Published on 11/03/2016 in Inspire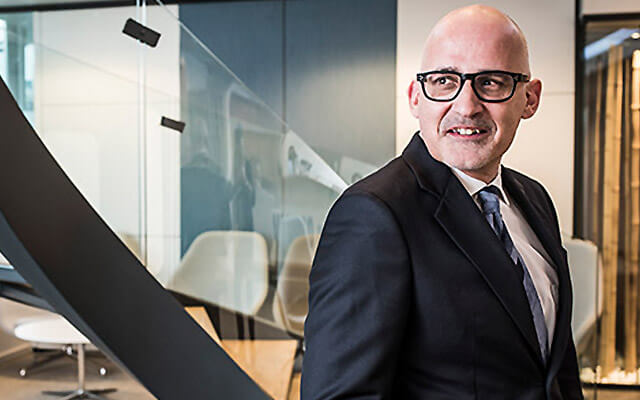 Digitalization is creating interesting times for CIOs once again. Of course, IT has to keep providing operational support but, at the same time, it is being given another role. "The availability of new technologies is changing existing business models," says Peter Bal, CIO at Wabco. "That brings a new challenge for the IT department, but also an opportunity."
Wabco is a global market leader in vehicle technology. The company develops and produces braking and suspension systems for trucks, among other things. Wabco employs 11,400 people in 38 countries. CIO Peter Bal has his office in the headquarters in Brussels. At the end of 2015, the specialist journal Data News named him CIO of the year in recognition of the remarkable path that Peter Bal has traveled with his team over the past few years. "Operational excellence remains an important core task for IT," he says. "We haven't lost sight of that. We see IT as a means of simplifying systems and applications, which saves time so that people can get round to other things more quickly." This is an important observation, particularly in an environment where business and technology are developing at lightning speed. "There's a lot of volatility. It's essential to be able to react quickly to changes. In the best case, you can anticipate them."
Of course, IT doesn't just focus on improving their own activities. Peter Bal: "We devise solutions to increase productivity in the other business units." That requires not only a thorough knowledge of the IT systems, but also of the operating processes to which they are applied. "The shared service center is the best example of this. There we have combined and optimized processes." The digitalization of operating processes – and the expansion of the entire business – is both a challenge and an opportunity here. "In terms of IT, we are living in very interesting times," says Peter Bal. "Digitalization means that the CIO has to take more initiative. That's fairly new." Until recently, the CIO played a more supportive role. "Now more than ever, the CIO looks at how technology can improve a company's business model."
IT takes the lead
In the case of Wabco, cooperation with clients and partners plays a crucial role. "We usually develop our products and services together with the client. But, more and more, the market expects us to take the lead." So Wabco is shifting towards fleet management, among other things, by taking over Transics, a Belgian company that develops solutions for the transport sector. "In this context, as CIO you have to be given the space and the confidence to start up disruptive projects, even if there is no classic business case for them beforehand." So IT is both an enabler and a driver of the business. "Step by step, we are moving into a real data business. More than a hundred thousand trucks are driving around with our on-board computers. The data collected are the fuel for new applications, as regards platooning, for instance." Here, trucks drive close together in a group, which lowers the energy consumption, among other things. Via IT, the braking systems on the trucks are interlinked, so that they all brake in the same way.
Business is IT
"This example shows how business and IT are interwoven. Our business is becoming more and more IT, and vice versa." The whole concept of self-driving vehicles is based on connected applications. "The important thing now is to integrate the existing systems for vehicle follow-up with new applications. Hauliers that want to stand out are actively pursuing this at the moment." It's a development that brings the role of IT at Wabco more than ever into sharp relief. "It's with the combination of technology and leadership that we can make the difference here," concludes Peter Bal.
3 tips for the CIO
1. Mix modesty with ambition
"Belgians are level-headed. They have both feet on the ground. It's an excellent characteristic. If you wallow in complacency, then you remain blind to new opportunities. Generally speaking, Belgians can work well together. The Belgian compromise offers the CIO a key advantage: it leads to a partnership where everyone wins, not just your own company. But Belgian CIOs should demonstrate something more. In the context of digitalization, companies need a CIO who takes initiatives, who is ambitious: an entrepreneur in the enterprise. As CIO, you have to dare to put forward ambitious objectives – and then achieve them. With confidence and credibility, the CIO can increase his or her role in the company."
2. Communicative leadership
"If the CIO wants to fulfill his objectives, then he has to understand his environment perfectly. That insight enables him to pick up on trends and developments and anticipate them. The CIO must make the company management enthusiastic about new ideas, so that he is given the confidence to turn them into concrete projects. Communication is extremely important here. By clearly communicating his ideas, the CIO has to bring both his own team and the management on board."
3. Learn from the best
"I think it's very important to regularly share experiences and ideas with colleagues. I do that, among other things, through the activities of CIONET, CIO Forum, Euro CIO and the MIT Club. That way, you learn a lot from other CIOs and suppliers and you quickly pick up on new developments. It's that sort of speed that leads to a competitive advantage."
As CIO of Wabco, Peter Bal combines his passion for technology and leadership. He did so even as a student, as he has diplomas in both industrial engineering and business studies. Peter Bal began his career with Imec. Later on came jobs at Alcatel, Proximus and Swift. Since 2007, he has headed up the IT department at Wabco: a team of 200 IT staff, plus 110 people in various functional areas in the Wabco shared service centers in Poland and India. In addition to this, he leads a team of 200 in the product development department at Transics, a Wabco subsidiary that offers fleet management solutions. Peter Bal won the Wabco Chairman's Award for the development of the current team. Specialist journal Data News named him CIO of the year 2015.
One
One magazine is the Proximus B2B magazine for CIOs and IT professionals in large and medium-sized organisations.