Digital Transformation: how do you keep up?
Published on 06/04/2018 in Innovate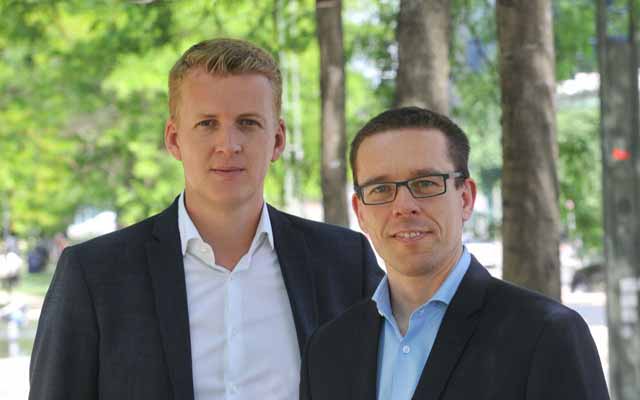 Digital transformation? "No company can avoid it these days, but how do you ensure you are taking the right steps to ready your business for the world of tomorrow?

Through a partner that understands what's going on in your business

say Stefan Bovy and David Van Eynde.
Technology: the catalyst for digital transformation
Today's worldwide digital transformation is centred around three principles:
improving the customer experience
more efficient collaboration
optimising processes
"Technology is the catalyst", says Stefan Bovy, Director Medium Enterprise Market at Proximus. Many businesses could use some help when it comes to the digital transformation process.
Stefan: "For instance, if you want your collaborators to be able to work from any location, you don't just need the right infrastructure, you also need the right know-how. This is not always available in-house, especially in smaller organisations."
Innovation within reach
Proximus brings technology and innovation within reach of customers of all sizes. "It starts by understanding what is going on in the minds of our customers. We map the challenges they are facing and develop comprehensive ICT-solutions in various fields based on that map. For medium-sized businesses for example, we'll organise workshops to discover what is needed together", Stefan explains.
New trends and business models
The expertise and solutions offered by Proximus are made available to the customer in various ways. The account managers are generalists that know their clients' business. Depending on the needs of their client, they will call in the help of experts in specific technology or request assistance from local Proximus Enterprise Partners.
What if a customer doesn't have an account manager? We are still at the ready with our Enterprise Service Team: they pro-actively reach out to customers and ensure the appropriate commercial follow-up. Based on the needs of the customer, the team can redirect them to a local Enterprise partner that can be of assistance in the specific field, as required.

Working closely together, they inform customers of new trends and business models and present them with tailor-made solutions.

Stefan
Enterprise Partners: expertise and trusted advisor
Often, local Enterprise Partners are the first point of contact for customers. David: "they have in-depth, in-house knowledge of IT, mobile, voice and fiber. Enterprise Partners offer more than just expertise.

Our partners are close to our customers in more than just a literal way. As SMEs, they speak the same language. They know the customer and play a crucial role as a 'trusted advisor'

says David Van Eynde, Head of Enterprise Indirect Channel at Proximus.
Fully comprehensive ICT solutions
Through their expertise, Enterprise Partners can combine different components into a comprehensive solution precisely catered to the needs of the customer. They can make use of all the products and services offered by Proximus, including – but not limited to - the helpdesk, invoicing, installation and repair teams. Products provided by other ICT industry players can also be integrated.
Stefan: "Our Enterprise Partners can, for instance, ensure that Microsoft Office 365 is implemented in an existing ICT environment. They can also integrate Proximus with other systems to optimise organisational processes. And because they are small businesses themselves, they can act rapidly."
Ready to go far in the digital transformation process
For Enterprise Partners, digital transformation is nothing new.
David: "They have always helped customers improve and increase efficiency through ICT, which is exactly what digital transformation is all about. They therefore know just how to define tailor-made solutions for SMEs using the best, most innovative technology solutions in a flexible and agile way."
Proximus Enterprise Partners: always relevant
They can offer the entire Proximus service portfolio or are specialised in a specific field.
They combine knowledge with experience in the field of telecommunications and IT and seamlessly combine these elements to develop all-encompassing solutions.
Through on-going education, they remain at the cutting edge of the latest innovations.
They comply with the highest quality standards and are continuously screened for this.
They are complementary and work closely with different services within Proximus, the account managers and our Enterprise Service Team.
I want to get in touch with an Enterprise Partner
Perspective
Magazine and online blog for business leaders, brimming with new insights for a fresh look at their company.
Other articles of Perspective