Intelligence makes the difference
Published on 14/06/2015 in Customer Stories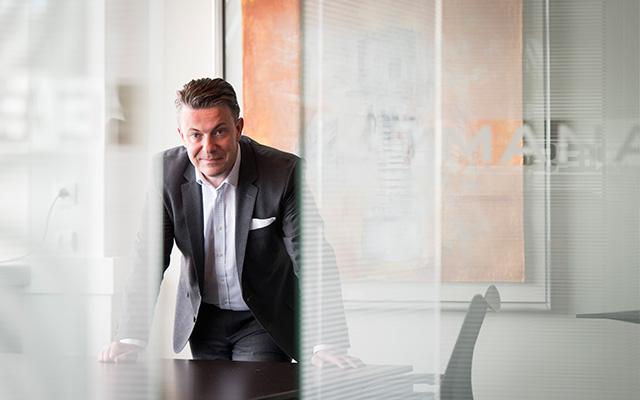 In the Internet of Things, building management and machine maintenance take on a whole new aspect. MCS develops solutions that convert data into usable, decision-supporting information.
MCS builds software and gives advice on the management of buildings and workplaces, among other things. The IoT offers numerous possibilities for increasing the efficiency of these activities and, at the same time, better managing costs. "To be able to put that into practice, it's necessary of course to first gain insight into the level of the services provided," says Koen Matthijs, CEO of MCS. "That can be done by continuously measuring those services." The IoT offers the framework that makes that ongoing measurement and recording possible. "The sensors, the communication and the storage, it's all there now," Matthijs continued. "But, on their own, all the data that the sensors provide us with doesn't suffice to arrive at an improved process. Intelligence is needed to analyze the data and draw the right conclusions."
Timing based on the IoT
MCS makes the utility of collecting data and its analysis in the IoT very concrete. Matthijs: "Consider the example of activity- based cleaning. In public buildings and companies, it's common to clean all the toilets daily, regardless of their use. We coordinate cleaning with use, so that you get a whole new look at the need for maintenance." What MCS does is actually very simple. The company installs a sensor on the door that registers how often someone enters the toilet. "You can link a process to that; after a certain number of times the system sends out the task to clean the toilet. That might occur twice in one day, or perhaps only once in three days."
Targeted allocation of resources
The example indicates how a cleaning company can allocate its resources in a very targeted way. The impact on efficiency – and costs – is enormous. Another example is technical maintenance. "These days, companies spend a lot of money on reactive maintenance of machines," said Matthijs. "When something breaks down, a technician comes by to carry out the repair. It's smarter to record the operation of the machine via a sensor. That way you get insight into the relationship between the use of a device and the need for maintenance. That also allows proactive maintenance. It ensures that you can avoid any interruption in the use of the machine, and possibly greater damage with greater costs."
Data as raw material
MCS builds its solutions on myMCS, based on the m2m factory of Proximus, a platform that sends data in a secure way between connected objects and business applications. Data transfer takes place via LoRaWAN communication. This involves a technology in which sensors consume very little energy but, at the same time, have a very long range. The customers of MCS are service providers who improve their service to end customers with the applications. The technology makes the apps possible, but it's really not in essence a matter of technology. "Technology is secondary," said Matthijs. "The data too just constitute the raw material for what you want to do. It's about extracting knowledge from that data, applying it to business processes and deriving a benefit from it."
Business benefits
Increasing efficiency thanks to targeted resource allocation
Data analysis provides decision supporting information and better cost management
About MCS
MCS has been helping customers with software and advice on real estate and workplace and facility management (catering, cleaning, technical maintenance, green maintenance and energy management) for twenty-five years.
Koen Matthijs is qualified with a civil engineering degree in electrotechnology from KU Leuven. He has been CEO of MCS since 2011.
One
One magazine is the Proximus B2B magazine for CIOs and IT professionals in large and medium-sized organisations.