With fiber & 5G, Proximus builds the digital ecosystem of tomorrow
Published on 19/06/2020 in Inspire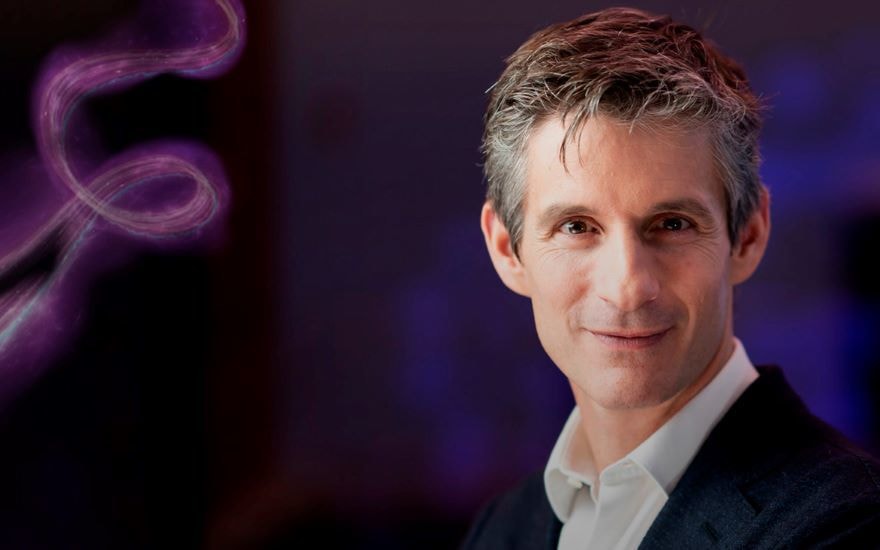 Guillaume Boutin has been at the head of Proximus since December 2019, and he now presents his strategic plan #inspire2022. It is a strategy, which has the ambition to position Proximus as a benchmark operator in Europe.
What are the strenghts of your plan #inspire2022?
Guillaume Boutin: "#inspire2022 is a strategic plan, which has the ambition to position Proximus as a benchmark operator among new generation networks. This strategy will be based on substantial investments in infrastructure and new technologies. As such, the accelerated parallel deployment of fiber and 5G is an absolute priority because it is the role of Proximus to proactively contribute to the development of a digital and prosperous Belgium both for our B2B and our B2C clients."
"#inspire2022 also aims to return growth to Proximus, from 2022 onward, based on strong strategic partnerships like the one we have with Microsoft, for example. The priority at the heart of the ethical ecosystem, however, remains our customer satisfaction. Proximus wishes to always remain relevant for its customers, by offering them the most innovating solutions for their specific requirements. Lastly, the substantial developments, that will be rolled out with this new strategy, will always be in tune with modern society."
In concrete terms, what are the big projects that will be deployed within the framework of this strategic plan?
Guillaume: "The accelerated deployment of fiber and 5G really is the cornerstone of our strategy. Fiber and 5G are intimately linked to build tomorrow's operating system for our economy, and that for two reasons. Firstly, they offer a very low latency rate. Secondly, they are the only two networks that will allow slicing, i.e. to split the network in function of requirements, while maintaining a high level of quality and security.
Despite the fact that we are making more progress than any other country in the development of fiber, our coverage rate is still lower than the European average. It is of utmost importance to increase that coverage rate quickly. We are going to accelerate our investments by more than €1bn by 2025. That amount will be invested on top of the €1bn we are already investing every year. This additional investment will allow us to cover nearly half of the territory by 2025, which is, approximately, 2.5m households and businesses."
"In terms of 5G, we want to maintain our leading position in the mobile phone market. It is a little-known fact that Belgium has the second-best mobile phone network in the world. Thanks to 5G, we will be able to maintain those high-quality standards. Moreover, we are going to strengthen our professional service capacities in key departments such as cybersecurity, the cloud, IoT and data analysis. We will also launch new innovations every quarter."
Proximus launches the first 5G network in belgium
What is 5G?
Fiber and 5G are intimately linked to build the new operating system of tomorrow's economy.
Guillaume Boutin
Microsoft and edge computing
These developments are particularly important for businesses, public services, hospitals, …
Guillaume: "We do indeed have big ambitions for our B2B segment, and we would like to strengthen our role as privileged partner for the digital transformation of our clients. In terms of fiber, we give priority to providing it not only to the big cities, but also to the industrial estates and economic activity areas, where we find not only the big companies and public authorities, but also the SMEs. We know their importance in the economic fabric of our country and it is of utmost importance that these companies also benefit from better networks and that is what we mean by digital inclusion."
What solutions will be developed, specifically for these B2B clients?
Guillaume: "Thanks to our integrated fiber-5G network, we will offer turnkey solutions for all our B2B clients. Solutions fully adapted to their requirements. It is within that framework that we have signed a strategic partnership with Microsoft. We are one of the first operators in the world to do that. We are going to base ourselves on the experience of Microsoft in domains such as edge computing, by combining the excellence of our networks with the power of the intelligent cloud of Microsoft."
"Edge computing opens up an area of incredible opportunities in terms of computing capacity for businesses. Edge computing allows the data to be processed in the periphery of the network, exactly where they were generated. That way, businesses will also benefit from a reduced latency rate, less connectivity costs, a strengthened stability in their network, local storage of data and, as a result, a reduced carbon footprint.
On top of this edge computing, we are also going to strengthen the capacity of our professional services in areas such as cybersecurity, the cloud, IoT and data analysis. That way, we will provide the entire integrated toolbox of digital services to our B2B clients."
In belgium we have the second-best mobile phone network in the world. With 5g, we want to strenghten that leadership.
Guillaume Boutin
Together with partners
You have already signed some important partnerships around these new technologies?
Guillaume: "The partnership with Brussels Airport is a good example of what I just tried to explain. With our IoT, data, cybersecurity and 5G capacity, we offer integrated solutions that allow us to improve the operational efficiency of the airport, in terms of security, tracing of luggage, or in the management of travellers' flow in busy periods, for example. In digitally transforming the airport, we are also supplying 5G access to all traveller areas. We are also collaborating with the port of Antwerp, specifically in terms of maritime traffic follow-up applications and container management. And with Besix we are discussing the field of intelligent buildings."
Proximus is therefore busy developing a veritable ecosystem?
Guillaume: "The digital transformation is one gigantic puzzle and the network is only one little piece. Proximus is the fundamental building block, but we are aware that in certain fields, the expertise has to come from reliable and loyal partners. That is why we launched Proximus Accelerators in order to build a veritable ecosystem of knowledge, competence and techniques to be able to respond to the specific requirements of our clients. These partnerships can be with global companies like Microsoft but also with start-ups or SMEs with very specific specializations."
Is the #inspire2022 plan a new important step in the transformation started by Proximus?
Guillaume: "We cannot deny that 2019 was a difficult year and created great unrest among our personnel, but we do not foresee any more streamlining in the near future. However, we must keep up drastically modernizing our procedures in order to improve our business model and to work more efficiently and intelligently."
This crisis means the end of exacerbated pragmatism. It is the return of long-term strategic visions.
Guillaume Boutin
Climate positive by 2030
There is an important place for sustainable developments in your strategy. Can you tell us a bit more about that?
Guillaume: "You cannot have a strong business without a policy of sustainable developments and social responsibility. Currently, Proximus is carbon neutral but we are committed to becoming, together with our partners, climate positive without carbon offsetting by 2030. We are already a European benchmark in these matters, but we want to go further still. It is our mission, our role, to force this objective through a general awareness within the company.
But the social responsibility of Proximus must also be seen by our digital inclusion. That is one of the priorities of our CSR policy: we do not want to leave anybody behind in our digital transformation."
The launch of your strategic plan coincided with the start of the coronavirus crisis. How does Proximus manage that crisis and its consequences?
Guillaume: "You can never prepare for a crisis of such magnitude. Immediately, our priority was the health and safety of all our employees. Simultaneously, our teams were mobilized to ensure that our networks were able to hold up, notwithstanding ever-before-seen usage peaks. And they did hold up. But in a crisis like this, the responsibility and the commitment of Proximus go further than that."
"We have tried to remain useful for our key sectors by very quickly putting in place, for example, connectivity for the sorting wards or by supplying laptops and tablets so that patients could stay in touch with their nearest and dearest. We are part of the 'Data against corona' taskforce to help the government manage the spread of the virus.
There will undoubtedly be a before and an after, but I will remember that it are people who make the difference. The men and women of Proximus have each, at their level, made a difference and that shows how important the human input is in a technological enterprise."
GUILLAUME BOUTIN is a telecommunications engineer, who also graduated at the HEC in Paris. He joined Proximus in 2017 as Chief Consumer Market Officer after a varied professional career, which saw him work at SFR and Canal+. He became head of the organization (CEO) on 1 December 2019.
One strategy, four pillars
The #inspire2022 strategy, which was presented by Guillaume Boutin, CEO of Proximus, is based on four pillars, which aim to position Proximus as a benchmark operator in Europe.
TECHNOLOGIES

Proximus aims to accelerate the deployment of fiber and 5G. By investing €1bn on top of the €1bn already invested annually in its infrastructure, Proximus is committed to building the best Gigabit network in Belgium by 2025. On top of these new generation networks, Proximus will strengthen its capacity in edge computing, cybersecurity, the cloud, IoT and data analysis in order to facilitate the digital transformation of its clients.

TRANSFORMATION

Proximus is going to mutate its business model to become a 'pure player' operator, who will offer all possible ICT solutions to meet all the specific requirements of its clients. This transformation will be based on a modernization of internal procedures to achieve an improved and expanded customer experience.

GROWTH

Because of its leadership in networks, Proximus aims to resume profitable growth by 2022. This return to growth will be based on a widened client base, strong strategic partnerships (Microsoft, Brussels Airport, Port of Antwerp, …) and the creation of a veritable digital ecosystem around Proximus.

SUSTAINABILITY

Social commitment is anchored in the DNA of Proximus and integrated in each of its activities. By 2030, Proximus will be climate positive and it will also be a business of the circular economy. Proximus aims to commit to the daily mission of continuing to promote digital education, to give everybody digital access and to include all its stakeholders in that process.
One
One magazine is the Proximus B2B magazine for CIOs and IT professionals in large and medium-sized organisations.
Other articles of One