Minister of Telecommunications on the launch of 5G
Published on 21/04/2021 in Innovate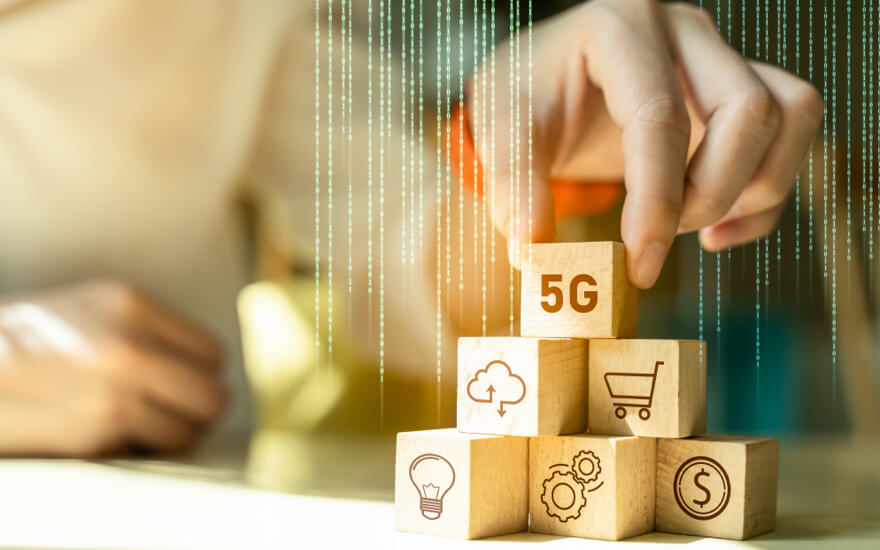 In January, the federal government launched the auction of 5G rights in Belgium. That means that the rollout of 5G should begin in 2022. Minister of Telecommunications Petra De Sutter sees many different innovation opportunities for companies.
5G for everyone by 2024?
"We want the auction of 5G licenses to take place at the end of 2021, at the latest in early 2022. We have set out the basic amounts per frequency, the technical requirements and a coverage obligation in the legal texts. After one year, 70% of Belgians should have access to a higher minimum speed than with 4G, 99.5% after 2 years and 99.8% after 6 years," Minister De Sutter starts off.
5G will enable applications which today we can only dream of.
Petra De Sutter, Minister of Telecommunication
Socially valuable applications
"5G is the gateway to innovation and a hyper-connected society in which processes are controlled in real time and much faster than today. That real-time connection between objects makes so much possible. The socially valuable applications that industry, the medical community, research centers and companies are already envisioning will make dreams come true. I'm thinking of extremely sensitive remote medical procedures with a robot, robot-driven industrial processes and smart cities that allow us to be efficient with our energy consumption."
5G in citizens' daily lives
"I also think of local and other governments that can deploy 5G applications for public services, smart parking meters that tell us via an app which parking spaces are free and calculate themselves how long our car has been parked for, and drones that deliver packages ordered online," Minister De Sutter continued.
"Applications such as augmented reality will not only be used for leisure but companies will also start to deploy this more and more. 5G will make processes more energy efficient and will play a role in the fight against global warming. In short, 5G will become a part of our daily lives and will help us improve it in every way."
Website on health and energy issues
What about the concerns and conspiracy theories around 5G? "We know that many people have questions. That's why we are setting up an online knowledge and learning platform together with FPS Public Health, Sciensano and other partners. We provide objective answers to the questions asked by citizens and companies."
"We explain what 5G is, what the applications are and what the technology can be used for. We go into the effects on our health, the environment, our energy consumption and biodiversity. There are scientific studies available for everyone about, for example, the long-term health effects."
Cybersecurity
"People and businesses need to trust 5G," the minister agreed. "If they don't, they won't use the technology. We already have strict GDPR legislation that protects our data and privacy. In addition, we are creating an action plan against all forms of cybercrime and abuse alongside FPSs Interior and Justice and with Prime Minister Alexander De Croo who is responsible for cybersecurity."
Protecting privacy
"The EU has developed a toolbox of measures we can take to secure the network against cyberattacks. That is our guide. The Belgian Institute for Postal Services and Telecommunications will also work with the intelligence and security services to ensure that operators do not use high-risk 5G suppliers. European legislation only supports initiatives that protect companies against interference from, for example, foreign groups that do not respect privacy and competition laws."
Important role for Proximus
The minister sees a major role for Proximus in all of this. "As the largest operator in Belgium, Proximus has an important scale advantage to roll out 5G. Proximus has an exemplary role in taking the lead in new technologies and innovation. I am pleased that this is being done together with start-ups, SMEs and academic partners. This creates broad support among companies and the general public to also use 5G effectively."
One
One magazine is the Proximus B2B magazine for CIOs and IT professionals in large and medium-sized organisations.
Other articles of One