Wellbeing is investing in the future
Published on 13/07/2022 in Inspire 
The External Service for Prevention, Protection, and Wellbeing at Work (IDEWE) learned a whole lot from the recent pandemic in terms of internal organization and service provision. But digitization also continues to push forward. IDEWE aims to tackle that on a human scale.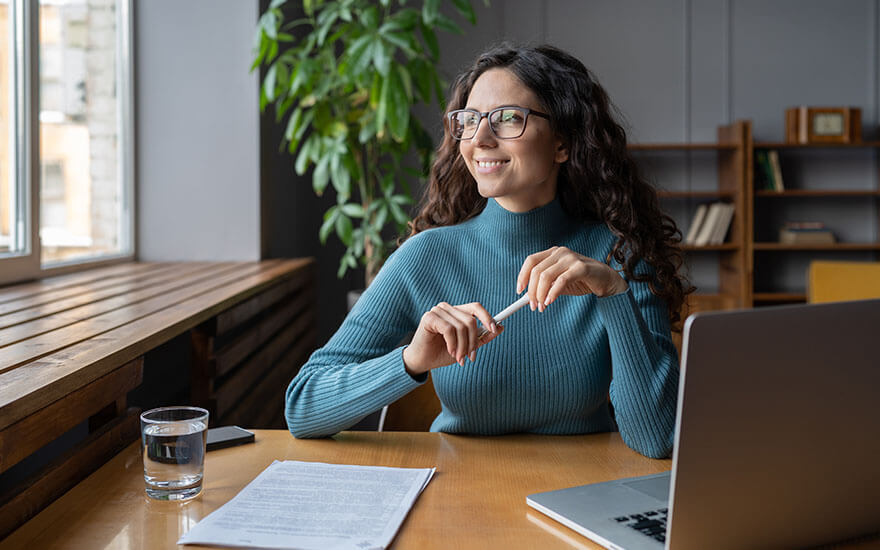 The External Service for Prevention, Protection, and Wellbeing at Work is an essential sector. So, IDEWE was still on the job during every lockdown, despite the challenges. Many of their company clients were closed or had partially shifted to remote work.
How do you guarantee service under those circumstances? "By quickly shifting gears and focusing on digital solutions," said CEO Lode Godderis. "We rapidly rolled out hybrid training programs, along with a new version of our StressBalancer e-tool, which aims to boost employee resilience to stress and exhaustion, and a new version of OptiDesk, a tool to optimize your home office."
Pandemic mode
Without a doubt, mental health also took the front seat. IDEWE's psychosocial prevention advisers were always just around the corner and accessible, even for volunteers and the self-employed. And inevitably, several projects landed on the back burner.
IDEWE used that time to optimize its services and tailor fixes for the exigencies of the then and now. "For example, we rapidly developed a guide. That took current info and new pandemic-inspired rules and regulations and converted them into practical applications. We also drafted a template that would allow companies to develop their own 'business continuity plan'," said Frank Weckx, Industry & Cleaning and Logistics & Retail Segment Manager.
Human contact is a must
For IDEWE, the pandemic was an opportunity to discover what kinds of service provision work best. "These days, there's a whole range of prevention methods. But the question remains: 'What do we apply and how?' There are plenty of issues that can be solved digitally but, for us, the human factor remains our top priority," emphasized Godderis. What struck the CEO as the most important lesson from the pandemic wasn't digital developments ... it was our obvious need for human contact. "The digital is really only a tool in the grand scheme of things."
Medical data
Medical services are a great example of how digital tools facilitate a more human approach. By making medical records accessible online, IDEWE lowers the employee contact threshold. They have online access to their own records. "We give them clear visuals of their data and present them coherently so that they can read and understand everything for themselves. They also see who is responsible for following up on their records and can always get in touch personally," clarified Godderis.
AI as a health policy prevention tool
But now, IDEWE is taking it another step forward by integrating artificial intelligence with medical record monitoring. "Algorithms help us detect abnormal values sooner so that we can take preventive action." Medical data is at the heart of that, making data protection a top priority. "It goes without saying that employees retain ownership of their data and can decide what they share with us," emphasized Godderis.
Corporate Social Responsibility
While the COVID pandemic may have brought some issues into sharp relief – i.e., the focus on wellbeing – corporate social responsibility (CSR) has also been a hot topic for some time now. Weckx: "We've seen a surge in requests for this kind of support in recent years. For many companies, CSR has become part of their employer branding."
It's about companies that aim for more than just economic growth. Employee wellbeing is more of a focus, and so is the relationship with the local community wherever the company is based. "Those things frequently go hand-in-hand; they don't even require major changes," said Godderis. "That's also what made us do away with the meticulously mown lawn on the grounds next to our headquarters, which we exchanged for a flower and plant garden instead. That gives our employees a more pleasant work environment, and it gives back to the neighborhood."
There's been more of a buzz about corporate social responsibility in recent years.
Frank Weckx, IDEWE Industry & Cleaning and Logistics & Retail Segment Manager
Investing in the future
Today's labor market shortages definitely make a difference. "For ages, prevention at work was seen as a duty," Godderis concluded. "But, these days, companies realize that wellbeing is an investment in the future. It's not just about retaining staff; it's also about recruiting new potential."
Businesses no longer see workplace prevention as a duty, but as an investment in the future.
Lode Godderis, IDEWE CEO
Lode Godderis is IDEWE's CEO and a KU Leuven Professor of Occupational Medicine.
Frank Weckx, IDEWE Prevention Adviser and Industry & Cleaning and Logistics & Retail Segment Manager. Before that, he was active as an industrial safety and prevention adviser.
IDEWE supports over 35,000 employers and 822,000 employees by setting up safe, healthy work environments. Based out of 11 regional offices and powered by over 900 employees – they get the job done.
Innovation fuels IDEWE's push for safe, pleasant workplaces.
The future's workplace is flexible and sustainable.