This drone will save lives
Published on 18/11/2019 in Innovate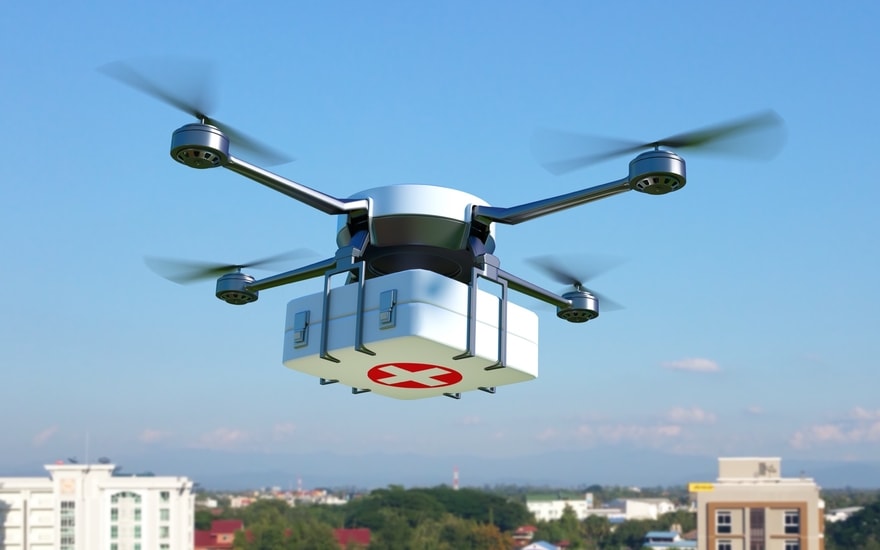 Hospitals in Belgium are deploying technology to the fullest. Pilot projects have been started in several places across the country involving the use of drones.
When every minute counts
UZ Antwerp (Antwerp University Hospital, UZA) in Edegem and the Sint-Augustinus campus of GasthuisZusters Antwerpen Ziekenhuizen (Antwerp Sisters Hospitals) are among the institutions involved in these pilot projects. The hospitals want to use drones to transport pharmaceutical products and blood, urine and tissue samples, for example. Because drones never get caught up in congestion, roadworks and detours, they are a lot faster than road transport, which has been used until now.
It took the drone three minutes to cover the 2.17 kilometers between the UZA and Sint-Augustinus hospitals. What is more, the drone can deliver life-saving medication, so that doctors and surgeons can act faster and more people can receive the right treatment more quickly.
Experimenting
In Limburg and Noorderkempen (northern Kempenland), too, there is movement afoot in the field of air transport. The Jessa hospitals in the Hasselt area, for instance, are looking into other applications involving drone flights, as is Turnhout hospital. Specialists expect this type of transport to increase sharply in the future, because hospitals will increasingly specialize and have to cooperate with one another. What's more, it's a good way to avoid long waits in traffic. Drones are an efficient tool for taking samples from one hospital to the lab at another hospital.
A drone is never hampered by traffic congestion, roadworks or diversions.
European and professional cooperation
Most of these pilot programs are taking place in the context of cooperation agreements involving various companies or with the support of the European Union. The project in Turnhout is part of an EU Smart City initiative for Urban Air Mobility which involves 42 European cities. The SAFIR consortium is involved in the Antwerp project. Aircraft manufacturer SABCA, the port of Antwerp, the Skeyes air traffic center, drone operator Helicus, the e-commerce giant Amazon and Proximus are part of this. SAFIR has its home base at the DronePort near Sint-Truiden, on the former Brustem air force base.
Drones support emergency services
5G keeps it safe
Proximus is involved in the drone tests because these professional aircrafts use 4G connections during their flights and will use 5G in the future. Data and flight information are constantly forwarded to a control center via these connections. In principle, the flights are fully automatic but human pilots can intervene from a distance in an emergency. Another application of the 5G connection is, for example, transmitting video images in ultra- high 4K quality.
Helicus (established by Mikael Shahim) is a start-up that will provide drone flights for hospitals, among other things. From its headquarters in Antwerp, it is currently busy testing how drones can be used quickly, efficiently and, above all, safely.
One
One magazine is the Proximus B2B magazine for CIOs and IT professionals in large and medium-sized organisations.
Other articles of One