Good (remote) collaboration is more important than ever
Published on 09/01/2018 in News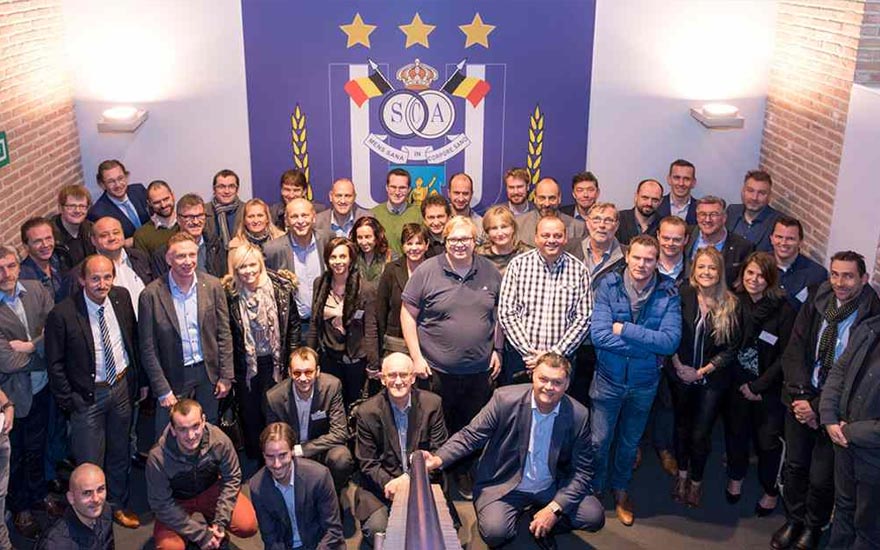 Judging by the large numbers of people attending a workshop on communication and collaboration, we are left with only one conclusion. Digitization and digital disruption are at the top of the agenda for every business today.
Bram Deprettere, IT Services Lead at Vandelanotte
With 310 employees and seven branches, Vandelanotte is one of the biggest independent accounting and auditing companies in the country. "A while ago we switched to Microsoft Office 365; Skype for Business is included in our license and we have started using this internally as well. We would also like to use Skype for Business as an alternative to our switchboard. CloudBond 365 may just be the right solution. I would certainly like to know more about it. That was one of the main reasons for attending the workshop."
"Telephony is and will always be a very important part of our business. It is essential for the client to be able to reach the right specialist quickly. But our employees are often on the road or working in situ with clients. It is important that they can be contacted anywhere – and that they can always access the necessary documents. Thanks to digitization we can automate multiple operational activities, such as making entries in an accounting system. This gives us more time to spend on our advisory role."
Mark Vanbaelen, IT manager at Viabuild
Viabuild is best known as a roadwork contractor. The company is also active in concrete and asphalt production, soil remediation and sewage works. Viabuild has 200 employees and 600 labours. "At the end of 2018 we will be moving to a new headquarters. This will give us the unique chance to completely redesign our communication and IT systems."
"Right now we work with VOIP and Office 365. In the new building we want to introduce a solution for UC. We may opt for Skype For Business. We are currently weighing up our options. What I remember most from the workshop is the Fixed Mobile Unification (FMU). I'd already heard of it, but wanted to learn a little more about this solution. We are first going to examine the possibilities of the hosted model.
Marc Scheir, IS/IT Project Manager at Volvo Car Belux
"The workshop offered a good overview of how we can better support communication and collaboration in the near future. Today at Volvo we still work with the classical model, with various channels side by side: landline and mobile phones, VOIP, fax, etc. We are starting a project to redesign our offices. As a result, the traditional telephone will disappear and make way for a new method of working."
"A major transformation is also taking place in the dealer network. The partnership between Volvo and the dealers will change significantly. Microsoft Office 365 will play a key role in this, as a link between Volvo and the dealers. In combination with Skype For Business, Teams & Yammer, everyone will be able to communicate and collaborate faster and more efficiently."
Davy Haesen, IT manager at SBB
SBB offers services in accounting, taxation and environmental law to independent entrepreneurs, liberal professionals, SMEs and NGOs. The company has more than 450 employees and 30 branches. "At the moment we still have 30 switchboards in use. At the beginning of this year we switched to Microsoft Office 365. Since then we have observed the increasing importance of a good collaboration. Our employees would like to start using Skype For Business, just as they want to share documents with colleagues or clients and chat to clients remotely."
"The workshop clearly illustrated how CloudBond 365 offers a solution for both landline and mobile communication as well as collaboration, without the need for major investment. In any case, support for our employees is an absolute priority. We are rapidly developing from an administrative office to a consultancy and this sort of solution can offer our employees the right tools to do their job to the best of their ability."
"Previously, a client would collate all his purchase orders and sales invoices at the end of the quarter. That meant we always had a peak moment. Now we receive items digitally, throughout the year. That gives us more time to spend giving the client customized advice, both digitally, remotely and in real time. So the client is also keen to use an application like Skype."
If you missed the workshop, you can read a summary here .
For more information about smart collaboration, download the white paper here.