Going digital
Published on 26/06/2017 in Customer Stories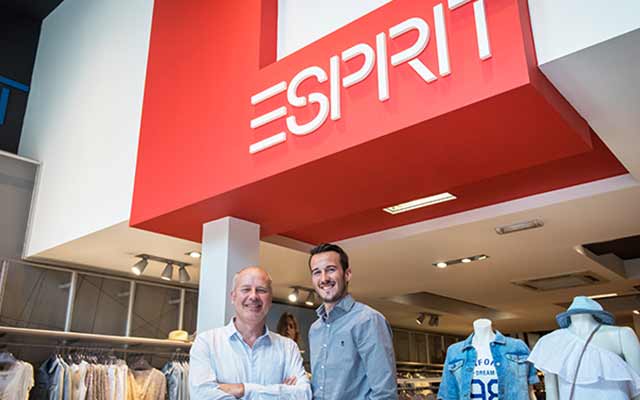 Digitisation means a lot of changes are taking place in the retail sector. Everything is about client experience, in and out of the shop. Jomi, owner of various fashion stores, made some profound changes to its ICT in cooperation with Proximus partner Vandenabeele. Bottlenecks were dealt with and a sound base for the future was established. Jomi has been successful in retail since 1989. Nowadays, the company has a franchise of eight Esprit shops as well as three ABSOLU shops selling various brands. Johan De Vos and his daughter Evi run the business from the head office in Oudenaarde.
More and more digital
During the past few years the ICT environment at Jomi was getting more complex and ever more overloaded. Johan De Vos: "We do so many more things digitally. From the checkout, purchases, stock management and time registration to camera surveillance, music streaming and customer counting. On top of that, we have also an 'omnichannel': we also sell online via the Esprit website."
The sluggishness of the ICT and the bad connection with head office were to the detriment of the operational reliability. "There was always one shop where something was wrong. And doing some administration from home was difficult too."
Analysing how work is done
Vandenabeele, who has been Jomi's telecom partner for many years, suggested conducting a 360° analysis of the IT. "We took an in-depth look at how Jomi operates and together with our technical specialist we suggested a solution which meets all the company's requirements", Account Manager Thomas Pitteljon tells us.
Improve customer experience
A safe Proximus Explore network now ensures a fast and stable connection with head office, from the shops and from home. Glass fibre was installed at the head office providing an extra fast connection which also has the ability to grow with Jomi.
This solution allows Jomi to work more smoothly and more efficiently. And the clients also notice this in the shops: they pay with Bancontact without any problems and they are ensured of a smooth handling of their online orders which they come and pick up at the shop. It is easy to upscale the connection so that Jomi can easily and quickly deploy new applications in order to improve customer experience.
Flexible way of doing business in the cloud
All the checkout registers in the shops were replaced and Jomi started using the cloud. The network server is located in the Proximus' datacenter and Microsoft Office365 is used.
Johan De Vos: "The cloud provided our company with a lot of flexibility. Our applications are accessible anytime, anywhere and we only pay for what we use. Should we want to go towards a paperless office we can upscale straight away."
One partner with IT and telecom knowledge
Jomi only has one point of contact for all its ICT. "If something is wrong, we only have to call Vandenabeele. It is a local company, so you know who will be answering the phone. They know us well, and they also know the Proximus solutions well and they speak about the ICT in terms you can understand. You can tell they know what they are talking about."
Thinking together about the future
Thomas Pitteljon: "As telecom and IT partner we listen to Jomi and we suggest solutions from our expertise. Think about informing customers by text, paying by smartphone, Public Wi-Fi for registering who was in the shop before or digital systems which make it easy to work together and communicate with each other. We contact them about new possibilities at regular intervals."
"We have to show people we are in tune with the times, certainly when it comes to the younger consumers", Johan De Vos concludes. "There is more work to be done, but for now we are heading in the right direction. With our new ICT environment, Proximus and a partner like Vandenabeele we are ready for the digital future."
Get to know our Proximus Enterprise Partners
Read other articles
---
Advantages of our Enterprise Partner
Do you want to upgrade your business to digital? You can rely on one of our experts. With their expertise and know-how, they'll help you make the right choices and accompany you throughout the process.
More info
Perspective
Magazine and online blog for business leaders, brimming with new insights for a fresh look at their company.
Other articles of Perspective