"Corona puts social responsibility in the forefront"
Published on 19/10/2020 in Inspire 
The crisis is accentuating the digital divide. Companies that do not digitize and young people growing up without internet are having a hard time. "This makes us look at our mission differently," says Proximus Sales Director Geert Rottier.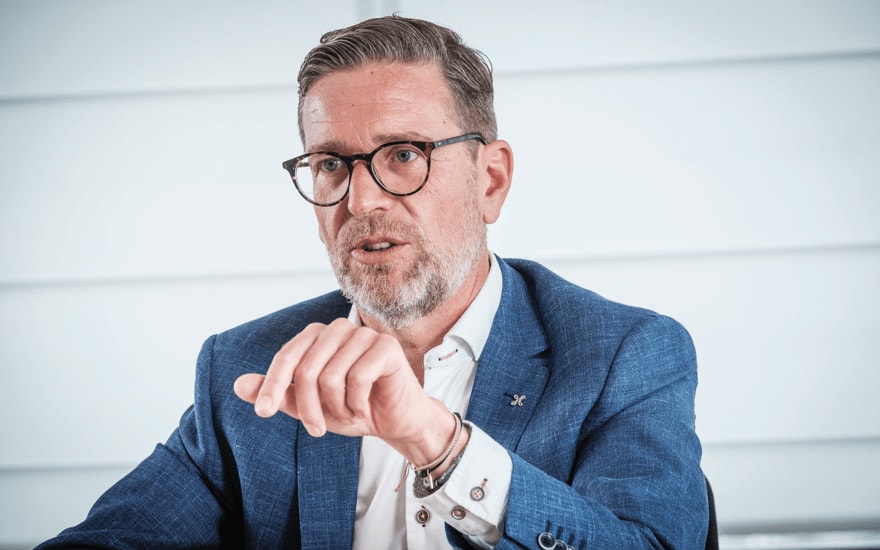 "Corona has enormously accelerated the digitization of our lives and work. And that gives rise to new needs. In a short time many companies, including Proximus of course, have achieved a complete change in mindset."
Many companies were not able to make the switch so quickly, right?
"Right. Companies that were already technically ready – even if they didn't yet have much experience with working at home – could immediately switch during the lockdown. At the same time, quite a few businesses realized that they weren't yet ready to respond to the digital demand of their employees and customers, but understood what was needed. So they succeeded in switching quickly."
"Unfortunately there is also a group that is not ready, and at the same time doesn't seem to understand that the digital story isn't a transient issue. Those companies are running a great risk. Certainly now that it seems that the corona crisis won't be over for quite some time."
Speed of change management determined by the reasons why
"Until recently all sorts of big theories on change management circulated; that you had to take plenty of time to change something, work step by step, with thorough preparation and supported by lots of communication. The corona crisis has already demonstrated that it can also go quickly. When you really have to change as a company and your employees understand why, you don't need much time to successfully implement very drastic changes."
Digital trust is important in the context of a better digital life. We're reaching out to other sectors to make people's digital lives safer.
Geert Rottier, Enterprise Sales Director at Proximus
How, specifically, is Proximus contributing to a better digital life for everyone?
"We're doing it by looking at our own mission differently. Our goal is clear; we want a high-speed network, fixed and mobile, that is accessible to everyone. That's only attainable by collaborating with partners. Therefore we have a joint venture with Orange in the framework of 5G to accelerate the rollout of the network. The differentiation is no longer in who owns the network, but in the added value of the services that each provider offers there."
Digital trust extends into other sectors
"Digital trust is enormously important in the context of a better digital life. Obviously we invest in GDPR compliance. But it goes beyond that. We reach out to other sectors to make people's digital lives safer. Itsme is a good example of that. The telecom operators and the banks have developed a solution together that makes people's digital lives not only easier, but safer. Another example is Safer Internet Days, in which Proximus volunteers teach in primary schools about the benefits – and risks – of the internet, social media, and so forth."
The differences between students inevitably emerge during such a session. Not all young people have a smartphone or access to the internet.
"That's true. We're collaborating on various practical projects to tackle the digital divide. I'm thinking of Molengeek and Schoolit, among others: both projects are focused on attracting disadvantaged young people to a career in our sector. That ultimately ensures a more inclusive society, and is good for Proximus itself too."
"The rollout of the fiber network is going so quickly that we need 3,000 new technicians for it. So we're collaborating with Technobel to offer technical training programs. In addition, we want to set up an ambitious training plan in close collaboration with VDAB, le Forem and Actiris. This way we can accelerate the influx of new employees."
Reducing the digital divide
"The corona crisis is accentuating the problem of the digital divide. Young people who don't have a laptop or internet at home have had a hard time taking classes remotely during the lockdown. We have responded to this by making devices available and offering internet access to those who needed it. It's not just about young people, by the way. We quickly provided video in care centers so that residents could stay in contact with family during the lockdown more easily. And with the Diggit platform we offer seniors the opportunity to brush up their digital skills."
We're collaborating on various practical projects to tackle the digital divide. That ensures a more inclusive society.
Geert Rottier, Enterprise Sales Director at Proximus
How has the corona crisis made the societal role of Proximus even more visible?
"Among other things, we worked on the call center for contact tracing by the federal government. We acted very quickly. Within two weeks the call center was ready for use. Other operators were also involved in this, without commercial interest. Furthermore, we have participated in supporting the triage points. Often these were located in places where, normally, there isn't any connectivity, such as a parking lot. We ensured that these posts could quickly have the usual connections available."
Corporate social responsibility also includes respect for the planet. What efforts is Proximus making in that area?
"That involves large and small things. We have already been a climate-neutral company for several years. In the long term we want to do even better, with a negative CO2 footprint. We also implement small changes. For example, plastic cups are no longer used in our offices. Some teams had personalized coffee mugs made and distributed drinking bottles."
Good for the planet
"In addition, we involve the consumer in the bigger picture. Through the Don't Miss The Call project, we're committed to collecting a hundred thousand old mobile phones. Umicore is responsible for recycling the raw materials from the devices. With the project we support Eight, a Belgian NGO that helps young entrepreneurs in Congo on their way. These small businesses form an alternative to working in the illegal, dangerous and unhealthy mining of cobalt – an important raw material in the production of mobile phones."
Geert Rottier is Enterprise Sales Director at Proximus. Before his arrival he worked at HP for seventeen years, among other things as Managing Director for Belgium and Luxembourg.
One
One magazine is the Proximus B2B magazine for CIOs and IT professionals in large and medium-sized organisations.
Other articles of One