The four pillars of impeccable service
Published on 16/06/2017 in Inspire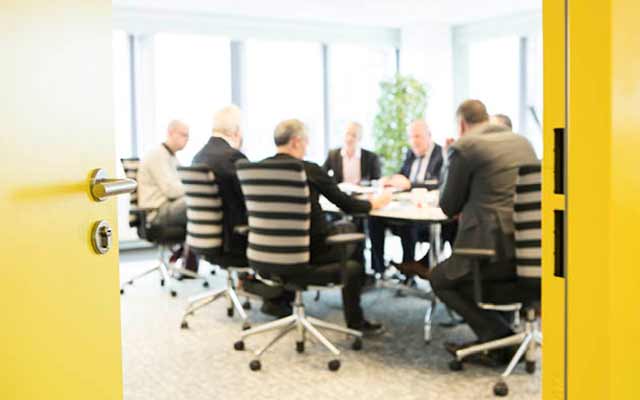 Being close to your customers, responding to their needs: more and more, customer service makes a difference. We organised a round table on the topic with Jaap Blijleven, MICE & Leisure Manager, Sandton & Pillows Hotels, Wim Meirlevede, Executive Manager, e-BO Enterprises, Patrick O, General Manager at Viessmann Belgium and Nico Debruyne, Service Director, Miele Belux.
More than just service, an experience

In the hotel sector, service lies at the core of our business. "But this service is never quite enough," says Jaap Blijleven, MICE & Leisure Manager at Sandton & Pillows Hotels. "Guests are looking for experience and recognition, and it is these aspects that make it possible to differentiate oneself."

"Perception is very important for us as well," says Wim Meirlevede, Executive Manager at e-BO Enterprises. "When we build a content platform for a customer, they naturally expect a solution that works perfectly. But the end-user experience and the way the service desk works also play an important role."

Always looking to make a difference

"At Viessmann, the end customer mainly has contact with the fitter," says Patrick O, General Manager at Viessmann Belgium. "If there is a problem that the fitter can't solve himself, then one of our own teams steps in. The technology is evolving very quickly. So, fitters are increasingly relying on Viessmann for help."

The arrival of the Internet of Things has been a major catalyst for improving service levels. Patrick O: early information is now available, for instance about the need for preventive maintenance. Thanks to this, a fitter can improve his level of the service. This enables us to stand out on the market."

Be on top of things throughout the chain

It's of no concern of the end customer if poor service is the fault of a supplier. In his eyes, the service is still provided by your company or brand. Wim Meirlevede: "It is not always easy, but it's what you have to do: all the links in the chain must interconnect so that you can provide the promised service for the end customer."

"Involving all your partners in the process is very important," Wim Meirlevede stresses. "The quality of the service provided often depends largely on the way the partners do their job early in the chain. That is why the whole chain must work together."

The right follow-up

Miele believes that it is important for every contact with the customer – positive or negative – to be followed up properly. Nico Debruyne, Service Director, Miele Belux: "Every consumer who has been visited by a technician, or who called a contact center or made a complaint, will receive a questionnaire by e-mail. These questionnaires have led to a lot of changes that have enabled Miele to better its services."

"We now have three general numbers," says Nico Debruyne, "one for the consumer, one for the professional customer and one for the distributor. So we're more easily reachable by phone. Small changes like this can make a world of difference."
A good example of impeccable service?
Read other articles
Why Concordia Textiles chose Proximus as a partner
---
Our team is ready to help you
A question, a proposed partnership or a special request? Our employees are always available to answer your questions.
Contact us!
Perspective
Magazine and online blog for business leaders, brimming with new insights for a fresh look at their company.
Other articles of Perspective