Flitsmeister navigation app cleverly guides you through traffic
Published on 20/10/2020 in Solutions & services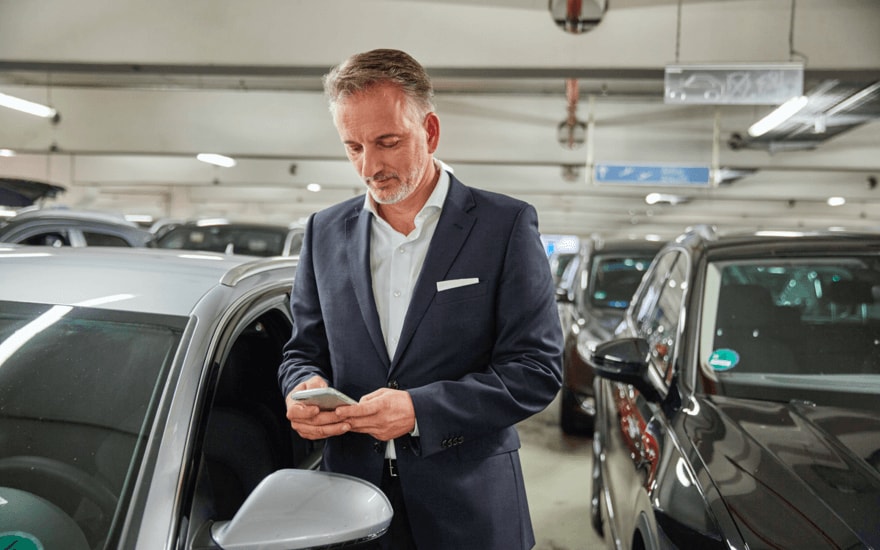 Be-Mobile, generally known from services such as 4411, launched Flitsmeister. The real-time traffic information app also warns of accidents and priority vehicles. After its success in the Netherlands, it is now available in Belgium, too.
At home with smart mobility
Be-Mobile is a jack of all trades in smart mobility. It involves parking guidance systems for authorities, tools to map cut-through traffic, smart route planners such as The smart way to Antwerp, payment methods for parking such as 4411New window, traffic information for the navigation apps of car manufacturers and other organizations, systems that calculate and pay tolls for trucks… It is no coincidence that Be-Mobile is a Proximus Accelerator and very much at home with mobility technologies. The Flitsmeister navigation app is a hit, too.
Watch the video and find out more about smart mobility thanks to Be-Mobile.
Travel companion of your dreams
Jorn de Vries, Managing 'Meister' of FlitsmeisterNew window: "Flitsmeister is the best travel companion you could have. The app combines official data with feedback from users. It brings information from highway authorities and about local traffic situations to you in your car fast, wherever you are. It warns you of approaching traffic cameras, roadworks, accidents, traffic jams and ambulances and passes on data from traffic lights and signs above and alongside the road. For instance, you know when and where you need to change lanes and when the traffic light will turn red."
No new Waze or Google Maps
Flitsmeister has more users than Waze and Google Maps in the Netherlands. "Our aim has always been to be more relevant and provide greater added value. Flitsmeister is made for everyone who drives on the road by car. Our app is more a companion than a navigator and helps you drive tactically. For instance, we deliberately don't indicate any short cuts via local roads, but we do tell you where you can park and offer you the opportunity to pay using the app through the collaboration with 4411New window."
"The application can also be connected with the Flitsmeister ONE, a small device that gives the necessary indications via an LED light and sound and automatically starts the application when you get in the car."
Giving way to priority vehicles
At the moment, the warnings about traffic lights and approaching ambulances only work in the Netherlands. "We are still testing it in Belgium. In the Netherlands, Flitsmeister communicates with around 500 sets of lights and with the systems that indicate when more than 500 ambulances turn on their sirens. This way, we can inform all users in the vicinity and we can turn traffic lights green to give priority to these ambulances. Our users are told how long the lights will stay on green and red."
"We also plan to extend this technology to police cars and fire engines. In Flanders, we are testing the technology in trucks, too, together with Colruyt."
"Because we believe so strongly in the Flitsmeister technology, we have also developed a specific application for trucks called Truckmeister. This can be connected to a Fleet Management platform to communicate with the driver and find out where the truck is. This way we can relay to the sites what the expected arrival time of a truck is and whether it can load or unload immediately or should be diverted to a nearby parking lot first. The goal is to optimize the logistics chain."
You can connect the app to Flitsmeister ONE, a small device that gives indications and automatically starts the app when you get in the car.
Jorn de Vries, Managing 'Meister' of Flitsmeister
A step closer to self-driving cars
"Apps like Flitsmeister make traffic safer, more efficient and more environmentally friendly. All the traffic information available is passed on directly to the car so as to guide the driver around a detour or to a free parking space, for instance. In a connected car, we send the information directly to the dashboard."
"The next step is to connect the app to the engine of self-driving cars so that they can brake automatically, change lanes or follow a detour. It's just a matter of time before all the manual tasks that a driver has to do are automated. A lot of work is underway to make this possible."
"Be-Mobile has the right technology and knowledge to assist governments and road operators to make their highway infrastructure more connected, smarter and more efficient."
Be-MobileNew window is a reliable IT partner (Accelerator) of Proximus which began as a supplier of traffic information for navigation systems. With branches in seven countries and 200 employees, they are experts in innovative mobility technologies that help improve parking, toll collection, fleet and traffic management.
After its creation in 2010, FlitsmeisterNew window gradually gained over 1.8 million active users, growing into the largest traffic application of the Benelux. Striving for constant improvement and innovation leads to a close community of users who provide one another with up-to-date and accurate traffic information using the apps for iOS and Android. Flitsmeister has been a Be-Mobile subsidiary since 2016.
Jorn de Vries has been involved with Flitsmeister as Managing 'Meister' since 2012. Together with Rick Waalders and Sjoerd Perfors, he has developed the company into a leading traffic app in the Benelux.
One
One magazine is the Proximus B2B magazine for CIOs and IT professionals in large and medium-sized organisations.
Other articles of One