Solid foundations and agile operations
Published on 03/11/2020 in Sectors 
How we use and consume IT is changing and so is the IT infrastructure. To cope with the increased complexity brought on by the diversity of connected things and employee mobility, enterprises need to evolve towards a virtualized IT ecosystem.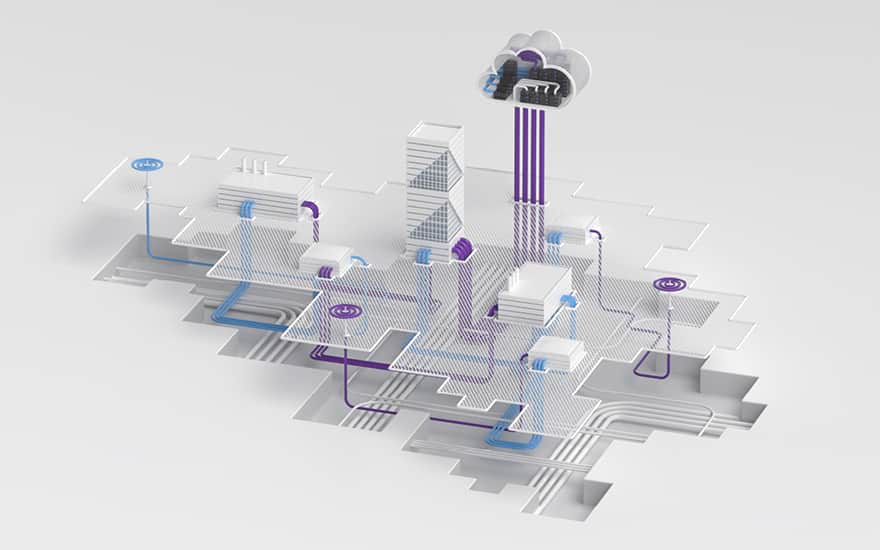 Software defined networks (SDx) and hybrid cloud solutions can give you the agility and flexibility you need to react swiftly.
It's time to get hyperconnected and become more flexible, more agile, more liquid and more automated.
Welcome to this brave new world with millions of apps, billions of people and trillions of things interconnected.
64% of companies are increasing their IT budget to upgrade an outdated IT infrastructure.
Source: Spiceworks.com, The State Of IT Report, 2018.
Software Defined Networks (SDx)
People and things are increasingly connected and users expect a seamless experience regardless of where and how they use applications. To support this, an increasing number of companies switch to Software Defined Networks (SDx).
With SDx:
Networks can be set up and configured automatically
Adjustments can be carried out faster and more efficiently.
The network can be connected easily and securely
Discover our intelligent and simple to manage Software Defined Networks solutions (SD-WAN ; SD-LAN ; SD-DC).
Customer story: new way of working at P&V Group
Discover how P&V Group switched to the new way of working and how it adopted a modern IT network, including fiber and Wi-Fi. Since, working from home has become customary.
Improve your productivity with Fiber
With fiber, you and your employees surf at the speed of light. Superfast Internet connectivity anytime, anywhere, ensures the continuity of your activities.
Optic fiber gives companies more certainty about their business continuity.
Guest Wi-Fi
Customers expect to be online anywhere, anytime. Our Pro and Enterprise Guest Wi-Fi solutions, are easy to install (cloud-based), easy to access (customer registration via text message, login without password, accessible in all your branches or locations), safe and GDPR compliant.
Our dashboard even tells you which visitor profiles have surfed on your network, which pages were visited and what their profiles are (male, female, age, place of residence, etc.).
Hyperconnected Infrastructure
Businesses today need constant connections between applications, devices and users. But this is causing a data explosion which impacts your IT infrastructure.
The Hyperconnected Infrastructure gives you an ecosystem in which all things can communicate and interact with each other: person-to-machine, machine-to-person, machine-to-machine. It's a dynamic and secure environment with end-to-end connectivity at high-speed within a multicloud reality.
Adopt a Hyperconnected Infrastructure and improve performance and cost efficiency while gaining more scalability and flexibility.
For who?
For IT managers looking to manage and optimize day-to-day operations continuously, while still finding room and time to innovate and adopt new technologies.