Faster and more flexible
Published on 02/06/2015 in Tech, tips & tricks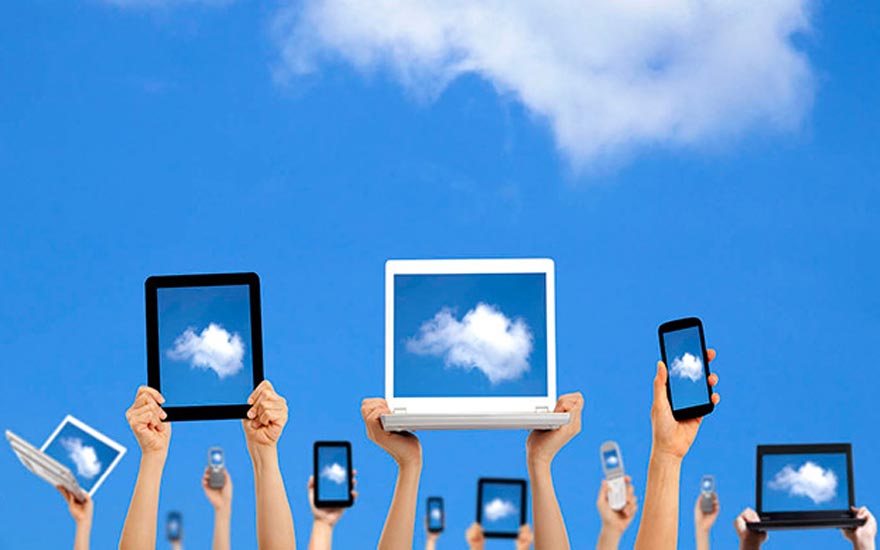 Your company needs to be flexible. That is the third requirement we identified for this special report. You need to be able to switch quickly, and this also applies to your IT infrastructure. The so-called cloud assists you with this. To get you started, we interviewed several companies that have already migrated to the cloud.
IT is becoming increasingly important for SMEs. In many cases, IT is even an inherent part of a company's services, such as at Redcorp, one of the biggest B2B IT suppliers on the Belgian market. Redcorp is busy transferring its website to an external data centre where clients can place their orders. "We helped them build a site that supports over three thousand visitors a day," says Gert Van Eynde, Senior Project Manager at e-nitiative, which manages Redcorp's IT activities. The reason: clients who cannot reach the website (on time) are lost forever. Flexibility was the main selection criterion: Redcorp can expand or shrink its website based on its customers' needs. The web infrastructure even comprises the internal IT environment. "As the website runs externally, we decided to add the IT infrastructure to it to build a homogenous environment capable of shrinking and growing as needed," explains Van Eynde.
Classic vs. cloud
After farming out its IT to an external data centre, Redcorp can once again focus on its core activity. "Guarantees regarding management and security can now be acquired as a service, allowing the company to work in a highly efficient way. All areas can be accessed via the internet and from mobile devices. This is a big advantage for the Redcorp team."
Redcorp is a perfect example of the change of tack that is being implemented by many companies. Moving their IT to a different environment allows them to boost their response times. "I still remember the days when buying new physical servers to replace the previous ones involved a lot of copying as well as interminable software installations and synchronisation sessions. Nowadays, we can upgrade whenever the need arises simply by calling our provider," muses Van Eynde.
Redcorp's migration to the cloud was a deliberate decision. Their processing power and software are no longer located on their premises but "somewhere in the cloud". This move includes everything: software, storage capacity, processing power (performance), even the IT hardware. Rather than buying hardware, the company now simply rents it.
The cloud, by the way, comes in different shapes and guises (see "Cloud incarnations for dummies"), which may very well mean that some companies are already in the cloud without realising it. There is also commercial software, like Microsoft's Office 365.
The other approach is to consider cloud computing a strategic move—companies like Redcorp use external suppliers as an extension of their internal IT infrastructure. This approach focuses on using servers, storage capacity and software located in external data centres. Even though these two cloud approaches may be fundamentally different, their advantages are rather similar.
Availability
The power to adapt quickly is an important advantage of working in the cloud, as is continuity. This no longer only applies to companies like Redcorp, but also to traditional environments, like the education sector. The International School of Brussels (ISB), for instance, has 1500 students a day who log into its portal to consult their schedules. In addition, 300 employees access its management applications, some even from their homes.
Whilst this platform used to run on impressive IT infrastructure, which required a lot of attention and effort, backup and continuity strategies proved immensely time consuming, and so, after a series of conclusive tests, several of ISB's applications were moved to Proximus's cloud environment.
Douglas Stone reports that this decision took a lot of pressure off the IT team: "We no longer need to worry about things like airco and electrical power, license management or maintaining the server hardware, and we are glad this is over," he says. "In addition, a ROI analysis shows that our migration to the cloud will also have a positive effect on our budget. Plus, it just looked like the right thing to do at this stage."
Predictability
Lowering IT expenses and achieving a positive ROI are only two considerations: the predictability of expenses is equally important. This was a serious consideration for yet another company that recently completed its move towards the cloud: AR&FP, which specialises in asbestos removal and fire protection.
Until 2013, AR&FP's parent company took care of the entire IT infrastructure. AR&FP, for its part, needed more autonomy and therefore decided to install its entire infrastructure in the cloud. This was carried out in a phased approach, which started out with migrating their ERP environment (Navision) to the cloud, i.e. first the software, then the hardware. Next, all servers were switched off and the entire IT infrastructure set up in the cloud.
"We signed a deal with a service provider for a monthly fee that includes all technical interventions. This allows us to control and anticipate our IT expenses," states Didier Martens, AR&FP's Business Support Manager. "The system allows us to revise the contract on a monthly basis, depending on our workforce, while nasty surprises regarding our IT expenses are a thing of the past."
Caveats
Although the three companies presented here are good examples of the cloud's potential, there are also aspects one needs to bear in mind. In addition to the external data centre, the team that looks after it as well as your company is of prime importance. "Choosing the right IT partner was far from obvious. We were won over by the expertise and transparency," explains Didier Martens of AR&FP. The relationship with your supplier and partner is important. Being able to rely on a local provider is always easier than working with an invisible provider in a different part of the world. After all, such a partnership is bound to become a long-term affair: after successfully moving all applications and data to an external data centre, nobody wants to take them down anytime soon.
A second aspect to bear in mind is a company's policy in this respect. In most SMEs, for instance, accessing cloud services are not initiated by the IT department but by sales people or other managers who start looking for cloud-based solutions such as software, which may be exactly what they need but have disaster written all over them for the outfit's IT manager or managing director, because nobody knows for sure how and where the data are managed and protected. Such a move requires watertight agreements.
Cloud incarnations for dummies
SAAS (SOFTWARE AS A SERVICE): the most popular form of cloud computing. This is software that, rather than running on a company's premises, is provided by an external party as a service.
IAAS (INFRASTRUCTURE AS A SERVICE): the IT infrastructure is rented to either replace a company's internal hardware or to supplement it.
PAAS (PLATFORM AS A SERVICE): the cloud serves as a platform for developing SaaS software or even internal applications.
One
One magazine is the Proximus B2B magazine for CIOs and IT professionals in large and medium-sized organisations.
Other articles of One