6 innovations by Factories of the future in the spotlights
Published on 19/03/2021 in Innovate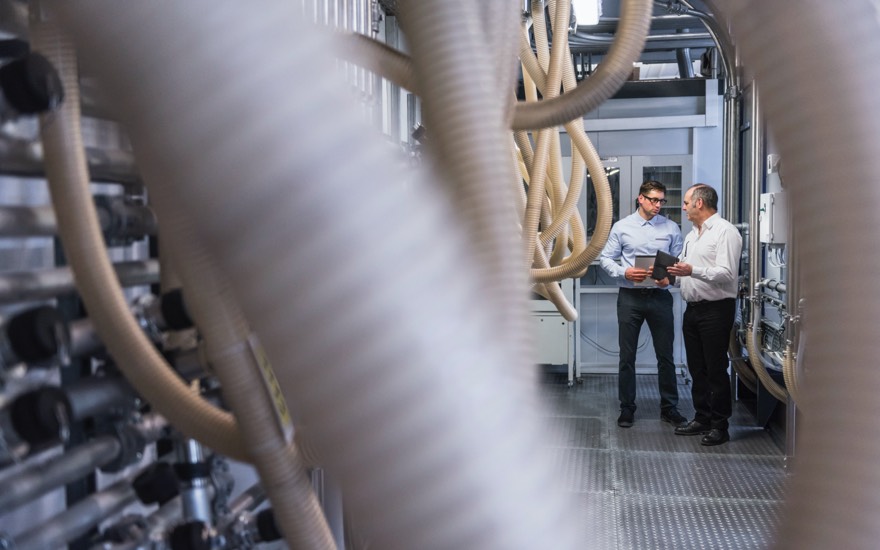 Smart businesses rapidly deal with challenges, partly thanks to new technologies. "A factory of the future switches rapidly", says Geert Jacobs, project manager for 'Factory of the Future' at Agoria, "both in business processes and for the employees."
Geert: "In Belgium, more than 800 manufacturing companies are being coached by Agoria and Sirris to make the transformation to the factory of the future. In the technological manufacturing companies, where it all began, 30% have already begun this transformation."
"The best students in the class get the formal title of 'Factory of the future' from us. A Factory of the Future invests intelligently in digitalization, processes and products, and world-class production. They make informed decisions when it comes to energy and materials and are attentive to engagement, creativity and autonomy among their employees."
"To date, 42 Belgian companies have received this label. In the last five years they have invested more than 1.9 billion euros in infrastructure renewal, digitalization and automation."
"2020 was an unusual year, but a great many manufacturing companies in our country still went ahead with their planned transformation. Thinking about the future and believing in your own vision is still an important part of being an entrepreneur. In the end, Corona is just one moment in time. If you want your company to lead the pack, then counter-cyclical investing is essential", said Geert.
If you want your company to lead the pack, then counter-cyclical investing is essential.
Geert Jacobs, project manager 'Factory of the Future' at Agoria
A Factory of the future commits to these 6 innovations
1. New technology as enabler
"Technology can help improve production and establish a smarter supply chain. What's important is that we see technology as an enabler, not just as a stand-alone. If you have a good vision of the future, for example concerning robotization, and you link artificial intelligence to that, that's when it gets interesting."
2. Strategy based on objective data.
"The major issue is the convergence between operational technology (OT) and IT. For example, we see new data streams emerging in the context of the Internet of Things, such as in the monitoring of machines. This evolution means huge changes for companies. How do you handle this data in the right way? A systematic approach is always a good choice: create a roadmap, develop business cases, build a proof of concept, etc."
3. Security of IT and OT
"The protection of these data is a priority. After all, this is the raw material on which processes run and a company takes decisions. Security is indispensable throughout the life cycle of data. For OT, cybersecurity is the main challenge: suppliers are capitalizing on that by offering integrated security for IT and OT. At Agoria we set up the learning network 'Cybersecurity in OT', where companies exchange experiences and best practices."
5G will be essential for the economic recovery.
Geert Jacobs, project manager 'Factory of the Future' at Agoria
4. Ready for 5G and fiber
"Today, 5G is not yet a gamechanger, but it will be in the future. 5G will be essential for the economic recovery. Companies need to put this technology on their roadmap now. They need to know which applications will soon be possible. We expect 5G to play an essential role in the flexible organization of production. For example, via IoT connectivity with a high bandwidth and low latency, e.g. for the wireless connection of robots and machines in the business network."
"Basically, 5G will offer the same stability and reliability as the current fixed networks. Which is crucial in supporting business-critical applications. In that respect network slicing is obviously a major benefit of 5G. By dividing the network into layers, different applications are possible for different users, alongside each other on the same network. A study carried out by Agoria and Capgemini shows that half of the Belgian industrial manufacturing companies believe that 5G will make their organization more efficient."
According to Koen De Leus, Chief Economist at BNP Paribas Fortis, 5G is important in the post-crisis recovery plan
5. Learning culture among employees
"It is vital to develop a learning culture within the organization. That makes learning as normal as the everyday execution of your job. Learning is more than just following a course. Learning doesn't need to be like it was at school; it can be done in a more relaxed way. In the next decade we are going to see an increasing demand for engineers and scientists, sales and service professionals, digital experts, medical, nursing and care professionals, technicians, teachers and maintenance staff."
6. Coaching leadership
"Smart factories are moving towards supportive and coaching leadership, with clear objectives and the associated transparent communication. In this way, personnel have maximum autonomy to organize their own job, without being supervised the whole time."
Geert Jacobs is an expert in innovation and a project manager for 'Factory of the future' at Agoria.
The Belgian sectoral employers' organization for technology companies that strive for progress in the world through the development or application of innovations. Agoria has almost 2,000 registered companies, 70% of which are SMEs. Altogether, they represent 310,000 employees.
How to become a factory of the future?
One
One magazine is the Proximus B2B magazine for CIOs and IT professionals in large and medium-sized organisations.
Other articles of One