2 e-learning experts on digitization of education
Published on 22/04/2021 in Innovate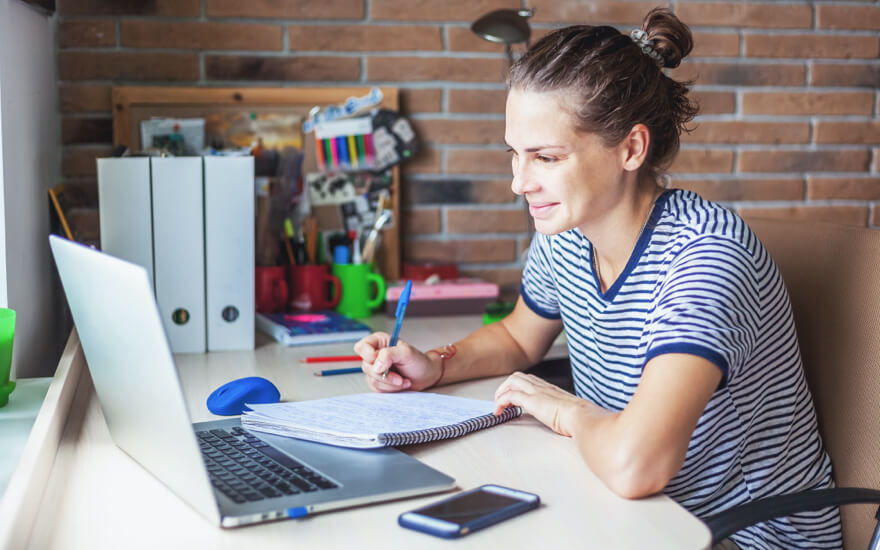 The digitization of education offers challenges and opportunities. According to e-learning specialists Tommy Opgenhaffen at Arteveldehogeschool and Julien François at the secondary school Athénée Royal de Nivelles, the future is a mix of online and face-to-face teaching.
How digital is education in Belgium?
Tommy Opgenhaffen: "The different educational levels in Flanders have been using online learning platforms like Smartschool, Toledo, Canvas or Google Classroom for a while already. Mainly for making lesson material available online or for sharing reports, or organizing practice tests. Since the health crisis, they have also been using these learning platforms explicitly, and sometimes out of sheer necessity, for live contact sessions with pupils."
"I don't think primary school pupils should have to follow online lessons from home for one single day – if it's not necessary for health reasons. However, in secondary and higher education, a mixed model is an interesting proposition."
Julien François: "I've noticed a very clear desire on the part of the public authorities to ensure fast and efficient upgrading. There's no doubt that the health crisis resulted in an unprecedented acceleration of that process. It's also important to separate the financial aspect from the skills-related aspect. The most digitized schools have an advantage, but this investment comes at a cost that should not be underestimated. It's a choice."
What are the benefits of blended learning?
Julien: "It's suitable for some students, but less so for others. The same applies to the teachers. So I wouldn't speak of advantages per se, but rather of a new reality that has to be managed. In my view, digital technology is a fantastic toolbox that allows you to highlight more cross-cutting skills than you can with front-of-the-class teaching."
Tommy: "However, when you focus solely on distance learning, you miss out on structure and support, in my view. So you need to strike the right balance. At Arteveldehogeschool, for instance, students come to our campus for one week for some subjects, and then process the subject matter later at home or in their student rooms. During the face-to-face sessions you pay extra attention to those areas where the students are having difficulties. There is less teaching and more coaching."
It's about taking the powerful learning principles from face-to-face education and implementing them in the digital environment.
Tommy Opgenhaffen at Arteveldehogeschool
How do we ensure that the digital gap, which is closely associated with background, income levels and diploma, does not widen?
Julien: "I think 99% of students have a smartphone, regardless of their origin or their income. But it's not the most suitable tool for taking courses. The real challenge is to have the right tool. And that goes for teachers as well as students."
"At the Athénée Royal de Nivelles, we decided to take charge of the equipment. We currently manage a fleet of 1,100 iPads in secondary education and 350 in primary education. A deliberate choice that allows us to put everyone on an equal footing. So now, digital learning is no longer an obstacle, it is part of the solution."
Tommy : "Independent digital learning also needs to be taught. You notice that the strongest students have no problem getting to grips with it; but a great many of their peers are lagging behind. Giving them a laptop or internet connection doesn't solve the problem. You need structural systems to support young people. You also need to give teachers the space to get used to the technology and the digital teaching methods. That is a key role for schools, educational institutions and also for government."
Proximus and Signpost support schools in taking a 'digital leap'
Does digitization require a different method of teaching?
Tommy: "You have to take a sensible approach to implementing the new technologies. I like to emphasize the importance of digital didactics. It's about taking the powerful learning principles from face-to-face education and implementing them in the digital environment. For instance, regular practice tests and formative testing of knowledge."
Julien: "'Technology will never replace good teachers, but in the hands of great teachers, it's transformational'. This is a quote from George Couros that I use a lot because it perfectly illustrates the situation. Of course, giving lessons by videoconference is always going to be tough for teachers: there's no opportunity for them to soak up the atmosphere in the classroom."
Tommy: "And having the most innovative applications doesn't automatically mean that educational standards take a giant leap forwards. Teachers have to think carefully about how best to offer digital learning material. A video or animation can make the subject matter real and tangible, but that doesn't mean students automatically process that knowledge. For example, research shows that a good balance between verbal and non-verbal information gives better results."
Julien: "Human contact and interactivity remain essential and distance-learning courses will never replace the power of face-to-face courses. Within the Athénée, we have a fairly clear vision: to bring education into line with modern technologies and to make it resonate with today's world."
As much for teachers as for students, digitization is a source of creativity that has added value and is often rewarding.
Julien François of Athénée Royal de Nivelles
To what extent has education embraced innovative technologies?
Tommy: "Many of the applications focus on personalized exercises and learning trajectories. In the future, artificial intelligence (AI) can offer added value by offering customized exercises for the student or by helping to plan the teaching material. In Flanders some cautious experimentation is taking place with AI in education. In GO! IXZO, an AI practice platform, has been tested; and Imec helped develop the Sensei-chatbot – a smart chatbot for refining study skills."
"I don't think it's right to rely exclusively on intelligent platforms just yet; the risk of bias due to the algorithms is still too high. Virtual reality also opens new avenues but, for now, it's far too expensive and too technically sophisticated. The teacher's role remains important."
Julien: "Some schools are better equipped than others. In our case, we are banking on new technologies, not to make all our students future IT gurus but to equip them with a critical eye. When, for example, a student learns computer coding, he learns to design something but, more than that, (s)he understands how the technologies of our daily life are designed. On the teaching side, we highlight initiatives, like eduLABOpens a new window , which allow teachers to discover a range of diverse digital tools, as well as avenues, methods and reflections to best integrate them into learning."
Chatbot Artie
Three years ago, Tommy Opgenhaffen developed the chatbot Artie – a first in Flemish higher education. Artie answers questions posed by (future) students about the communication management course at the Arteveldehogeschool.
Fablab
Julien François pilots the fablab (fabrication laboratory) project, a space dedicated to digital fabrication. This initiative gives every student or professor access to tools and knowledge in order to finalize projects with the aid of computer-controlled machines, 5 of which are 3D printers.
Tommy Opgenhaffen is coordinator of educational development and digital learning in the expertise network for communication, media and design at the Arteveldehogeschool. He is the author of 'Leren.Hoe?Zo!'
Julien François is a science teacher at the Athénée Royal de Nivelles and is passionate about new technologies. Among other things, he heads up the iPad 1:1 project, which has resulted in 1,100 teachers and students adopting digital education.
One
One magazine is the Proximus B2B magazine for CIOs and IT professionals in large and medium-sized organisations.
Other articles of One