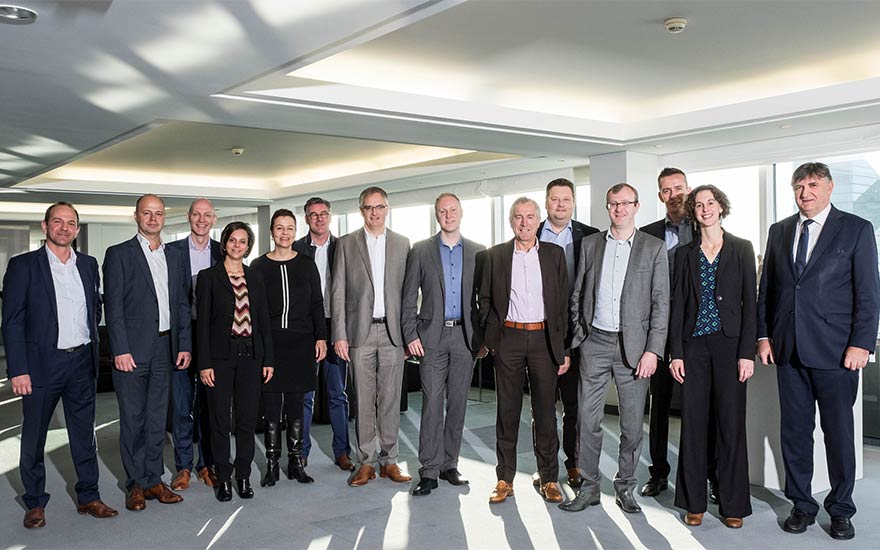 Every company faces a clear choice. Do they want to be Kodak? Or Netflix? At the same time, digitalization is not an end in itself. Digital initiatives – such as the digital workplace – are a means for companies to achieve objectives.
When we talk about digital transformation, well-known examples such as Uber, Airbnb and Spotify immediately come to mind. "As a company, you can prepare in two ways," says Johan De Belie, Digital Transformation Evangelist at Proximus. "On the one hand, you have to approach the familiar processes differently."
This is about making efforts to improve the customer experience digitally, making employees more productive and more mobile and at the same time cutting operating costs. "On the other hand, digital transformation also means coming up with totally new things: products and services that evolve along with the customer's needs."
The right support for your own staff is essential throughout this process. "We need to work more smartly," says Margaret Denis, director of Cultural Change & Digital Workplace Transformation at Proximus, "and the digital workplace is the ideal enabler for this." To work more smartly, Proximus opts in full for digital solutions, with the support of the digital literacy, the digital lifestyle and the digital functional skills of staff. "The digital workplace stimulates a corporate culture that is based on cooperation, with tools and suitable workstations that are geared to mobility, reachability and cooperation." Proximus is implementing a wide-ranging transformation project for this.
Opportunity in new building
"The move to a new building prompted us to use flexwork more," says Nathalie Vuylsteke, Digital Collaboration Specialist at Barco. "The new office is geared to cooperation. We have provided the necessary facilities and tools for this. For most of our employees there are no fixed workstations any longer and we have installed lockers, among other things, where staff can store their computers and dossiers." It's important to point out that when they moved to the new office, Barco drew up a charter.
This clearly sets out the new arrangements for everyone. At the VRT, too, the move to a new building prompted a review of the way they work and cooperate. "It's a huge opportunity," says ICT & Security Manager Wim Wauterickx. "We're moving in 2021. Until then, we aim to try out as many new ways of working as possible, so that we can make choices later on. At the moment, however, there is often still a big divide between the new technologies that we use for radio, television and online, and the way we work together at the office."
At testing firm Vinçotte, paper processes still have the upper hand at the moment. "We're digitalizing rapidly," says CIO Luc Verbist. "We have to be able to send our reports to our clients quickly and digitally. The transition from paper to digital is fairly radical." So Vinçotte has appointed a team of ambassadors who perfect digital test projects and then introduce them to their colleagues. "That's how you build up speed," agrees Davy Haesen, ICT Director at accounting and consultancy firm SBB. "We are evolving from a purely operational to a consultancy firm. With digitalization, it is important to share the success of a project with the end users.
That way, they see the progress made and become more involved." HR service provider Securex is also going through a digital transformation. "We want to be the most accessible company in the sector by 2019," says CIO Frans Temmerman. "Access to digital data is central to this. It means a big change in the way we work, both internally and with clients." The important thing here is for the company to focus its energy on the right things. "You mustn't fight against the old, but fully support the new," Frans Temmerman explains. "We ain't seen nothing yet. Within this and five years innovation is coming our way at a pace never seen before. This will change our way of working completely."
Need for digital skills
In the automobile sector, digitalization is taking place on various fronts. "Step by step, cars are changing into digital offices," says Marc Scheir, IS/IT Project Manager at Volvo Car Belux. "At the same time, totally new business models are emerging in terms of the use of the car, such as car sharing and self-driving cars." Volvo is also focusing on better cooperation within its own ecosystem. Among other things, the company is to introduce the use of flexdesks and collaboration areas.
In addition, more emphasis is being placed on cooperation with virtual teams. "In the past, everyone was together in one building," explains Marc Scheir. "Today, staff are more and more spread among various locations. So support with the right tools is very important, to create productivity and speed." A further challenge for Volvo is that the company has to involve the dealer network as well. To ensure an efficient flow of information through to the dealer, the digitalization of existing paper processes is absolutely essential.
But tools are only one facet of the matter. In the digital story, staff also need new, digital skills. "We have developed an ecosystem," says Tim Blanckaert, Facility Manager at Securex. "That way, we map out how our people work together. What's more, the helpdesk gives us a clear view of the worst practices. From that we find out what is going wrong."
After all, digital transformation, too, involves a considerable amount of change management. "The use of Office 365 and videoconferencing, among other things, is changing our way of working," says Davy Haesen. "Our staff are giving clients advice from distance more and more. The IT team serves as the integrator here, the ones who make everything work smoothly and give users the assistance they need."
Digital channel for customer needs
Home working and flexwork usually bring the importance of cooperation to the surface right away. But the emphasis doesn't always have to be here. "We see home working as a suitable formula for activities that demand a lot of concentration," says Stefan Van de Velde, ICT manager at the National Bank of Belgium. "These days, everyone here works with a laptop, so the staff are very mobile within the company, as well." An application like Skype For Business can support cooperation with home workers. "We evaluate the use of these tools," says Nathalie Vuylsteke. "That shows, among other things, that staff shun complex applications in favor of a simpler landscape."
This is an observation that indicates what digitalization is really all about. "Digitalization is the means, not the end," say Wim Wauterickx. "Business does not demand something digital in itself, but a solution that offers productivity, reachability and better cooperation. That means it's difficult to make the digital transformation measurable. You can't get that from the use of tools, but you measure with concrete business KPIs." In addition, it is often the end customer who is at the basis of the digital journey. It's the customer who wants a solution to their needs here and now. And then the digital channel usually offers the fastest and most efficient means…
This article is based on a round-table discussion with:
Marc Scheir, IS/IT Project Manager, Volvo Car Belux
Stefan Van de Velde, ICT manager, National Bank of Belgium
Nathalie Vuylsteke, Digital Collaboration Specialist, Barco
Tim Blanckaert, Facilities Director, Securex
Luc Verbist, CIO, Vinçotte
Davy Haesen, ICT Director, SBB
Wim Wauterickx, ICT & Security Manager, VRT
Johan De Belie, Digital Transformation Evangelist, Proximus
Margaret Denis, director Cultural Change & Digital Workplace Transformation, Proximus
Bart Watteeuw, Director Enterprise IT Solutions, Proximus
Gaëtan Willems, Head of Enterprise Networking & UCC, Proximus
Dana De Ruyter, Marketing Enterprise Business Unit, Proximus