Carrefour's digital revolution
Published on 27/12/2019 in Customer Stories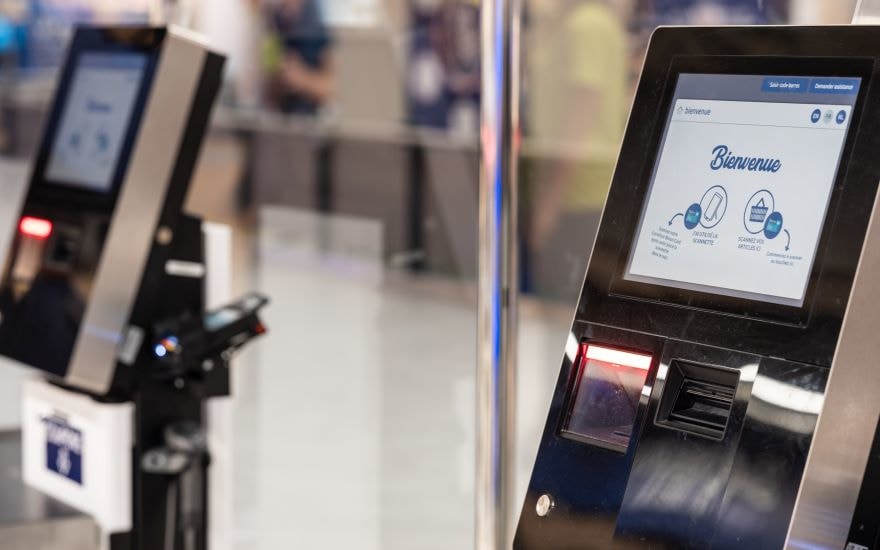 We talked about transformation, diversity and smart devices with Geoffroy Gersdorff, General Secretary of Carrefour Belgium, and Pierre Leman, Human Resources Director, the drivers behind the brand's transformation plan.
How do you explain the deep-seated need for digital transformation in the retail sector?
Geoffrey Gersdorff, General Secretary of Carrefour Belgium: "The competitive environment has changed a lot. In Belgium, we have seen numerous mergers, the development of non-food e-commerce and a transformation of the 'hard discount' sector, and we have to take account of newcomers who are changing the commercial paradigm. You don't have to look very far, when you offer 30,000 products on average. A giant like Amazon offers 16 million, without being restricted by store opening hours. Then the commercial perception changes immediately."
"Meanwhile consumers' expectations are changing and they are becoming accustomed to new service offers, often for free. So the question to think about is how you can stand out and ensure that you develop continually. Our ambition is clear and based on simple reasoning: to make the best accessible to everyone. That has become our raison d'être."
The retail is transforming digitally. Discover how we can help increase your efficiency and customer experience.
Digitalization at Carrefour? Watch in the video how this happens.
Tips from Geoffroy Gersdorff and Pierre Leman
Make bold choices, be ambitious and persevere for three to five years – the time it takes for a digital transformation.
Accept the delay effect: your investments will have an effect in due course.
Invest in social consultation, over-communicate and be sure that your approach is understood.
How is Carrefour tackling this digital transition?
Geoffroy: "We have e stablished f our strategic axes. The first is to ensure that we are present everywhere and permanently. We are proud to be the only multichannel retailer and we achieve that thanks to thinking in terms of geographic eco-zones: how can our four distribution channels (Hypermarchés, Market, Express, Drive) best combine."
"The second concerns the food transition: clearly, many people are trying to improve their diets. We are endeavoring to respond to this demand in the composition of our range. The third pillar in our strategy is the proper allocation of resources. It's not enough to invest in digital technology. It is also important to identify areas where savings can be made. In short, spend less to invest better."
"Last but not least, the human aspect. We aim to ensure a level of training in line with market development. The smartphone, for example, needs to become an ally for our staff for the benefit of the consumer experience."
The question to be asked is not 'When will my job disappear?' but 'How will my job evolve?
Pierre Leman is HR Director at Carrefour Belgium
A&M deploys 8,000 smart device at Carrefour
Alongside the application aspect, A&M (Malines), partner of the Proximus ecosystem, is supporting Carrefour with the deployment of smartphones. "The technical, operational and security requirements were defined during the first meetings. Then came the choice of device, the logistic distribution plan and the implementation of the registration program (User Enrollment) in order to guarantee that personalized tools would start up in automatic mode," explains Herwig Deckers, Account Manager Corporate at A&M. "Today, all staff members benefit from a dedicated platform that enables us to provide an end-to-end service for Carrefour throughout Belgium."
How is Carrefour dealing with this development in terms of its staff?
Pierre Leman, HR Director at Carrefour Belgium: "Before talking about digitalization, you have to make sure that consumers and staff see this in the same way. We have called the first phase Digital Academy. The principle behind it is based on acquiring the necessary knowledge upstream of the launch of the technology. Then comes the real revolution: supplying our 8,000 staff in stores with a smart device. The first mobile solutions have already been developed in human resources: welcome, recruitment, training, plus a self-service solution for pay slips, working hours, etc. The next step will cover logistics and operations."
"The transition calls for in-depth work. Don't forget that the level of digital maturity among our staff varies widely. We were, of course, expecting a certain amount of resistance to change, which is understandable, and this is why we have invested heavily in providing information about the reasons for these changes. This has resulted in the deployment of six launch waves, a physical presence in each store and the introduction of a dedicated team to prepare staff technically and explain the digitalization process."
"In my department, our aim is to bring about a gradual but total transformation of the HR service by the end of 2020, while maintaining contact via our own People Shared Service for more administrative questions. Yes, it's a real revolution and our solution will be omnichannel: we are pooling our investment for all formats of our integrated stores and for the Carrefour Belgium head office."
How do the digital processes affect the consumer experience in store?
Geoffroy: "Before we get to the stores, let's start with our website. It's far more than a showcase. Above all, it is a trading site on which you can place your Drive order and it also provides up-to-date information and enables consumers to locate our stores or consult our magazine, making the most of dynamic suggestions."
"Our Carrefour application results from this: rich content in line with the website and special offers personalized on the basis of your purchasing profile. The aim is to create a 1to1 relationship and no longer a 1toAll relationship. And to prove that digital is not the opposite of proximity, we also offer ShipTo – a 90-minute delivery service via a fleet of electric bikes. It's simple and efficient and perfectly in line with our customers' expectations."
Pierre: "It's a new solution for our customers. And I think evolution is becoming revolution in the retail food sector: we are the first to ombine digitalization and human contact, while adding an ecological layer thanks to proximity and electric mobility."
Geoffroy: "Our mass circulation catalog ( three million copies distributed in Belgium) is undergoing a more subtle transition. This is not a sustainable media and we have decided to invert the trend: the catalog comes to you by post, but the special offers sent out are personalized following a complete, GDPR-compliant data analysis."
"A physical store necessarily means cash tills. Here, digitalization makes it possible to ensure more mobility and smoother payment processes. As well as the self-scanning system, we are deploying the self-checkout system in over 40 stores. And the results are there: one customer in three uses it. In future, we will be deploying new means of payment via smartphone."
Pierre: "Everything we are developing is our response to what customers want. So our internal development cannot impact negatively on the relationship with our customers. We are a long way from the use of robots in stores, although this is a sensible move in our warehouses. But we firmly believe in the relationship between staff and the end customer. So digitalization is not set against employability. On the contrary. Far from excluding our staff, we will be bringing them on this journey. Ultimately, the question is not 'When will my job disappear?' but 'How will my job evolve?'"
Let's come back to the Smartphone for All project. What are the first results for staff?
Pierre: "I'm very satisfied with the implementation. We are progressing as planned. We are encouraging our staff and the early adopters will carry the others along with them naturally. Don't forget that we went through a staff reduction program in 2018 and it is important to restore trust. The cultural and digital change is under way and we are already getting the first positive signs."
Geoffroy: "We come now to an area that we haven't mastered quite as well. I'm thinking of digital marketing and other applications for which it is perhaps not as easy to assess the direct ROI."
How important is external advice or support from experts in a transformation like yours?
Geoffroy: "At first, we called upon specialists to guide us in this new adventure. Now we are drawing on our own internal resources to develop skills and circulate knowledge within the company itself. The purely technological aspect is still outsourced." Pierre: "It's important to strike the right balance and then make it last. That involves a constant search for skills and is a major challenge in terms of recruitment and training. Let's be clear: we hold an image of the retail market that no longer corresponds to reality at all. Ours is a modern company which is ensuring the means to digitalize."
The smartphone needs to become an ally for staff for the benefit of the consumer experience.
Geoffroy Gersdorff, General Secretary of Carrefour Belgium
Are you planning to invest even more in digitalization in the future?
Geoffroy: "Yes, I dream of total, successful integration. For everyone to realize the added value of this revolution. We are convinced that this is the only possible option. Our staff are confident the physical stores will remain the ultimate preferred point of contact. We have to continue to invest in order to consolidate this element that makes us stand out on the market. I'd like to attract digital development profiles, once and for all."
Pierre: "Change is the only thing we can be certain will last. I aim to emerge as quickly as possible from a transformation phase and reach a production phase where digitalization will have become the norm. We have taken up the challenge of launching all our projects at once and we hope to become a transformation model in the retail sector. Although a lot of our competitors are talking about it, we have the advantage of actually doing it and we are far from being behind in terms of digitalization."
Remote working: beyond teleworking
While the new world of work is closely linked to digitalization and teleworking, Carrefour is going further by introducing remote working. "Working at home is one thing, but we are moving up a gear by encouraging our staff to work from another branch or another point of sale at least one day a week. It benefits mobility, open-mindedness and internal exchanges. A real boost for versality," explains Pierre.
The retail is transforming digitally. Discover how we can help increase your efficiency and customer experience.
Data bepalen de toekomst van uw fysieke winkel.
The Carrefour supermarket company was established in 1959 by the Fournier, Badin and Defforey families (in France). Carrefour opened its first hypermarket in Belgium in 1969.
Pierre Leman has been HR Director at Carrefour Belgium for nine months. His career in human resources includes the pharmaceutical sector, FMCG, the food industry and temping.
Geoffroy Gersdorff is the General Secretary of Carrefour Belgium, where he has worked for over 20 years, both nationally and internationally. He is in charge of strategy and the transformation plan, among other things.
One
One magazine is the Proximus B2B magazine for CIOs and IT professionals in large and medium-sized organisations.
Other articles of One