At Melexis diversity makes technology
Published on 24/06/2019 in Inspire 
Françoise Chombar and Veerle Lozie: one is ICT Personality of the Year 2018, the other CIO of the Year 2014. Both hold a top position at semiconductor developer Melexis. "Diversity is in the DNA and is also the driver of our product innovation."
When a prize like ICT Personality goes to a woman, that fact is often news in itself. Justifiably, do you think?
Françoise Chombar, CEO: "Actually I find it very normal for a woman to have a top position in a technology company; four of the 10 executives at Melexis are women – including Veerle – and on the board the ratio is even three out of five. Researchers from Hasselt University once determined, with amazement, that our company is one of the few to be gender-neutral."
What do you do to achieve that gender neutrality?
Veerle Lozie, CIO: "Nothing special, actually. We have no special incentives or programs specifically for women. Apparently striving for gender neutrality is unconsciously part of our company culture." But a strong conviction does lie at the basis, says Françoise. "The three founders of Melexis believe that diversity really works. Technical and non-technical employees, over 50 nationalities, and here and there a maverick who broadens our outlook: that mix is the driver of our innovative capacity."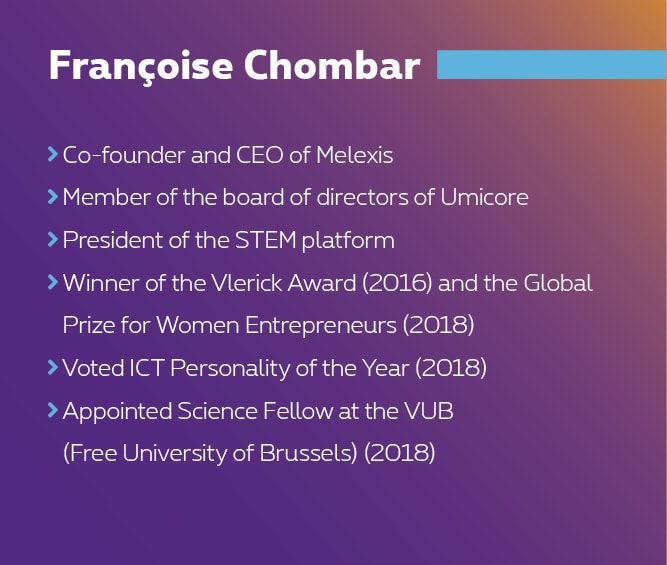 Difficult times are fruitful too
Innovation is needed because we're in a period of rapid change. What does that mean for a company like Melexis?
Françoise: "Our most important market, the automobile industry, will change more in the coming five years than in the past 20. The sector is being compelled to move toward accelerated electrification due to the growing call for clean air, in Europe, but also, most definitely, in China. Furthermore, mobility is becoming more autonomous, more shared and more personalized. So a lot of new applications are arising and the demand for our products is growing."
Think possible and change your business thanks to digital transformation.
"In other sectors too, solutions are evolving –such as smart buildings– that we want to collaborate on. On the other hand, the geopolitical tensions of recent months are having an impact. At the end of 2017 we had four scenarios on the table for what mobility would look like in 2030. And what happens? Our darkest scenario, in which growing nationalism and protectionism slow economic growth, is now becoming reality. It is a difficult period that we will have to get through, but difficult times can be fruitful too."
Innovation is our essence. So we work with complementary teams, because that increases creativity. People can fail too; you learn from that.
Françoise Chombar, CEO at Melexis
You launch a product every month, and that is usually the result of an innovation. An amazing statistic. How do you do it?
Françoise: "Innovation is our essence. So we work with complementary teams, because that increases creativity. People can fail too, because you learn fastest from your mistakes. And we also listen very closely to the market to offer solutions that are really wanted."
Data is the new gold, they say. What is your digital strategy?
Veerle: "We don't have a digital strategy; digital is just an obvious component in building our future and, in that sense, a logical part of our corporate strategy. Due to the exten sive tests that we do on all our components, Melexis is sitting on a mountain of data, and we have long been aware of how important that is. We are now focusing on making use of data for the benefit of ourselves and our customers."
Innovation and sustainability
How do you see the role of IT within Melexis in that context?
Veerle: "IT is not the conventional department in its ivory tower; it's really a part of the business, and together we develop wonderful solutions. It's naturally fantastic that our employees are requesting digital changes more and more often themselves as they get more of a feeling for technology. So we are happy to let them experiment to find solutions themselves, although in a safe environment and according to certain guidelines. In addition, IT is often a pioneer in things that are later introduced company-wide, such as project management offices and virtual working via Google Hangouts."
How do you wage the war for talent that is hard fought in the high-tech sector?
Françoise: "I don't like that word 'war'. We're not waging war against other companies, or with our employees. With a little more patience than before, we still find the right people, and the right people find us. The DNA that suits us is that of people with an open view of the world and a passion for innovation and sustainability. Once they are with us, they often stay a very long time, because they like our culture."
"We are of the opinion that autonomy, competence and involvement lead to intrinsic motivation, so that you don't need command and control, and you naturally end up with an environment that is very result-oriented but, at the same time, also very people-oriented."
The STEM platform is an independent group of experts who advise the Flemish government on the STEM action plan and proposes priorities. The Flemish government appoints its members and these members use their knowledge, experience and network to reach the goals as dictated in the action plan.
Françoise, you are the president of the STEM platform. Where does that commitment come from?
Françoise: "It's something that lies close to my heart personally and also lives in our company. When we came up with initiatives with a STEM component in our organization several years ago, we decided to make this our corporate social responsibility theme and to positively contribute with our knowledge and innovative capacity to more STEM in the world. For example, quite a few Melexis employees are coaches at STEM academies during working hours. Personally I want to get more diversity in STEM."
"To draw from talent pools that still remain largely untapped, such as young women, in order to alleviate the shortage of STEM profiles. But also, and especially, to make technology more gender-neutral. Because if technology also integrates the perspective of women more, you get better products and services and the global gender gap can be closed faster. Maybe even in one generation, who knows?"
Naturally, it's fantastic that our employees themselves are requesting digital changes more and more often as they get more of a feeling for technology.
Veerle Lozie, CIO at Melexis
Melexis is a world-class player in semiconductor sensors for the automobile industry, and from its core competency – making microchips – has further expanded its portfolio of sensors, driver ICs and wireless devices for integration into smart devices, home automation and industrial and medical applications. They are being incorporated in the next generation of products and systems that improve safety, sustainability, efficiency and comfort. Melexis has some 1,600 employees in 20 locations across 14 countries.
One
One magazine is the Proximus B2B magazine for CIOs and IT professionals in large and medium-sized organisations.
Other articles of One