Digital tools show talent and the need for training
Published on 17/09/2020 in Inspire 
The digital permeates all layers of a company, affecting both the relationship between employees and between employees and customers. More and more, work is dependent on objectives and supported by digital tools.
Tania Pittoors: "Digital tools make our work more efficient. They give us more agility, help us keep colleagues and customers on level and they make it easier for us to work together. Our work is more and more done in ecosystems, which not only include colleagues, but also freelancers and other partners. These tools also facilitate more involvement because asking questions or launching ideas is easier, for example using a portal or a chat group. That in turn makes it so that talent surfaces more quickly."
"People can show and share their work with colleagues more easily. But equally, digital tools require a different leadership style and different leadership skills. The manager gives more autonomy to the employee, who in turn works in function of a result. We see that the shelf life of skills and competencies is shrinking. There is a greater need for training."
Jan Van Acoleyen: "We have always been at the forefront of working from home and the digital workplace. The tools and working environment were the starting point, but in essence it is about a new way of working and leading. The health crisis has sped things up, but at the same time it has put things on edge."
"Suddenly, we were all working from home, supported by tools such as Teams and Skype. However, other elements have also gained importance, such as commitment to the team and the role of the manager. After all, working remotely relies on trust and output, not control. We also see that those working from home want to achieve results together. The social aspect of work is important."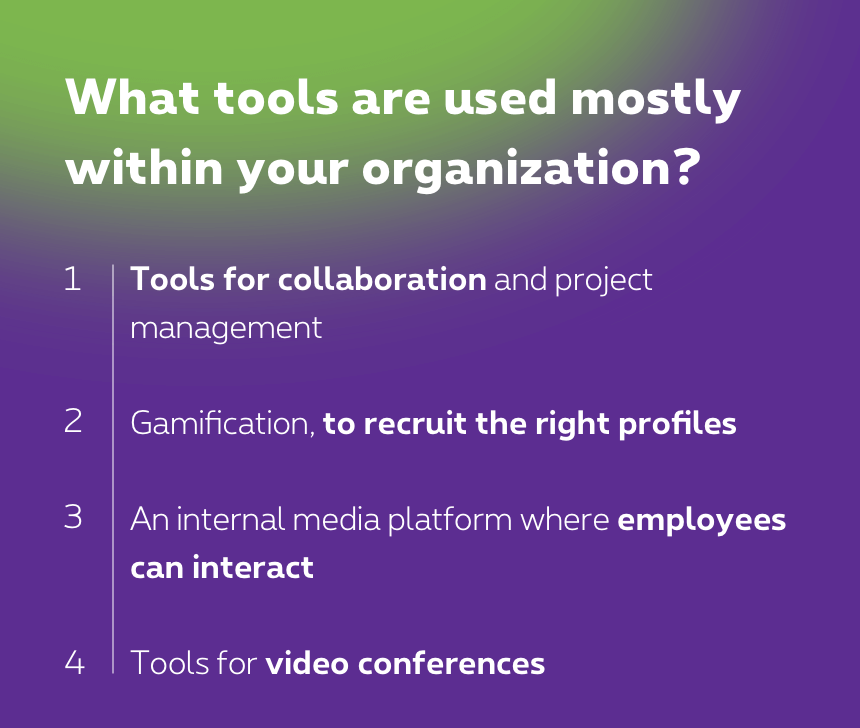 Looking for HR solutions for employees and a better communication with customers? These apps for cooperation support productivity.
Collaboration apps
People do not stay with the same company for their entire career. That does not stop us from investing in people, so that they remain good ambassadors for our organization in the future.
Tania Pittoors
Talent pool
New technologies increase the need for specific profiles. How does an organization ensure that it attracts and retains the right profiles?
Jan: "We work with an extensive internal training plan, in which we focus on three elements: A broad basic digital knowledge with all employees: office staff, technicians, commercial employees, call center agents. Upskilling: every employee keeps expanding his or her knowledge and skills. Reskilling: employees are offered the opportunity to retrain. We have many vacancies in areas such as digital marketing, data engineering and security. We do not only fill them by recruiting, but we also reskill our employees to do a new job."
Tania: "More or less all companies compete for the same digital experts. Until the outbreak of the health crisis, there was an unprecedented war for talent. At KPMG, we approach the need for specific profiles in a different way. We are building a learning organization: an inspiring environment where we offer support for employees who undergo training. Employer branding is very important here. The story that a company tells must be in line with reality."
"We see that the new generation of employees has a genuine interest in everything that has to do with corporate social responsibility. Employees want to do meaningful work, something that contributes to the world. However, they do not stay with the same company for their entire career. Yet, that does not stop us from investing in people, as we wish for them to remain good ambassadors for our organization."
People do not stay with the same company for their entire career. That does not stop us from investing in people, so that they remain good ambassadors for our organization in the future.
Jan Van Acoleyen
Searching for a balance
Does this new generation – the digital natives – also cause disruption on the labor market? For example, how does your company deal with the growing attention for a correct work-life balance?
Tania: "The fact that digital natives sometimes look at things differently has more to do with the stage of life they are in than with the fact that they are digital natives. They are happy to swap a part of their salary for extra holidays, for example, because they do not yet have children and want to travel. If they do have children, they look for flexibility in terms of care and school."
"We offer our employees a flex plan which they can customize; a down- or upgrade of the company car, a mobility budget for public transport, a bicycle lease and so on. Those who do not use their company car receive an incentive of ten euros per day. This initiative fits in with our objective to reduce our CO₂ emissions every year. In 2019, we reduced the distance travelled by car by 2.36 million kilometers. By 2020 we are aiming for a reduction of a further one million kilometers."
Jan: "The need for a different work-life balance is not so much generational as it is related to the era in which we live. In the past, focus was much more on work. Today, it is important to find a good balance and to be able to make choices as employees. As an employer, we respond to this, of course, for example with our mobility plan."
"Furthermore, most of our employees are given the opportunity to work from home two days a week and we offer various solutions in terms of part-time work. The biggest difference with the past is perhaps that employees are increasingly able to decide for themselves how to give work a place in the totality of their lives."
Low threshold
Using tools often requires new skills. How does a company prepare its employees?
Tania: "The latest generation of tools is very intuitive and therefore does not require much training. The days of the long manuals are gone. We prefer to work with short videos and so-called learning nuggets, short learning moments in which the employee learns something about a certain tool. When implementing a tool, it is especially important not to lose sight of change management. In order to ensure that a tool is adopted well, employees need to be part of the story. They must be convinced of the motives and benefits of the process."
Tania Pittoors studied classical philology at Ghent University. She started her career at Procter & Gamble and worked at Accenture for eleven years. Since 2017, Tania has been Head of People & Change at KPMG.
Jan Van Acoleyen studied pedagogy at the KU Leuven. After 28 years in HR roles at companies such as Alcatel, Agfa-Gevaert and Barco, he joined Proximus in 2016 as Chief HR Officer.
Collaborate anywhere, anytime? Read all about the digital workplace.
Digital workplace
One
One magazine is the Proximus B2B magazine for CIOs and IT professionals in large and medium-sized organisations.
Other articles of One