Belgian SMEs embrace the digital economy
Published on 22/11/2017 in Innovate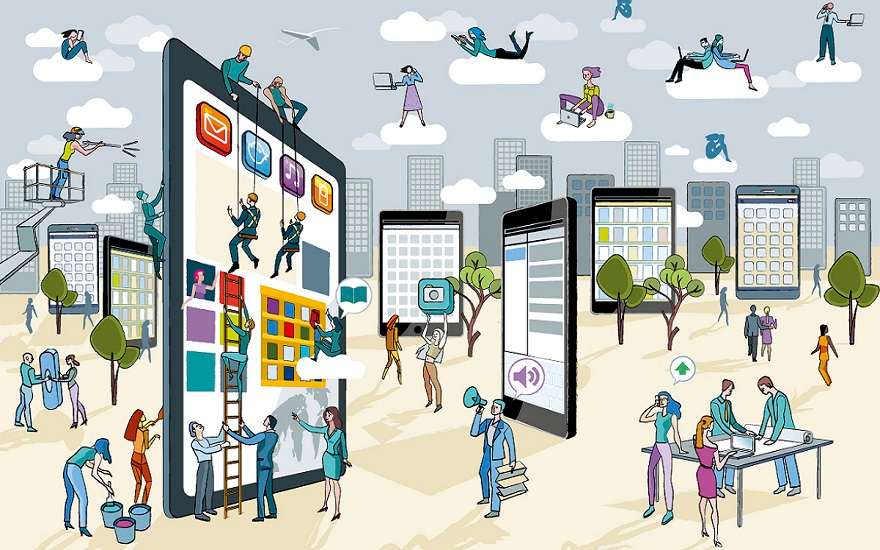 For years, Belgium failed to get to grips with e-commerce. That finally changed last year. What is more, the country is fast catching up when it comes to selling via mobile and social channels or using digital solutions, as well.
Last year, 76% of the Belgian population aged over 15 shopped online. The turnover in the Belgian e-commerce sector is estimated to have been around nine billion euros in 2016. That equates to an increase of 13.4% compared with 2015. So e-commerce is growing a lot faster in Belgium than in France (+9.4%), Germany (+10.5%), the Netherlands (+11.8%) and the United Kingdom (+10.1%). New measures such as more flexible rules on night work will doubtless push that figure up further in the coming years.
B2B webshops catch on
B2B companies have long maintained that their sector is not suitable for e-commerce. Since last year, we know that the opposite is true. In 2016, B2B webshops worldwide sold goods and services worth around € 850 billion. By 2020, B2B e-commerce is expected to generate a turnover of one trillion euros in Europe, twice as much as B2C e-commerce.
New digital sales channels
FedEX recently presented its second FedEX SME Export Report, for which the company questioned 4,500 European SMEs. For the first time, 500 Belgian SMEs also took part in the survey. The report shows that sales via mobile devices and social media now yield as much income as sales via traditional e-commerce.
What is more, according to this study, the Belgians even seem to be more advanced than their European colleagues. For instance, almost eight out of ten Belgian SMEs now use social media for sales purposes, compared with just six out of ten European SMEs. Sixty-eight per cent of Belgian SMEs expect their turnover via social media to increase next year.
In terms of e-commerce in the B2B sector, too, the Belgians are leading the way. B2B e-commerce transactions account for 67% of the income here, compared with the European average of barely 34%.
Going flat out for digital
The digital revolution is in full flow in their day-to-day activities, as well. Almost half of them already use the Internet of Things and this number will soon rise to over 60%. Belgian offices look a lot more digital now, with 43% making professional use of smart wearables (smart mobile devices that you wear, such as watches) and 51% work with connected offices. So Belgian SMEs seem to have fully embraced the digital economy and have decisively started catching up with neighbouring countries.
The digital Belgian
79% of Belgian SMEs use social media to sell and record 13% of their total turnover here.
47% of Belgian SMEs use the Internet of Things, while another 14% intend to introduce this in the coming years.
43% use smart wearables in the office environment, 13% are planning to do so.
51% already use connected offices, 13% intend to start.
Source: FedEx KMO Export Report, 2017.
More info?
Go to www.fedex.com/gb/learn/sme-export-report.html
"E-commerce is growing a lot faster in Belgium than in France, Germany, the Netherlands or the United Kingdom."
Perspective
Magazine and online blog for business leaders, brimming with new insights for a fresh look at their company.
Other articles of Perspective