Sustainability transcends climate goals at Decathlon
Published on 04/03/2021 in Customer Stories 
At Decathlon, sustainability is a concept that transcends the company's climate goals. "Human rights, new business models, and ethical entrepreneurship are all equally part of it," says Joeri Moons, Decathlon Belgium's Sustainable Development Leader.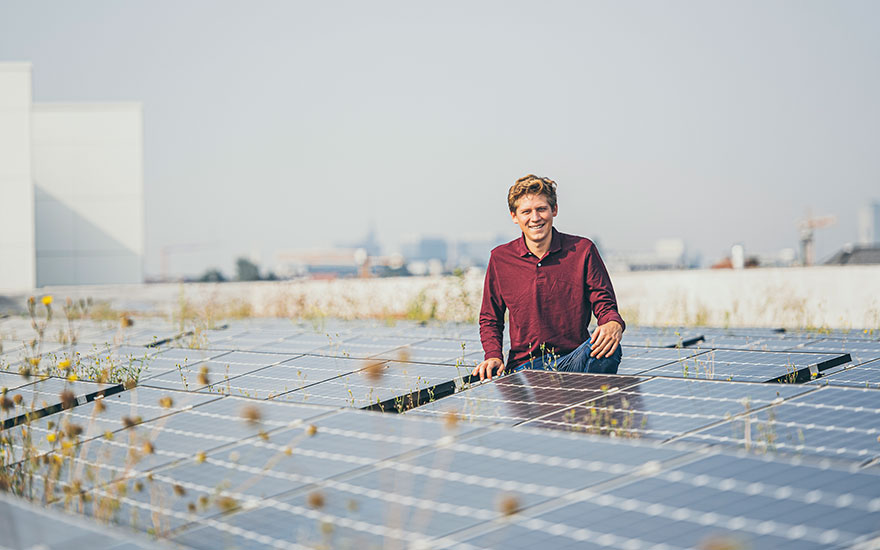 "We are resolutely committed to science-based targets, which we pursue based on data and analysis. We started our company-wide inventory in 2016, to assess the ecological footprint of transport, all our products, the stores, etc. That's the benchmark for continuous improvement – with 2026 as the target."
What are your targets in that context?
"Obviously, climate and environment are top priorities. That includes issues like renewable energy consumption, the rollout of carbon-neutral bike delivery in the inner city and reducing the carbon footprint of every product. Eighty percent of our sales is the product of in-house design and production. We control the entire supply chain for those products so we can make changes relatively easily. For instance, we can decide to produce more locally."
"In terms of sustainability, diversity and inclusivity are priorities too. To put that into practice, for example, we render sports more accessible for people with disabilities or we adjust our price strategy in poorer countries. On top of that, embedding sustainability as a lasting value within our corporate culture is something we see as important. Business isn't just about turnover or the numbers; it's also about making sure it happens ethically."
We're reviewing new business models that involve subscription, or rental plans.
Joeri Moons, Sustainable Development Leader at Decathlon Belgium
Could you tell us something about recycling or reusing old products?
"We aren't actually a recycling company, which is why we work with partners. We do collect certain products, however, such as bikes and fitness equipment. We repair and restore them, giving them a new lease on life. We're also looking at new business models. For instance, we're considering subscription or rental plans. That way people can play more sports without having to buy new equipment every time."
What does the average customer think about a brand like Decathlon going sustainable, or in terms of social responsibility?
"First and foremost, customers expect us to provide a good solution for a fair price. Customers definitely appreciate that we also provide sustainable solutions, but not if it negatively affects the price. That's a significant challenge for us."
What specific steps are you taking to boost the energy efficiency of Decathlon stores?
"Lighting and climate control, i.e., heating in the winter and air conditioning in the summer, account for most of the energy consumption in the stores. We've installed LED lighting throughout, and limit consumption further through close monitoring. The lighting and climate control have been programed to prevent unnecessary consumption at night or on closing days. And our buildings are equipped with solar panels, which supply 30 percent of our energy. Extra energy that we purchase has to be renewable and generated locally."
Have you managed to get suppliers involved in your sustainability efforts?
"Yes, it's also imperative. We can only be genuinely sustainable once all the other links in the chain are too. We introduce and emphasize how important our science-based targets are to our key suppliers. In turn, they set the example for their partners. That's how we build a sustainable network. Look, three quarters of our CO2 emissions as a company are from producing our products. That's where we can have the biggest impact. For example, we signed a charter with several major sports brands. That charter commits us to using more organic textiles, supporting their production, and making them affordable."
Has the pandemic had an impact on Decathlon's sustainability policy?
"Remarkably, the coronavirus has accelerated our policy. Evolving towards greater sustainability is slow going and is an extra layer on top of everyday work. When we were forced to close the stores during lockdown, we used that time to pause and reflect. All of a sudden there was plenty of time for that. Meanwhile, all kinds of new ideas germinated during that season."
Proximus targets a CO2-neutral supply chain by 2030
The pandemic puts social responsibility front and center at Proximus
One
One magazine is the Proximus B2B magazine for CIOs and IT professionals in large and medium-sized organisations.
Other articles of One