Wi-Fi from top to bottom
Published on 25/10/2017 in News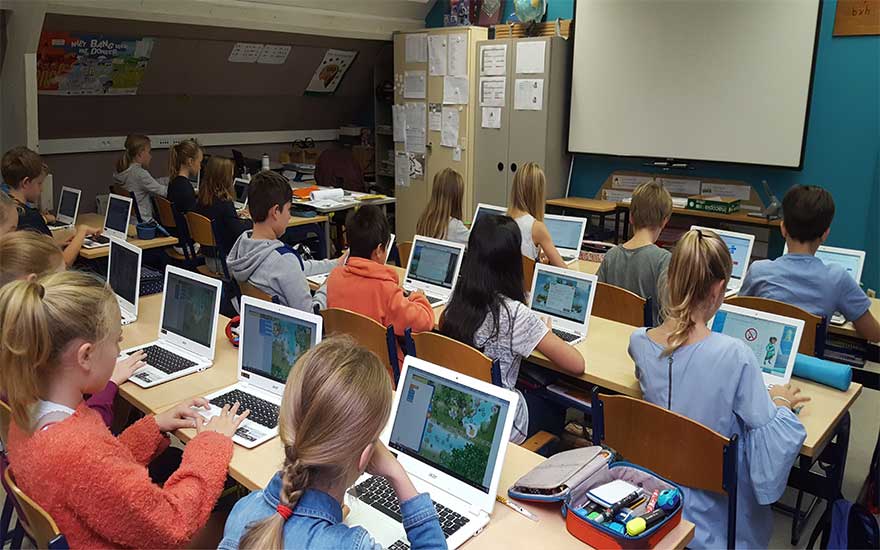 Laptops and digital teaching resources are part and parcel of today's schools. So De Linde primary school in Lubbeek was looking for a new, high-performance Wi-Fi system to replace the existing infrastructure. Proximus was given the job.
De Linde has been using IT for a long time, both for administration and in the classroom. But in the last few years the school's needs have changed, says headmaster Lieven Vanoyenbrugge. "We are using services in the cloud more and more, such as Google for Education, so having our own server and storage facilities became less important," he explains. "At the same time, laptops and tablets were becoming more important to be able to work efficiently. That meant that we needed to upgrade our Internet connection with a totally new, wireless network."
So the headmaster started scouring the market for providers who could help the school. "A lot of the solutions were geared to businesses and hotels and were outside our budget. Proximus suggested to do a test with Pro +, a product that would resolve all our frustrations with the existing Wi-Fi. Our old infrastructure didn't cover the entire school and with every new connection the up- and download speed dropped. Until it was virtually unusable."
In just one day, the Proximus technicians surveyed the whole school and laid a kilometer of cables. After that, fourteen access points and a switch were installed. "Now we have high-speed Wi-Fi from top to bottom. Because we work with a lot of personal data, a firewall was also installed to protect the network traffic."
The cooperation with Proximus is totally satisfactory. "The installation went very smoothly and was done very professionally. The people from Proximus were always reachable, which was important because all the work was done during the holiday. So far the system is running like clockwork. We are very satisfied."
About De Linde
"A school with a heart in the heart of the village" - this is how De Linde in Lubbeek describes itself. The nursery and primary school has about 280 pupils, from a reception class for the youngest children to the sixth year.
Lieven Vanoyenbrugge has been connected with De Linde for 25 years, first as a sixth-year teacher, then as replacement headmaster and now as headmaster.