Proximus' IoT ecosystem for Data News number 1 again
Published on 04/06/2019 in News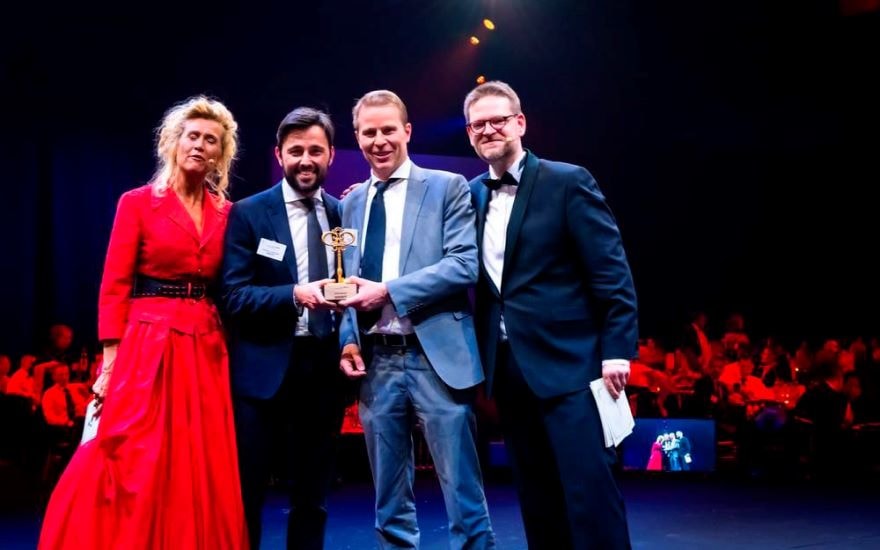 Adding intelligence to data to anticipate the future: that's what Proximus is aiming for with its IoT range. For the third year running, Proximus received the Data News Award 'IoT Innovator of the Year'. Its partner iReachm was an award winner, too.
"Just 24% of Belgian companies currently use IoT to improve efficiency, find new solutions or offer a better customer experience," says Frederic Lhostte, Head of IoT and Analytics at Proximus. "Whereas 94% of companies that do already use it see clearly measurable advantages."
"So there is enormous potential," Alex Lorette, Proximus Enterprise Director Solutions goes on. "The biggest impact of a data-driven approach is seen in sectors such as industry, retail, energy, logistics & transport, smart buildings and smart cities, each with their own pace and goal."
94% of the companies that already use IoT see clearly measurable advantages.
Frederic Lhostte, Head of IoT and Analytics at Proximus
Design Thinking to find the greatest need
Frederic: "Many companies see the added value of IoT, of course, but do not know how to get started. We at Proximus are happy to take on the role of consultant. Using design thinking, together with our customer we look for the greatest need and then take care of the development via co-creation. For example, we helped Essers or Bombardier in five days to find an IoT solution to trace their stocks racks and loose pieces, etc."
Ecosystem brings customers the right expertise
"There are already a great many possibilities for gathering the right data at the right moment in real time. The way data are interpreted will make the difference in the future. AI and machine learning generate proactivity and hence intelligence in companies," Alex says.
Alex Lorette: "This is why we are investing now in the expansion of our ecosystem to include specialized AI providers so as to supply companies with the right expertise."
What do you need to start an IoT project? Why should you invest in IoT and how should you approach this? Read all about it in our IoT starter's guide.
iReachm: 'Startup of the Year'
Proximus partner iReachm, based in Vilvoorde, also received an award: 'Belgian Startup Company of the Year'. iReachm builds voice assistant solutions, a sort of digital voicebot that can take and answer telephone calls independently, without human intervention. Their product is available in two variants. There is an 'Essential' version that can avoid missed calls and take note of messages from callers. The 'Augmented' version goes a step further and, for example, can link up to the CRM system to read data. It is also a friendly replacement for the options menus that many companies still work with at the moment.
The Data News editorial team was charmed by the iReachm products. "It's essential for a startup to have a good idea that meets companies' real needs," they say. "Not forgetting the necessary funding, the right team and the search for a recurrent and scalable business model. This award turns the spotlight on a Belgian startup that already excels in all these characteristics."
"I would like to thank our team, our investors and Michel De Coster, the Chairman of our Board of Directors," said iReachm founder Peter Staveloz, accepting the award. "But especially Proximus, which had the courage to invest in a new product line of voice assistants, in cooperation with iReachm.com."