"We strive to be digital, personal and proactive"
Published on 12/04/2017 in Solutions & services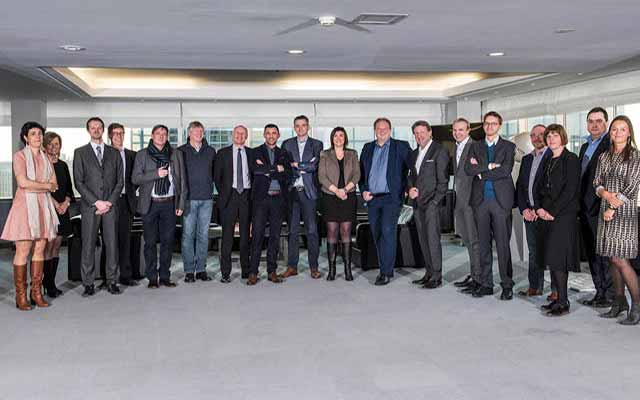 A great customer experience is the perfect way to make a company stand out in the market. Proximus has always done everything possible to provide the best customer experience through the best services. Importantly, customers have a major say in what we do.
Proximus services are based on two pillars. "On the one hand, we make the most of digital services," says Bart Van Den Meersche, Chief Enterprise Market Officer. "Customers can manage connectivity, cloud and other services themselves online. But we also want to provide a personal service. Our customers can get in touch with Proximus staff who have the technical and business knowledge to respond to the specific needs of their company."
In the past few years, Proximus has re-modeled its service provision for the professional market. "It makes us more proactive," says Fatima Dqaichi, Director Customer Centricity Program. "We anticipate our customers' needs."
Meeting expectations
Proximus provides total support for every project. "We offer an end-to-end solution," Fatima Dqaichi explains. "Customers should never have the feeling that one team sells them something, another installs something and yet another provides support. That's an important focal point for us." Proximus' aim is very clear: to be the best service provider at all times. "It's an extremely difficult balancing act," Bart Van Den Meersche says, "because customers' expectations change very rapidly." But for an operator, it often takes years to roll out new technology in the network.
"We aim to achieve co-creation, where customers work with us on new models, from design to delivery."
– Dieter De Pauw, Customer Experience Program Manager
Personal contact point
Proximus not only constantly anticipates, but is also always ready to answer customers' questions. "Every professional customer can contact their personal account team if they have any queries," says Katia Battheu, Director of Enterprise Operations. "This team consists of an account manager, who answers all their questions about solutions, services and devices, and one or more customer support officers for administrative issues or complaints. This combination is a huge asset for our customers." Customers can contact the technical service desk with technical questions.
For Proximus, it is important to maintain the human touch with customers. "We invest a great deal in training," Katia Battheu continues, "so that our staff can offer help in the right way via any channel – from the telephone to social media." Another asset is that Proximus ensures continuity.
Pascal Vanswegenoven, Head of Business Support Centers: "Staff who have been serving customers for 10 or 15 years are not the exception here. These staff members have grown with the customer and so they are able to offer advice based on broad knowledge and follow up projects over the long term."
A business, digital and IT transformation
"We aim to offer the best customer experience and the best services at every level. We provide a service that responds to growing digitization and the specific needs that this creates for our customers," says Bart Van Den Meersche. "We work toward practical objectives."
The process includes the implementation of new tools for CRM – quoting, ordering, provisioning, contracting, billing and incident handling. But of course it involves a lot more than that. "We are very ambitious," Bart Van Den Meersche says. "In terms of the customer experience, we aim to set a new standard at Proximus. We do that with convergent, digital and agile solutions. So we offer not only the right functionality, but also the right service at the right price."
One model
The new Proximus approach means that our business customers will shortly be able to work with Proximus far more simply and gain access to convergent solutions that are currently separate from one another: fixed telephone services, fixed data, mobile solutions and IT.
"We are really building a new structure with new solutions for our customers, where everything comes together," says Dieter De Pauw, Customer Experience Program Manager. "It's a transformation process in which we are actively involving our customers. They tell us their challenges, what they expect of us and how we can meet their needs." Proximus takes a very practical approach to this. Dieter De Pauw: "We aim to achieve real co-creation through physical workshops, where customers work with us on our new solutions, from design to delivery."
"VOCAB is based on interaction: Proximus learns from us, we learn from Proximus."
– Giles Daoust, CEO at Daoust
Voice of The Customer Advisory Board
One of the ways Proximus achieves this is by organizing workshops. About 10 such workshops have been held so far, with a total of about 40 participants from around 20 customers. Another 10 workshops are scheduled over the next few months. In addition, the first working meeting of the Voice of the Customer Advisory Board (VOCAB) took place at the start of 2017.
Twelve top managers from medium-sized and large companies, along with a large delegation from Proximus, discussed the transformation of Proximus into an organization that puts the customer experience first. "The Advisory Board aims to give customers an opportunity to help determine the direction of our programs," says Bart Van Den Meersche. "It's an exercise we plan to repeat regularly. We ask customers for advice and then consider this advice when taking major decisions."
Productive interaction
"We are active in HR services," says Giles Daoust, CEO of the HR company that bears his name, "and these services are evolving rapidly under the influence of digitization." Several new ways of working processes are underway at the company. "That's not only important for our own back office, but also for our relationships with customers." Communicating with customers about this development is crucial. "We work closely with our customers.
Among other things, we collect their comments about our software. These are very practical elements that we incorporate into the further development of our solutions." The idea is similar to the VOCAB at Proximus. Giles Daoust was pleased to accept the invitation to join the Proximus VOCAB. "The company is in a unique position," he says. "Their customers include virtually everyone, both private and professional."
Giles Daoust saw Proximus' proposal to join 12 CxOs around the table as an extraordinary opportunity. "These are business leaders and top managers from companies in different sectors," he says, "each with their own background and experience. It's very enriching to talk about complex subjects such as digital transformation and servicing at a gathering like this.
We heard some widely differing views around the table." The secret lies in the discussion and debate. "A medium-sized company like Daoust can learn a lot from the way Proximus approaches this sort of process. At the same time, Proximus can pick up a great deal from a company like Daoust, such as the way in which we stay close to our customers."
" We feel a strong conviction at Proximus that the customer really is involved in the story."
– Ilse Wuyts, CIO at Bekaert
Constructive contribution
"At the first VOCAB meeting, I was immediately struck by the fact that everyone spoke very openly," says Ilse Wuyts, CIO at Bekaert. "Some of the criticism was harsh, but it was always honest. The VOCAB plays the ball, not the man." Proximus has long been a strategic supplier for Bekaert.
So the company is happy to make a constructive contribution through the workshops and the Advisory Board. "We have a strong conviction at Proximus that the customer really is involved in the story. As a customer, you can communicate very openly through the Advisory Board about your service provision experiences. At the same time, you hear about the perceptions of other companies and what concerns they have."
Bekaert hopes that by taking part in the workshops and meetings, they can make a practical contribution to improving the service. "I mentioned a number of concrete difficulties about invoicing at Proximus," says Ilse Wuyts. "The process is not always smooth and often takes up a lot of our time. Of course, we think it's great that Proximus is interested in our views. Hopefully it will produce a solution that will soon benefit not only us but all customers." Expectations are high, although the VOCAB participants understand that transforming Proximus into a customer-oriented organization will take time.
Openness
"By involving customers in the process, Proximus is forced to approach matters in a tightly structured way," Ilse Wuyts goes on. "That produces fast feedback via the Advisory Board." The question, of course, is to what extent the intentions of the program correspond to what customers experience first-hand. "As a customer, you feel as if they are listening to you," says Ilse Wuyts. "That in itself is very important." The objective of the transformation is to create a situation where Proximus always starts from the customer's point of view. "Of course, that goes a lot further than the Advisory Board.
Every member of staff at Proximus – across the entire supply chain – will have to be part of it. It's a huge challenge." The first Advisory Board meeting produced a great deal of constructive and useful input. "I appreciate the openness in particular," says Ilse Wuyts. "Proximus made itself vulnerable. I'm impressed that the company dares to do that and demonstrates a willingness to listen to its customers' wishes."
One
One magazine is the Proximus B2B magazine for CIOs and IT professionals in large and medium-sized organisations.