NWOW: Smooth(ie) Community
Published on 11/12/2017 in News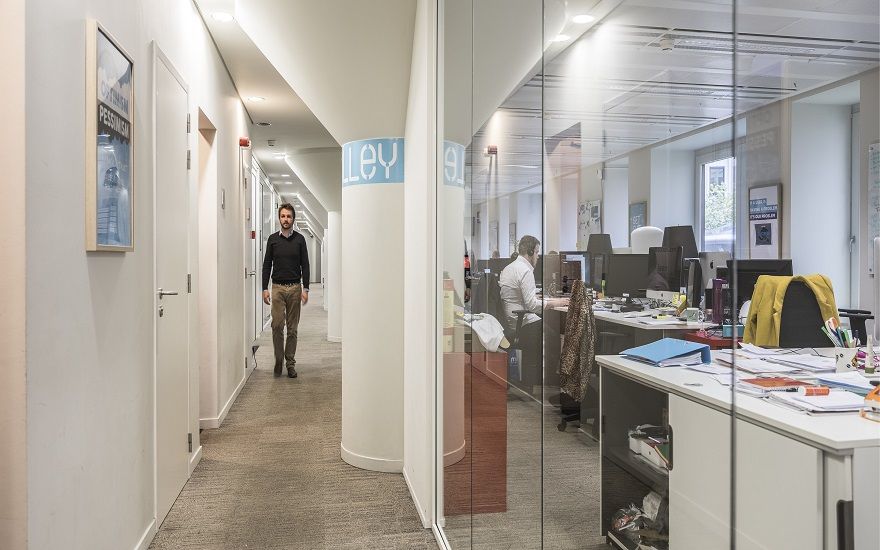 Co.Station aims to lift the Belgian technology sector to a higher level by bringing established companies, startups, scale-ups and experts together to form a community where they can stimulate one another.
"For Co.Station, NWOW means that we actively put people in contact with one another," says Hans Chys, manager of Co.Station Brussels. "Flexibility is very important here. Flexible workplaces are always accessible and our fixed office spaces can be rented for short periods so that startups do not have to take any risks. Companies can also use our spaces or auditoriums for events or meetings. In addition, the restaurant and the coffee machine are excellent places for spontaneous meetings and conversations," says Hans.
The NWOW in practice
According to Co.Station, the social aspect should not be underestimated, but the one does not rule out the other. For instance, Co.Station's clients are such intensive Skype users that the network capacity had to be doubled. Wouter Remaut, CEO of Co.Station: "The trend in favour of virtual meetings and home working is irreversible in any case. Thanks to the cloud, companies can use their own office space more efficiently and their staff are productive all the time, wherever they are, be it at head office, in Starbucks or in a co-working space."
Flexibility comes in here, too: no one has to be bound to fixed workplaces or times any longer. Not by chance, Co.Station opted for two locations near the station: easily accessible by bike or on public transport. No question of sitting in traffic. "Our concept certainly suits the millennials generation," says Wouter. "But the older generation feels at home here, too. It's about a shared interest in technology and innovation. The biggest difference? The millennials drink more smoothies."
Facts
2 locations 300 meters from the station
Co.Station Brussel 4,000 m2 office space 300 users per day 50 companies
Co.Station Ghent 2,600 m2 office space 120 users per day 30 companies
On 4 October 2017, Co.Station received the 'Best Community' award from the Belgian Workspace Association.
www.co-station.com
One
One magazine is the Proximus B2B magazine for CIOs and IT professionals in large and medium-sized organisations.
Other articles of One