5 reasons to switch to optical fiber now
Published on 10/06/2017 in Inspire 
Do you know that Proximus already has a 21,000 km optical fiber network. In December 2016, Proximus announced an investment plan of 3 billion euros in the massive deployment of optical fiber to cover 85% of professional sites within in a few years. Optical fiber is the future: companies that use innovative networks such as optical fiber can increase their productivity by 10% and offer a consistently high service level to their customers.
Has optical fiber become indispensable? Here are 5 good reasons why:
Speed as an asset

Optical fiber is made of extremely fine glass threads through which laser light is switched on and off. Optical fiber networks are extremely fast and efficient: 300,000 km/sec, considerably quicker than any other network.

Continuity assured

Thanks to optical fiber, your data network is stable and performant, even in case of power outage. Further you don't run any security risks: optical fiber is perfectly secure.

Increased efficiency

Your digital needs are always growing. You are using more and more applications and devices. Your administration is dealt with online. Your staff work from home or on the road more often. Your sales people have to send larger files more often. With an optical fiber connection, your speed and bandwidth can grow flexibly in line with the needs of your company.

Even more satisfied customers

An optical fiber network guarantees you the fastest speed at all times, even during peak periods. Your website, your reservation system or your web shop enjoy a fast connection at all times.

Innovative perspectives

Optical fiber allows you to imagine new online services, and new ways of communicating digitally with your customers, and even new business models. Volvo Cars, for instance, has launched Volvo Personal Service. The car and customer details are managed online to ensure that the vehicle is serviced quickly and efficiently, while the customer waits in a lounge with wi-fi access.
Switch to optical fibers
Proximus has already installed more than 21,000 km of optical fiber cables. We will contact you when work is due to start in your region. Proximus does everything possible to ensure that your migration to the optical fiber network is flawless, without any interruption of your critical work applications.
More information?
Would you like to increase your productivity using optical fibers? Do you have questions about this new technology?
Contact your account manager or check if optical fiber networks are available in your region
Read other articles
---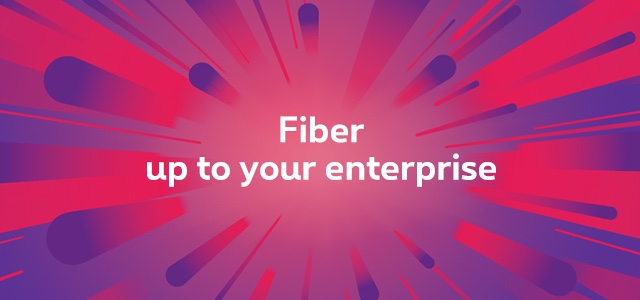 Grow your enterprise with optical fiber
Faster, reliable and more stable, optical fiber is everything you need. With its high bandwidth, you'll be in the vanguard of digital innovation. And be ready for whatever tomorrow brings.
More info
Perspective
Magazine and online blog for business leaders, brimming with new insights for a fresh look at their company.
Other articles of Perspective