Carefree web-surfing abroad
Published on 23/06/2015 in Solutions & services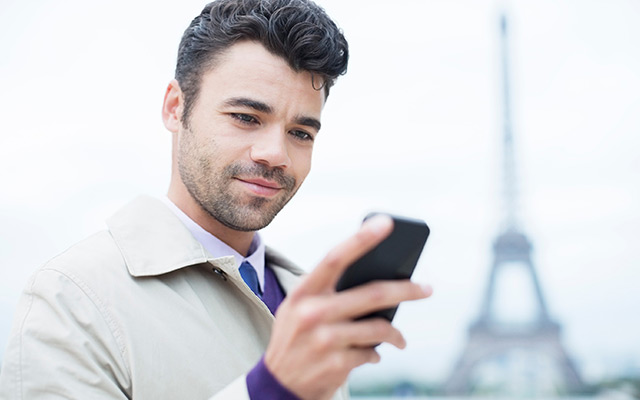 The smartphone is an indispensable work tool for your employees when they are abroad, just as it is here. With the new, low-cost roaming deals from Proximus, they can surf the web while traveling the same way they do at home.
Checking e-mail, making appointments and looking up data between meetings, in the airport, or in the hotel room in the evening: a continuous Internet connection is a necessity on a business trip. Plus your employees want to stay in touch with colleagues and family. Proximus has launched some attractive bundles that keep smartphone costs under control. You can choose suitable rate plans and customized data volumes, depending on the number of employees on foreign assignments, the frequency of their trips, their destinations and their level of usage. You also have a choice between individual deals or shared packs for your selected data volume.
Costs clear even before departure
As well as attractive rates, you have various tools to monitor and control usage. For instance, the user can be sent a text message when his or her surfing limit is exceeded. Need more control? With Mobile Internet Protection you can block non-business-related web pages and applications for your users without needing to activate or install anything on the device itself. Another particularly useful tool is ProxiBudget Manager: you can use it to work out how much each user must contribute to the cost. Your costs become predictable and you gain extra flexibility: you decide what you pay and what your employee pays. Your employee will be happy too, because he or she can use the same device for professional and personal use, continuing to enjoy business rates regardless.
Alert: Tunisia and the United Arab Emirates
Before you go to Tunisia or the United Arab Emirates, it is useful to know that both countries have substantially increased the rates for calls, text messages and mobile surfing. As a result, Proximus had to adjust its roaming rates in both countries. So be extra careful when you call, text or use the Internet while you are there: the roaming rates are very high, so your bill can mount up quickly.
One
One magazine is the Proximus B2B magazine for CIOs and IT professionals in large and medium-sized organisations.