Business travel after corona: technology as a key factor
Published on 17/06/2021 in Solutions & services 
Many companies today are reworking their policies around business travel. They identify which trips add value and deploy technology to ensure the safety of travelling staff. Information via digital channels plays a key role here.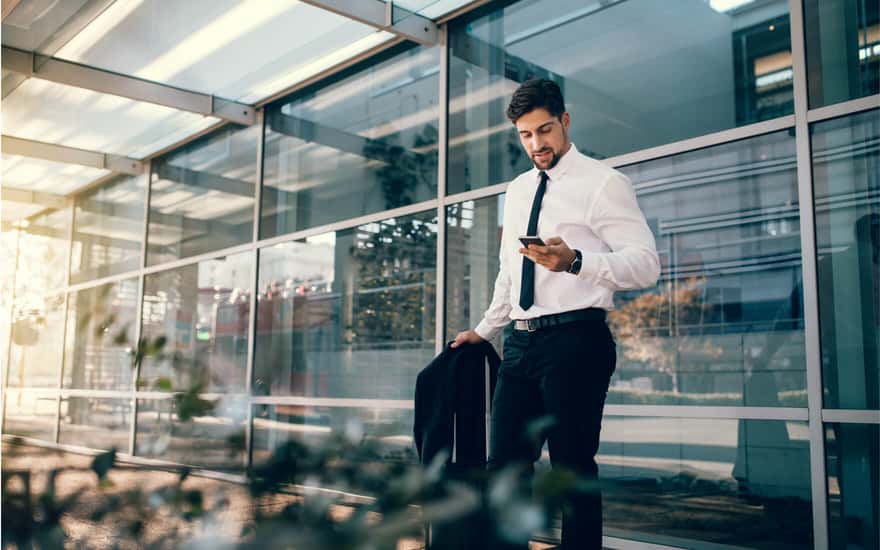 Due to the corona crisis, the number of business trips fell dramatically. Following a survey by business travel organization ATPI, 65% of corporate travel managers said that foreign travel had more or less stopped within their organization during the first six months of the pandemic. Any travel that did take place involved business-critical – read: essential – travel. Similar research by Egencia and BTN Group suggests that policies around business travel are constantly changing. 63% of respondents within the EMEA region believe that management is showing a greater commitment to business travel.
New prioritization
Organizations are setting new priorities in terms of business trips. They pit them against virtual meetings and determine which solution offers the greatest added value. If the analysis indicates that a trip abroad is appropriate, then the business trip should be in line with the safety standards of the company, its employees and the government. Companies are also implementing tighter travel policies, including the current restrictions and procedures in the context of the health crisis.
60% of companies want to use websites or apps to push more health and safety information to employees who travel.
Business travel and technology
Most respondents are placing increasing importance on using technology to facilitate business travel. Whereas 48% considered it a priority for 2020, 70% today see it as a key agenda item for 2021 and 2022. When we bring these various findings together, technology forms a logical path to a sophisticated health and safety policy for business travelers.
Information via digital channels
There are several options available. 60% of respondents want more health and safety information made available to travelling staff through a website or app. 42% want to push that information through channels like direct messaging and chat.
Staff travelling on business will naturally also use their smartphone to follow up on e-mails, keep in touch with family and friends, use Google Maps to find offices, restaurants, shops etc.
Roaming is necessary to ensure that staff who travel can check additional information sent via website, chat, messenger or app.
Roaming: needed to consult additional safety information
Pushing health information efficiently requires the availability of a local mobile network. Raphaëlle Duwijn and Javier Gonzalez y Gonzalez, roaming experts at Proximus, have seen the costs of international roaming fall sharply in recent years. "There is no longer any need to fear the so-called 'bill shocks' or skyrocketing bills. The EU introduced 'roam like at home' in 2017. To make calls, send texts and use data, you now pay the same tariff within the EU as you do in your own country. That will remain the case in the UK, also after the Brexit."
"For travel to non-EU countries, Proximus is drastically lowering its prices from July 1: for large companies, rates are dropping from 12 euros per megabyte to 20 cents per megabyte," the experts continue. "That means that professional users can consume up to 250 megabytes of data without worry. Once the limit has been reached, it is possible to cancel it on request. Wherever you go in the world, Proximus offers various 'travel' bundles that cover the top destinations, or provide global coverage. For individuals and small companies, Proximus offers the advantageous Daily Roaming pass."
Raphaëlle Duwijn and Javier Gonzalez y Gonzalez recommend companies and travellers to inform themselves sufficiently. "It is important to know which tariff zone your travel destination belongs to and to adjust a roaming bundle to that as necessary. Furthermore, it pays to read the standard text message received on arrival with the current rates and to actively monitor your consumption."
Raphaëlle Duwijn and Javier Gonzalez y Gonzalez have both built up considerable expertise in roaming solutions within Proximus.
Your destination is the basis for the rates and options. In the roaming tool, you can enter your destination and see what the options are.