Better overview of truck fleet from the cloud
Published on 02/05/2013 in Customer Stories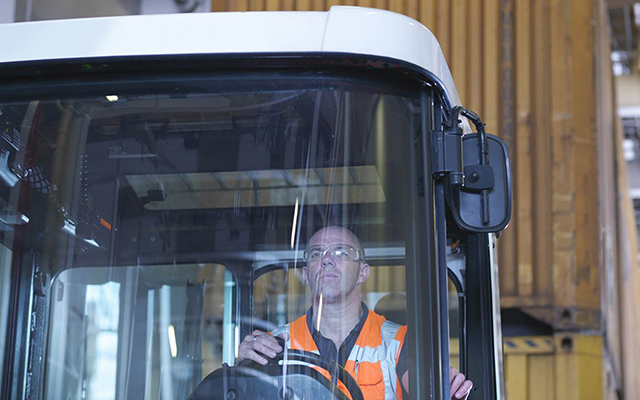 Since March 2012, transport company Remitrans has been working entirely in the cloud. "This means that the company has no servers of its own on-site," emphasizes company director Sofie Eeckhout of Remitrans. "Via our ICT-partner IT-Care we rent server space within a highly secure datacenter."
Minimal downtime
For transport company Remitrans, efficient communication between warehouses, filling station, weigh bridge and the onboard computers in the trucks is crucial for the company's smooth functioning. When they decided to transfer the ICT infrastructure to the cloud, this was a particular area of concern. But the transition from the local network to the cloud environment went seamlessly and with minimal downtime. "And afterwards as well, we experienced virtually no problems related to switching to the cloud," points out Sofie Eeckhout. "If we have any questions, the certified helpdesk staff is always there for us."
Transport software in the cloud as well
The software that Remitrans now uses in the cloud is highly varied. On one hand it incorporates Office 365, particularly as an e-mail solution. "My colleagues and I can now check our e-mail from anywhere," notes Sofie Eeckhout with satisfaction. There are also several sector specific packages there were shifted to the cloud, continues Sofie Eeckhout. "We use TX-CONNECT from Transics and TAS and TeleRoute from Kluwer to keep track of everything: from managing the orders to the location of our trucks and the expected arrival times. This is something that everyone can now monitor from home as well. Another very useful aspect is that I can check the schedule from any computer. I can login on one of my colleagues' computers under my own name and access my own desktop in order to call up all the information about scheduling."
Security and business continuity
When asked to describe the benefits, Sofie Eeckhout talks first and foremost about the security and business continuity. "In the datacenter itself, a backup is now made daily of our cloud server. This gives me peace of mind. Now I can be sure that our business continuity is guaranteed. For me, having that reassurance is the greatest advantage. The backup is closely related to security. In addition to extensive virus protection on the cloud server in the datacenter, IT-Care also installed reliable antivirus software on our own network."
Everywhere and for everyone
Another advantage is definitely the availability, continues Sofie Eeckhout. "I can access my e-mails, documents and applications anytime and anywhere… All I need is a device with an Internet connection. Although in the past I already had a fairly privileged position in that regard. I was able to access the company network from home via a secure VPN connection." But there are differences nevertheless. "Whereas in the past my husband and I would have to login to the server, now we can simply login in the cloud and directly access our own desktop. We can do this from any device with an Internet connection. That's a lot more user-friendly than the way it used to be." What's more, other users can also now access the systems from wherever they happen to be, explains Sofie Eeckhout. "For example, after business hours, the dispatchers can login to the system from home and intervene where necessary. They no longer need to work through us if they need to check the location of the drivers in the evening or on weekends."
Reliable connection is crucial
Sofie Eeckhout has to think hard to come up with a negative aspect of the shift to the cloud: "I am very satisfied, but there is still room for improvement in terms of Internet connection. I know how important it is to have a reliable Internet connection. That is crucial for a cloud environment. Everything is utterly dependent on the Internet connection."
Transporter of the Year
In any case, Remitrans clearly has no regrets about making the move to the cloud. It's typical of the company's approach that they went looking for a way to improve their ICT infrastructure, and weren't afraid to take the step into the cloud for the sake of greater efficiency as a company. This constant striving for improvement also landed Remitrans the title 'Transporter of the Year 2012′. "We are aware of our weaknesses," admits Sofie Eeckhout. "Assuming that everything is running perfectly within your own company is the wrong attitude. We feel that the key to continuity is to constantly call everything into question and to look for places where optimization and innovation may be possible." The changeover to the cloud illustrates clearly that this attitude can successfully be put into practice.
Company Profile
Remitrans is a family transport company that has been active since 1967. It was founded by Remi Dedoncker and his wife Norma and handed down to their children. Its workforce of 120 employees includes 76 drivers, along with administrative and warehouse staff. In addition to transport, Remitrans also provides other services: storage (piece, bulk and pallet goods), and administrative services. Their operational and logistical headquarters is in Ninove.
Business benefits
Simplified management and fully outsourced maintenance
Secure applications and data
Continuous availability of office applications and specific software, also for teleworkers
Excellent helpdesk in the case of problems
One
One magazine is the Proximus B2B magazine for CIOs and IT professionals in large and medium-sized organisations.