Agency of the future
Published on 28/06/2017 in Customer Stories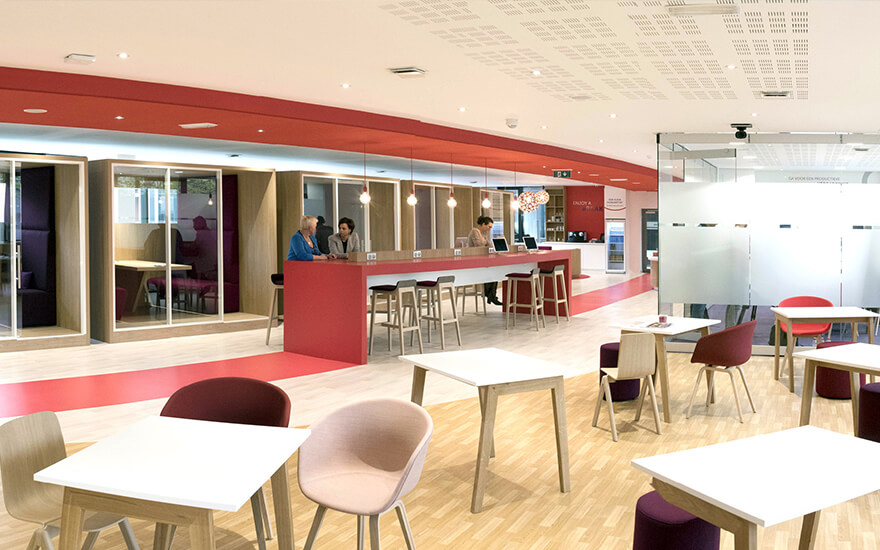 Beobank is the first bank in Belgium to open a onestop shop for professional customers who can work there themselves and welcome customers for meetings. Each Beobank PRO Center has powerful communication tools. Commercial Director Bob Vanmeerbeek takes us round.
After our merger with BKCP Bank, we began asking ourselves some key questions: what is our role as a banker? How can we offer our professional customers added value?" Bob Vanmeerbeek tells us, explaining the process that ultimately led to the new Beobank PRO Centers. "This process of self-reflection – and a market survey conducted among 400 customers and prospects – revealed that our professional customers need a real financial partner, one who thinks proactively with them and offers them concrete solutions that go further than just advice."
"Our professional customers need a financial partner who offers them concrete solutions."
Coworking plus expert advice
One of these concrete solutions became the Beobank PRO Center. Professional customers can make use of coworking spaces, meeting rooms, areas for events and a shared reception. And all this is completely free of charge Vanmeerbeek stresses.
"A Ghent entrepreneur who has to hold a meeting with a prospect in Antwerp tomorrow, but doesn't have anywhere to do so and doesn't want to use a public place such as a hotel lobby, simply has to open our app on his smartphone and book one of our meeting rooms or a smaller capsule for as long as he thinks will be necessary, free of charge and without any obligation. Of course, during the meeting he can call on one of our experts on site should he need to do so. It's a win-win situation."
Powerful communication tools
"We have equipped all our PRO Centers with powerful communication tools such as videoconferencing and streaming, so that our customers simply have to type in a URL to meet with a financial expert at head office or with the rest of the world from here." Digital information screens are also provided in the waiting room, for instance, to be able to share real-time business messages or other information with visitors. Thanks to fiber-optic connections, the PRO Centers are equipped with a robust network that enables all these communication facilities.
"Our Beobank PRO Centers offer an ideal, win-win situation."
Unanimously positive
According to Vanmeerbeek, the Beobank PRO Centers are really catching on. "At first, our customers are surprised by this new service. But the fact that we offer it free of charge and it is easy to use, convinces them. At the moment we are still in the rollout phase of our Beobank PRO concept: we have already opened four PRO Centers and another three are in the pipeline for the coming months.
So, first of all, we want to introduce our current customers to the PRO Center in their region, before spreading the word more widely. In the space of just a few months, around 10% of our existing customers in Ghent, Kortrijk and Kontich have already made use of it. The reactions are always unanimously positive, a good sign for the future."
Action plan
Determine which personnel need which communication tools and where – at the office, in the meeting room, at home, on the road, etc.

Check which areas you would also like to make available to your clients – which communication tools do they need?

Find out which connectivity is needed to support these communication tools – for instance, Wi-Fi, fiber optics, etc.

Tell your clients and personnel about the new possibilities and stimulate user adoption via workshops.
As Commercial Director, Professional Customers, Bob Vanmeerbeek is responsible for developing the professional arm of Beobank. He gained a master's degree in business economics and has 22 years' experience in the banking sector.
Beobank is the Belgian subsidiary of the Group Crédit Mutuel Nord Europe. Beobank has 230 points of sale, 610,000 customers and a workforce of around 1,500. At this point there are seven Beobank PRO Centers: Bruges, Kortrijk, Ghent, Kontich, Brussels North, Brussels South and Liège.
Co-working for your clients?
One
One magazine is the Proximus B2B magazine for CIOs and IT professionals in large and medium-sized organisations.