The architectural firm B2Ai chose a Check Point security solution
Published on 25/11/2020 in Customer Stories 
IT is the heart of the B2Ai architectural firm. IT Manager, Tom Van den Abeele: "The drawing tables are gone now. The entire company would come to a standstill if the IT systems were to go down. And that's why we needed a new security solution."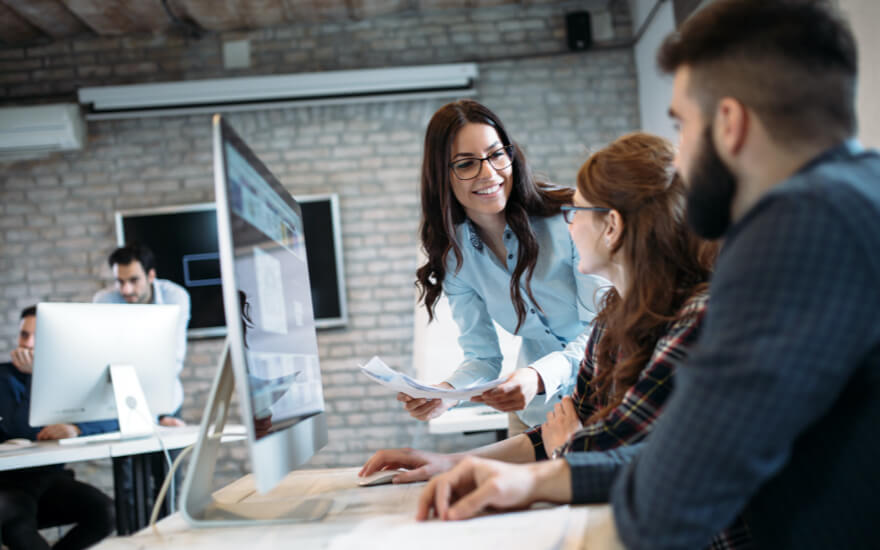 Phishing protection
There is no end in sight to the number of cyberattacks. That played a role in B2AiNew window's decision to invest in extra security. "We mainly noticed a clear uptick in the number of phishing e-mails," explains Tom Van den Abeele, IT manager at B2Ai. "That's one of the reasons we are investing in a new security system. We also have tons of connections to and from external parties, which includes the use of cloud applications.
To secure all that traffic, a garden-variety solution wouldn't cut it. This requires a budget, obviously. IT expenditure in an average company amounts to around three to six percent of turnover. Ours is discernibly higher."
Internet breakout managed in-house
In the past, the internet breakout went via an external partner's shared firewall. "That created problems," said Tom. "I didn't have the option to decide which parameters were configured. For example, I had no power to blacklist certain addresses. However, internet connection is vital to our company, which is why I preferred to keep management of the internet breakout local."
Check Point endpoint protection
That was why Proximus proposed that B2Ai start working with Check PointNew window. Moreover, it seemed to make sense to implement the Check Point endpoint protection solution in tandem with the Check Point firewall. "In the past, everything ran over a single line to an external shared firewall. Now we have a small firewall at every location. If someone were to bring malware into one of our offices, say an infected USB key, the local security solution immediately jumps on it."
"Where we're concerned, it's essential for us to have developed an IT environment that's as redundant as possible – now. Each office is connected to the Proximus Explore network. It's also crucial for us to personally hold the reins over the IT security system," Tom added.
We can now guarantee the security of confidential information for projects commissioned by the government and international organizations.
Tom Van den Abeele, B2Ai IT Manager
Better customer service
"Obviously, it's important, in general, for our employees to be able to collaborate smoothly and securely. That automatically results in better customer service," said Tom. However, B2Ai customers are also making increasingly bigger demands in terms of security. "We have to guarantee the security of confidential information for certain projects commissioned by the government and international organizations. We can now do that effortlessly."
Why did B2Ai choose Check Point?
Tom: "We really wanted a single, central system. That was the determining factor. On top of that, Check PointNew window is one of the best out there anyway. Check Point turned out to be the best option given the Proximus recommendations plus the change we had in mind."
Tom Van den Abeele graduated from Ghent University with a master's in Information Sciences. He has worked as an IT manager for Cockerill Sambre and AZ Sint-Lucas, among others. He has been the acting IT manager at B2AiNew window since 2015. The architectural firm has 140 employees spread over five offices in Roeselare, Brussels, and Ghent.
Cybersecurity management platform
Check Point is a leader in cybersecurity. The company provides solutions to large corporations and government offices as well as SMEs. Matthieu De Roy, Check Point Channel Manager: "We're observing an exponential increase in the number of cyberattacks. At the same time, COVID-19 is forcing us to telecommute. The elevated cyber threat doesn't stop companies from needing to make their data more accessible. And that's what makes security a strategic pillar in ongoing business development for SMEs like B2Ai too."
Check Point gives companies control over their own security. Matthieu: "We provide access to our solutions on a central management platform. The user can configure many parameters on their own, based on their own needs. For Tom Van den Abeele, IT Manager at B2Ai, that was one of the main reasons for choosing Check Point."
Looking for the right solution for your business?
One
One magazine is the Proximus B2B magazine for CIOs and IT professionals in large and medium-sized organisations.
Other articles of One