"Always keep in touch with the market"
Published on 28/10/2015 in Inspire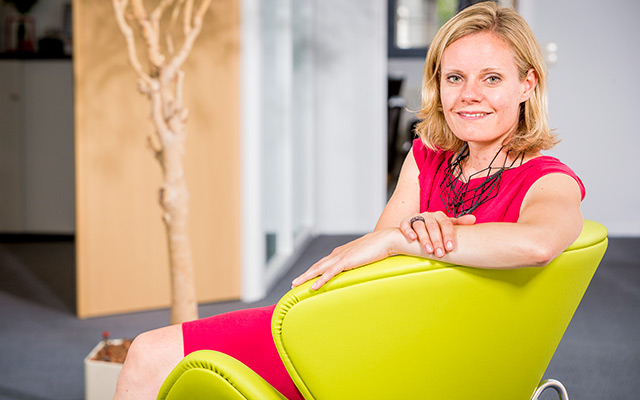 Digitization is clearing the way for completely new corporate models. "And yet the success of Uber or Airbnb cannot be put down to technology alone", says Joke Dehond. "First and foremost it's about people working together." According to the CEO of inventive Designers, examples such as these show us how mobile and social can bring about change in every industry.
Inventive Designers is the company behind Scriptura Engage, a platform for customer engagement. With this software companies can create and manage all their communication channels with customers (post, sms, e-mail and social media) on a single platform and thereby boost and enhance the way in which they engage with customers. Proximus has been using Scriptura Engage for a number of years now, in the context of the One Communication Tool project. Inventive Designers started up in 1994 on the initiative of entrepreneur Guy Dehond. Twenty years on, the company based in Hoboken has 45 employees and attends to customers in Europe, North America and Australia. "Mobile and social are today's great challenges for a company", says CEO Joke Dehond. "New technology gives us many new ways of communicating with the customer. That yields a lot of data: data with a huge potential. The trick consists in extracting useful information from that data."
More than just technology
The digital world makes new corporate models possible, and yet Joke Dehond sees technology primarily as an enabler and less as a driver. Companies such as Uber and Airbnb appeared on the market in a very unexpected way. The basic idea consists of people working together in a network, with technology as the supporting factor. Big established names – in the tourist industry, for example – failed to react to this quickly enough, with all the consequences that that entailed. Could it also happen to Inventive Designers? "Of course", says Joke Dehond. "Everything's changing in our market, too. Customers want to be able to use our platform with a tablet, or want the solution to run partly on premise and partly in the cloud. We think it's very important to be in touch with what's happening in the market. We have young employees keeping a close track of all these trends."
Outsourcing or not?
When we talk about the key functions of IT, Joke Dehond is unequivocal. "I see IT in the first instance as something that enables a company to operate and do business. The main condition governing IT is that it must be available at all times and everywhere." Technology leaves all options open when it comes to the physical location where the actual IT activities have to take place. "We did the exercise just recently", says Joke Dehond. "We asked ourselves whether it was advisable to have all development carried out internally, here in Antwerp, or to have part of it outsourced to, say, Poland or India. We talked about it with a good many fellow professionals in the sector. I have come to the conclusion that outsourcing can only be really successful when the company can genuinely get those external staff involved in its activities. Those staff members must really belong to it, too. But we haven't yet worked out how we want to set about that within Inventive Designers."
Everyone uses IT
At the beginning of this year the IT trade journal DataNews voted Joke Dehond 'ICT Woman of the Year'. "That came as a complete surprise to me", she laughs. The panel was full of praise for Dehond's entrepreneurship within a relatively small company, together with her technical background. "In hindsight the course of study I chose proved to be the right one", Dehond goes on. The fact that she was a woman coming into a man's world didn't bother her. "The cliché of the male nerd is out of date. Men and women basically have the same drive. In the IT sector it's all about being creative. Whether you're a man or a woman isn't that important." For the first time in many years the new academic year started with a marked increase in the number of science and IT students, with rising numbers of female students in these disciplines as well. "Smartphones and tablets mean that IT is all around us in our everyday lives", she says. "That may go some way towards explaining the growing interest. So things are certainly heading in the right direction, although we could do with a few more role models – and obviously they don't all have to resemble the geeks in 'The Big Bang Theory'."
2 tips for the CIO
Put your shoulder to the wheel
"Don't delude yourself and use your common sense", says Joke Dehond. "We have the advantage that in Belgium we are accustomed to dealing with different cultures, speaking more than one language and working hard." At the same time, as an entrepreneur you have to dare to do things. "You shouldn't shy away from enterprise and experimentation. You can also learn a lot from a failure. A Belgian tends to view a failed project in a negative light, whilst an American considers it as extra experience he's notched up." We lack that mentality in our country. "Personally I feel that as an entrepreneur you also have to dare to be honest. If at some point things aren't going so well, you should be bold enough to say so. There's a lot to be learnt from that, too." However, that attitude is scarcely apparent in Belgian corporate culture. Even when his head is still only just above water, the average Belgian entrepreneur will still be maintaining that all is well.
Make sure you have a foothold in society
As 'ICT Woman of the Year' Joke Dehond chose to devote herself to the 'Boost for Talented People' project run by the King Baudouin Foundation. As an entrepreneur she regards it as important to have a firm foothold in society. "The project supports young people from underprivileged families who achieve good results at school. They receive support – such as a PC and an internet connection, compulsory monthly workshops on social skills, choice of course, learning presentation skills, and so on – and get to know their own potential." Boost aims to make young people see that by studying and working hard they can leave the world of the underprivileged behind. "The project teaches the young people to step out of the role of victim, to assume responsibility, and to grasp their future with both hands – with the support of people from the business world. As it happens these these are often young people who subsequently decide to follow an IT or science course."
Joke Dehond wrote her first computer program when she was eleven. She went on to study computer science in Antwerp and was taken on as a programmer at her father's company, Inventive Designers. This was followed by stints in the marketing and business development departments. She has held the post of CEO jointly with her husband Klaas Bals for the last two years. DataNews voted Joke Dehond 'ICT Woman of the Year 2015'.
One
One magazine is the Proximus B2B magazine for CIOs and IT professionals in large and medium-sized organisations.
Other articles of One