How has the pandemic affected the temp industry?
Published on 05/03/2021 in Customer Stories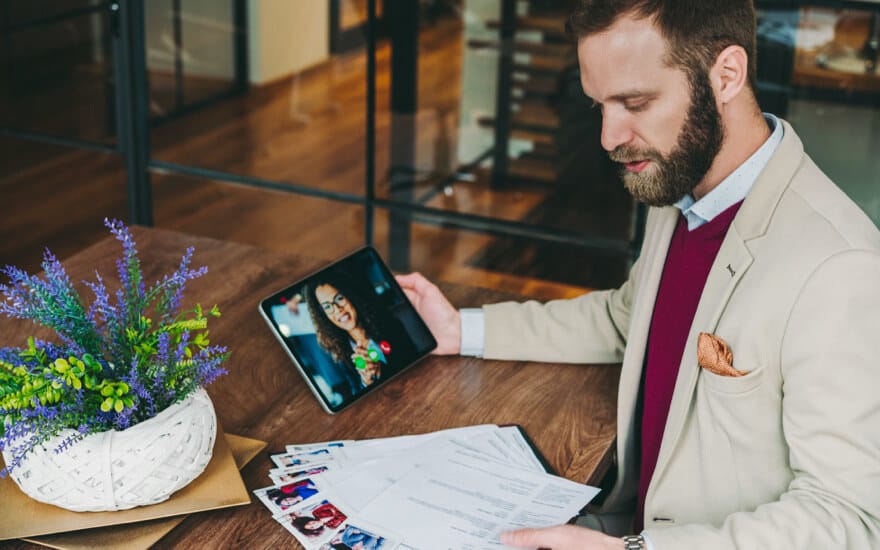 The pandemic poses multiple challenges for the temp industry. Digitization plays a key role in tackling these issues. Tom Vanoirbeek, Director Marketing, Digital Operations & Transformation at Adecco, explains.
How has the pandemic affected the temp industry?
Tom Vanoirbeek, Adecco Director of Marketing, Digital Operations & Transformation: "Our sector took a beating in March and April 2020 when the pandemic first hit. There was a 45% downturn in business. We had 100,000 fewer student interns during the summer than usual – mainly jobs in the hospitality industry, catering companies, the events sector, and tourism. At the same time though, the demand for additional employees in the food, e-commerce, and care sectors, for example, went up. Six months down the road – in the fall – our numbers are still lower than usual."
In which sectors is the most growth projected for the next six months?
"Is there a third wave on the horizon and how smooth will the vaccination drive go? There's a lot riding on that. We expect the hospitality and events sector to get moving again by summer. And we're also projecting upturn and recovery for the tourism sector, industry, and ICT. Demand for specific job profiles on the job market – drivers, operators, and nurses, for instance – remains high."
The coronavirus is the driving force behind the accelerated development of new digital services.
Tom Vanoirbeek, Adecco Director of Marketing, Digital Operations & Transformation
How capable is the temp industry in terms of digitization?
"It's not a new thing. We've been working with digital contracts and digital document workflows for ages, and all our employees already had laptops. When the first lockdown started, we were able to shift to remote work without a hitch. That said, the pandemic did drive us to speed up the development of new digital services. Customers can now submit requests for specific profiles on Beeple, the online platform. The system then automatically matches the request to the available candidates. Related customer and candidate messages are automatically sent through an app."
Is recruitment inflow digital too?
"We rolled out a system of video interviews for both customers and candidates. We're also using a chatbot to assist the recruitment process. As soon as a candidate applies online, the chatbot asks them a few initial questions. That makes it possible for us to identify a hot candidate much faster. The result of all those digital exertions is greater efficiency and – above all – the right experience for everyone involved, from the candidate and customer to our own staff."
How does the use of technology affect candidate inflow?
"Our traditional channels are still in place. We always aim for the best possible combination. There will still be candidates who prefer to visit one of our offices. However, there's no denying that the coronavirus has boosted the need for digitization. That's a focal point for us too. Among others, we're looking at how we can provide our candidates with the digital skills they need through reskilling and upskilling."
Everything can be done digitally. That's why companies need to continue focusing on the human connection.
Tom Vanoirbeek, Adecco Director of Marketing, Digital Operations & Transformation
Are the digital skills that candidates acquired at school enough? Or is there a gap between what they have learned and the business world's expectations?
"Gen Z candidates are incredibly tech-savvy; their inflow is overwhelmingly digital. We've noticed that older generations are also doing a better job of navigating our online channels. Nevertheless, we must continue focusing on updating the digital skills of every generation. Additional training, e.g., how to use MS Teams, continues to be a must for professional operations and working with proprietary IT applications."
On their job hunts, what do candidates hope to find in a prospective employer?
"We know, based on our own studies, that for half of all candidates, a good work-life balance is at the very top of their wish lists. On top of that, they'd also like a certain degree of autonomy and the opportunity to acquire new skills on the job. And there's another key element in the mix – trust. Employees need to be able to feel confident in their employer as a socially responsible entrepreneur."
These days, interim and contract personnel telecommute too. How do companies approach that?
"The whole chain is digital, from the candidate interviews to employee onboarding to their training through e-learning. The 'physical' touchstones have faded into the background. And that's why it's essential to underscore the sense of 'belonging' through a digital experience. We've seen how companies are emphasizing virtual well-being more by, for example, scheduling an online coffee break. Another thing we've observed is that companies are inviting employees individually for a safe, short walk outdoors in fresh air, so that they can still maintain that all-important personal connection."
Tom graduated from KU Leuven with a degree in law. He has been Adecco's Director of Digital Operations since 2018.
Equip your homeworkers with quality tools
This makes working more pleasant, creates less distraction and makes them more productive.
One
One magazine is the Proximus B2B magazine for CIOs and IT professionals in large and medium-sized organisations.
Other articles of One