Aquafin is responsible for the wastewater purification in Flanders. The company has an extensive network of purification plants and pumping stations that are connected via Belgacom Explore. At Aquafin's 80 staffed sites, Belgacom installed IP telephony and Unified Communications based on Cisco Call Manager. The solution supports the collaboration between the employees across various locations. At the same time, the IP platform offers a solid basis for further expansion, e.g. adding functionality at the Aquafin contact center.
Aquafin has created a uniform company environment across all of its sites. Through a new solution for Unified Communications (UC), the company optimally supports the collaboration between its staff across 80 locations.
Over 20 years ago, the Flemish Region commissioned Aquafin to further develop and manage the wastewater purification infrastructure in Flanders. Aquafin does this by gathering household wastewater from municipal sewers into interceptor sewers, before channeling it to purification plants for further treatment. To do this job, Aquafin relies on a workforce of some 1,000 employees, 400 of whom work at the headquarters in Aartselaar. The other 600 and are distributed across 80 staffed installations throughout Flanders. Via the Explore network from Belgacom, Aquafin's purification plants and pumping stations are redundantly connected to the organization's two datacenters.
A clear overview
About a year and half ago, Aquafin switched to IP telephony. "The analog telephone switchboard was no longer sufficient to meet our needs," explains Koen Aeyels, head of ICT at Aquafin. "At that point, we decided to go all out for IP telephony. On one hand, there is the convergence between voice and data: IP telephony allows us to make more efficient use of the data network. On the other hand, IP telephony is a way of consolidating the existing ISDN lines." Aquafin was not just using those lines for telephony. The data channel of the ISDN lines was also used to transmit the alarm monitoring for the sites. "By choosing IP, we can have all of these functions run via Explore. That delivers a far clearer overview of the whole system," according to Aeyels.
Smooth remote collaboration
Through a public tender, Aquafin selected a solution using IP telephony and Unified Communications based on Cisco Call Manager, with Belgacom as project partner. Aeyels: "Our staff, ideally, should work with fewer constraints in terms of time and place, including from our satellite offices in Drongen, Herentals and Leuven. The new environment guarantees smooth collaboration between the employees, in part because they remain reachable via a single number, regardless of their working location. Furthermore, there is also presence-information available and they have the option of communicating through videoconferencing, chatting, etc."
No abrupt transition
Aquafin implemented Cisco Call Manager step-by-step at its headquarters. That was followed by the rollout: 3 to 4 decentralized sites per week. By this summer, all of Aquafin's staffed sites will have made the switch to the new environment. Together with the IP telephone switchboard, Aquafin also put new telephone devices into use. Aeyels: "We are not making the transition to IP telephony in any way an abrupt one. We do not want to force the solution on our staff. I work from the assumption that, ultimately, we will be using more softphones, but the current project was not the time to focus on this."
Future-oriented platform
With this first investment in IP telephony, Aquafin is already laying the foundation for future projects. "We now have a platform on which we can easily add extra functionality," Aeyels pointed out. "The support of the contact center is one such area, for example. We notice that, among the public, there is an increasing need for specific information, such as when we will be carrying out work in the neighborhood." With the IP platform Aquafin already has the technical basis on which the company could implement contact center software. "In that regard, the platform is already providing added value," Aeyels concluded. "This allowed us, for example, to very rapidly provide an emergency number via our IP platform for a neighborhood that had a problem with flooding, which local inhabitants could use to ask questions."
Company profile
In the Flemish region, Aquafin manages 247 purification plants, 1,174 pumping stations and sedimentary basins, and 4,735 kilometers of interceptor sewers. Each year, Aquafin invests EUR 150-180 million in infrastructure.
Business benefits
Better collaboration between employees
Cuts back on dozens of ISDN lines
Easily expandable to other applications
More info?
For more information on IP-telephony and UC, visit the Belgacom website or contact your Account Manager.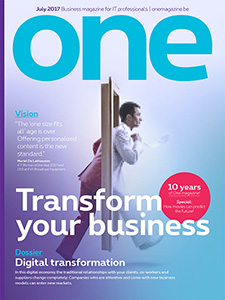 Share your opinion about news
Do you want to share your opinion or comment?
To comment login to Facebook.