Looking at 5G from different perspectives
Published on 14/06/2021 in Innovate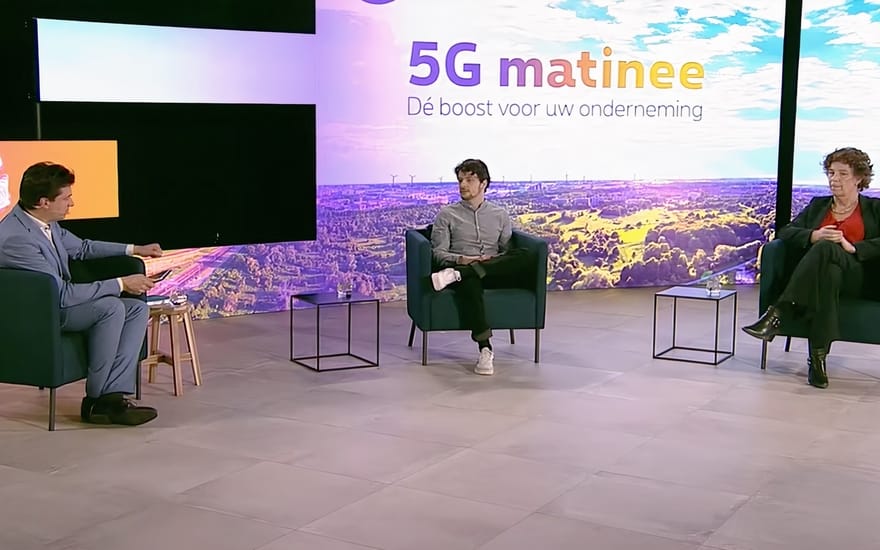 Various viewpoints were presented during '5G Matinee' on how the rollout of 5G will shape the future. Proximus and Voka invited 5G thought leaders and asked about their inspiring insights.
At the end of April, Proximus and Voka organized a digital event where five speakers shared their visions on the rollout of 5G. "5G is an essential driver of the dual transition we are experiencing: digitalization and the fight against climate change." In other words, deputy Prime Minister Petra De Sutter has confirmed the importance of 5G for our country. "The competitiveness of our country depends not only on our mobility and wages, but also on the degree of digitalization," says Hans Maertens, Voka's managing director. "We need 5G to engage fully in more digital transformation and technological advancement."
Support
The current government shares this belief. "The coalition agreement states that the auction of 5G frequencies is coming," says Petra De Sutter. In addition, the federal government is investing in raising awareness through accurate information about 5G, in order to create support among the general population.
"There will be a knowledge and learning platform where we will aggregate science-based information for those with questions about 5G. The goal is to avoid the spread of conspiracy theories and damage to 5G infrastructure." The federal government is currently working on the development of this project together with Imec, FPS Public Health and Sciensano.
"The auction will take place no later than early 2022," the Deputy Prime Minister stated. "Operators are already preparing by using test licenses and test sites. That should allow them to roll out the 5G network quickly once the licenses have been awarded." Proximus will not wait for the auction. Last year, 5G-light was already rolled out on an existing spectrum, while 5G is available via a test spectrum in Bruges and Leuven, among other places.
Lever
"It is expected that 5G will create between 40,000 and 80,000 new jobs by 2030," said Petra De Sutter. Those numbers suggest that we should view 5G as a lever. It is the technology that should bring Industry 4.0 and the Internet of Things, among others, to the next level. "5G creates completely new opportunities in terms of efficiency, productivity and customer experience," says Dieter Somers, digital transformation advisor at Voka. "Among other things, in the healthcare, manufacturing and energy sectors, this will bring major benefits."
"In the energy sector, 5G will help with the introduction of so-called 'smart grids'. These are smart electricity grids that are equipped with sensors that collect and transmit data. Based on this data, the power supply can be adjusted automatically. In this way, the necessary electricity reaches the end user faster and reduces CO2 emissions," Dieter Somers explained.
5G connects different forms of innovation: AI, robots, the cloud, etc.
Gaetan Dewingaerden, Head of 5G at Proximus
The key lies in the assurances that 5G offers in terms of the capacity and speed of mobile data. "5G is a general purpose technology," says Gaetan Dewingaerden, Head of 5G at Proximus. "It is capable of changing the whole of society. We should see 5G not only as a lever for innovations, but also as the link between new technologies: AI, robots, the cloud, etc."
Three standards
But the road to 5G is certainly not a straight one, not yet anyway. Not only was the auction delayed, there is also the issue of radiation standards. "We are a bit behind in Belgium," says Tom Cassauwers, technology journalist and author of '5G, de ruggengraat van onze toekomst'(5G, the backbone of our future). Most of our neighboring countries already have 5G. The fact that the regions in our country have different standards does not help the cause."
The standards are particularly strict in Brussels. "Radiation standards are not a federal competence," said Petra De Sutter, "but we do help inform businesses and citizens so that everyone knows that 5G will be available everywhere in a safe manner."
Usable applications
We can probably use the fact that we are a bit behind schedule in Belgium to our advantage. "Asia and North America are the pioneers. Once we, in the near future, have 5G in Belgium, there will already be many useful applications available for all industries," said Gaetan Dewingaerden. But that would mean that 5G applications would mainly come from abroad, which may mean a missed opportunity for Belgian players. Gaetan Dewingaerden: "We have anticipated this and with our 5G innovation platform, companies can co-create their ideas for 5G applications within an ecosystem of partners."
"It is clear that the business world is eagerly awaiting 5G," said Petra De Sutter. "In addition, we must not forget that 5G benefits everyone, also consumers. 5G is an essential driver of the dual transition we are experiencing: digitalization and the fight against climate change." 5G opens the door to smart applications that help us monitor and manage energy consumption better and more efficiently. This way, the digital and green transition run concurrently."
Wondering if 5G can make the difference also for your company?
One
One magazine is the Proximus B2B magazine for CIOs and IT professionals in large and medium-sized organisations.
Other articles of One