5G opens up a world of new potential for companies
Published on 01/07/2019 in Solutions & services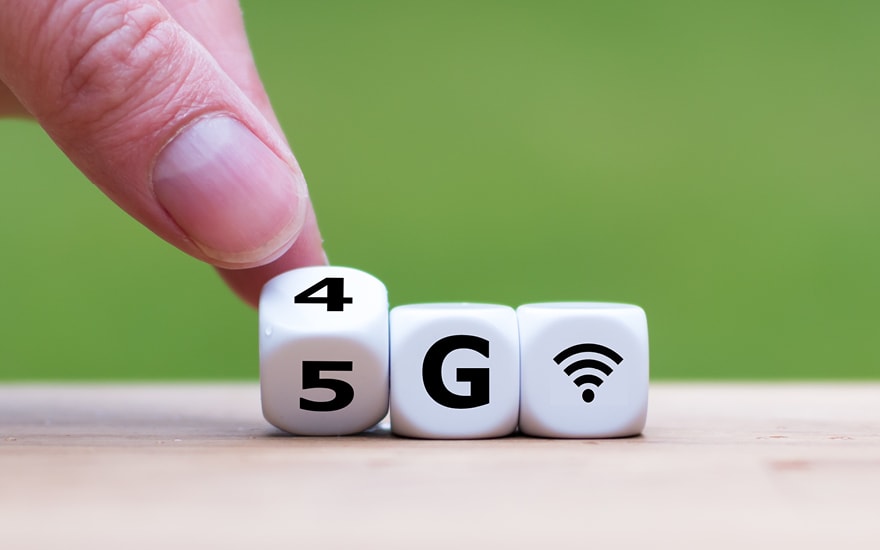 5G is far more than just an upgrade from 4G. Self-driving cars, companies that follow up construction or road works using drones and more. Danielle Jacobs, CEO of Beltug, on the impact of 5G on Belgian companies.
First and foremost: why is a mobile network so important for companies?
Danielle Jacobs, CEO at Beltug: "Because people and devices can no longer do without it. Your employees, customers, suppliers… a lot of people work at home and on the road, at customers', for instance. They often work with cloud applications which most companies use these days, and which have to be available from various locations via the mobile networks. And a lot of companies fit sensors to their equipment. To find out where a load or a vehicle is, for instance."
And you? What potential benefits could IoT offer you?
How can a mobile network and Wi-Fi work together?
Danielle: "A mobile network and Wi-Fi are actually complementary. They exist side by side and supplement one another. The mobile network is more for use on the road, when distances are crossed, while Wi-Fi can be used locally. We will soon be able to use Wi-Fi 6. That makes wireless connections faster and better."
There is a big difference compared with 4G. In theory, 5G is 100 to 200 times faster and there is hardly any delay on the network.
Danielle Jacobs, CEO at Beltug
What business needs does 5G offer an answer to?
Danielle: "The name 5G is not really appropriate. There is a big difference compared with 4G. In theory, 5G is 100 to 200 times faster and there is scarcely any delay on the network. And because quality can be guaranteed, you can conclude a service level agreement."
"A whole new world of applications is opening up for companies. Just think of the real-time follow-up of trucks, so that unloading can be organized efficiently. Or self-driving cars that have to stop immediately when sensors indicate an object in front of the car, even if it's a cyclist round the corner who is not yet visible."
How does 5G influence the digital transformation of companies?
"Our members are right in the middle of their digital transformation. The way in which we can serve our customers better and improve their experience is part of this. Thanks to 5G, the possible applications are revolutionary. Pioneering companies are already thinking about the new potential."
"5G speeds this up enormously. Logistics companies, for instance, now use tracking information. With 5G, they can see in real time where their trucks are, they know exactly when they arrive and they can gear their loading, loading and stocks management to this."
What role does security play in the success of 5G for companies?
Danielle: "Security is always a priority, but small companies in particular are not yet sufficiently aware of how important it is. Just one-third of all companies secure their mobile devices. So we still have a long way to go. And with 5G security is even more important. A lot of awareness-raising, money and effort will be needed to ensure that all companies realize the importance of security."
Our starter guide explains everything you need to know about building a successful and secure Enterprise mobility strategy.
Mobile working: is your company data protected?
Belgian politics are not ready yet for 5G. Are our companies lagging behind?
Danielle: "Sixty per cent of the companies affiliated to Beltug work internationally. If the new applications abroad work with 5G and not in Belgium, then Belgium will suffer a competitive disadvantage. A number of 5G-device providers are already saying that they aren't starting the roll-out in Belgium because our politicians haven't reached an agreement on licenses. That's blocking the country's economic future."