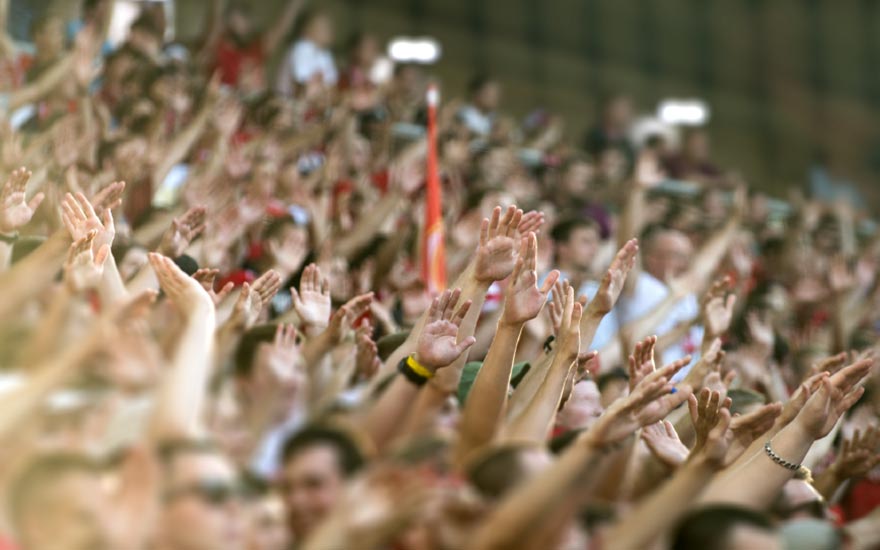 The Russian World Championships are rapidly approaching. Your company can benefit from the football frenzy that promises to take over our country this summer. We seek inspiration from some recent successes in marketing and advertising.
A survey in 2016 by Unizo, the Union of Self-Employed Entrepreneurs, demonstrated that four out of ten independent entrepreneurs took advantage of the football World Championships in France to carry out some kind of activity. At times this went beyond the usual writing on a window or football-inspired display. With a little imagination entrepreneurs can turn the amazing ambiance generated by every big football match to their advantage.
Bread in the Belgian tricolor
For example, take Bart Schelstraete, the baker from Zottegem who launched his 'Viva Belgica' bread two years ago: a loaf sporting the colors of the Belgian flag. 'We colored some ground rice and this was the result,' was the proud baker's comment at the time. 'Our entire bakery has been transformed with the Red Devil theme. The customers are over the moon and we have boosted our turnover by 25 percent.'
ECclairs
His colleague, Christophe Cupers, from Hasselt shared his enthusiasm in jumping on the band wagon. His especially-designed 'ECclairs' in support of the Red Devils achieved their goal in delighting the customers. 'We covered our eclairs in a tricolor chocolate shirt. We then used white chocolate to write the name of a Red Devil alongside it.' The result looked and tasted magnificent.
Red devil in beer crates
Another example came from Dominique Bevernagie, a drinks retailer in Lichtervelde. In the run-up to the EC in 2016 he built a tower of beer crates several meters high in his car park and used mosaic to create the head of a red devil against a yellow background. 'I wanted to do something to attract people's attention,' claimed the manager. And he was certainly successful. 'Beer and football are the perfect match, so I just couldn't resist the opportunity.'
Discount for every goal
The Netherlands failed to qualify for Russia, which is a big disappointment for many businesses. As an online clothes store belonging to Ingrid and Ellen Reuvers, Hippest.nl have never failed to get the most out of the orange craze. 'The internet is our shop window,' said the sisters. 'If you want to stand out you need to be creative.'
And they certainly were. 'During the group stage of the tournament, customers received a discount on their orders during or after the competition. If the Netherlands got through to the semi-finals then a further 10 percent discount was added with every goal. However, with every opposing goal 10 percent was taken off again.' Online shopping seldom gets more exciting than that.
Let's hope it's another worthwhile World Championships. Not only for the Red Devils, but also for you and your business.