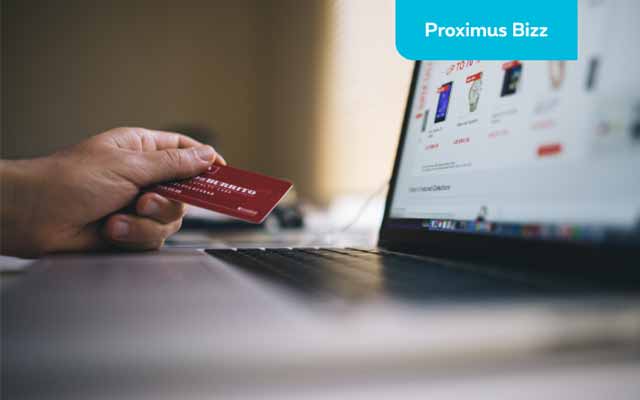 For many entrepreneurs these days, a webshop has become an essential sales channel. Both in their own interest and in the interest of customers, such webshops must be properly protected.
So be sure to involve an IT specialist. These tips will help you along the way.
Stealing credit card data, filching customer information or simply making off with goods... cybercriminals have scores of reasons for breaking into webshops. This costs entrepreneurs a lot of money and damages customer confidence.
The right platform
The first step towards a properly protected website is choosing the right e-commerce platform to use. Don't hesitate to ask the platform makers what steps they have incorporated to keep everything safe and request the assistance of an IT specialist, recommended by Proximus.
For instance, check what disaster recovery plans there are and ask about back-ups. It is a good idea, for example, to arrange for the website back office to run solely on your internal network and not on machines that depend on the Internet.
Of course, you should also make sure that the software and devices you use are always up to date and have the latest (safety) solutions.
Suspect transactions
With a good system for your website, technically it is perfectly possible to detect suspect transactions yourself. For instance, the system can warn you if various suspect transactions come in from the same IP address, when the same people place different orders with different credit cards or when orders have to be sent to addresses other than the place where the credit card is registered.
Safe connection
A good website also has several defensive walls with different obstacles that will eventually make even the most persistent hacker give up. A protected connection to finalize transactions and safeguard payment data is a first step. In addition, it is best to invest in a good firewall for your network.
There is absolutely no need to constantly save all this payment information (credit card numbers with expiry dates) on your own systems. If you do not keep them, they cannot be stolen.
Safe password
One final but important tip: don't allow your customers to choose obvious passwords. Set up your system so that passwords have to contain a minimum number of characters, including punctuation marks and figures.
An added bonus is that this also inspires confidence in your customers. To enhance that confidence, it is always a good idea to have a mark of quality for your webshop.