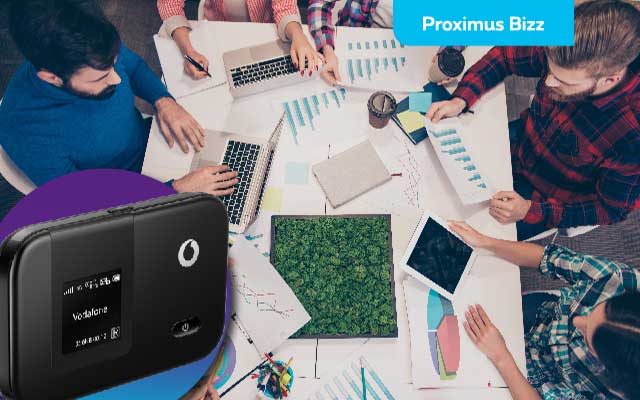 Wherever we go nowadays, we expect to find a wifi connection: on the road, at our hotel, at the customer's offices.
But when there's really no wifi available, you can use a mifi router to link 4G and wifi. The Vodafone Wi-Fi R216 4G router is one of those devices, and we've put it to the test. What is mifi? How does it help you? How does the R216 perform. We'll tell all in this test.
What is Mifi?
The mifi router (mobile wifi) is quickly explained. It connects to a 4G network and provides a wifi hotspot for your mobile devices. This means that you can surf on wifi wherever a 3G or 4G network is vailable. That comes with some advantages: you no longer have to use your smartphone as a hotspot to surf on multiple devices at the same time and you can go online with devices that only have wifi (like certain tablets and your laptop).
If you don't have a 4G-capable smartphone, you can still surf at 4G speeds with the wifi connection. The maximum speed is limited to the speed offered by the 4G network, around 30 megabits per second, but that's really close to the speed of 'true' wifi.
Design
The R216 is produced by Vodafone and comes in a stylish, black device of about 10 by 6 cm. This means its easy to carry and fits into most jacket pockets without too much problems. The front has an on/off switch and an LCD display that gives you information about your connection.
Performance
The R216 can handle up to ten wireless devices at one time, offering a maximum download speed of 150 megabits per second. Maximum upload speed is 54 megabits per second. If there's no 4G network available, the device will automatically revert to a slower 3G connection. It can even switch down to EDGE or GPRS, but that will deliver speeds that aren't suited for modern day surfing. On the Proximus network, you should have 3G connection in the whole of Belgium.
The R216 comes with a 1,500 mAh battery. Connecting ten devices over 3G will drain the battery in about five hourse. Over 4G, that'll be about four hours. So, the less devices you connect, the longer your battery will last.
Extra features
A nice additional feature is the MicroSD slot that comes standard on the R216. This means you could store documents, images and other files on a MicroSD-card and share that content with everyone connected to your R216.
Vodafone Mobile Wi-Fi R216 4G-Router
Small, lightweight and handy
Pros:
Bring ten devices online simultaneously
Small, lightweight and handy
Speed close to 'true' wifi
MicroSD card slot to share files
Cons:
Battery-life is limited
Small reach