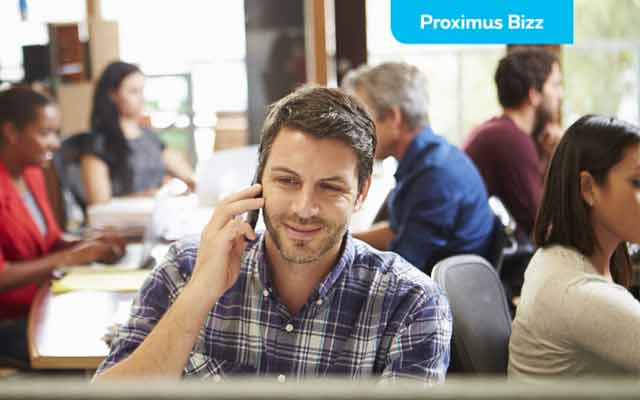 Your clients and business relations expect you and your team to be reachable at all times. Bizz Call Connect can help you do that!

This cloud solution allows you to handle all of your calls quickly and professionally on your landline and your smartphone.
Today's communication options are set to baffle even the most tech-savvy entrepreneur. You have business numbers and private numbers, you call on fixed devices and smartphones.
The challenge is to make sure every call gets connected to the right person, be it at home, in the office, on the road, with your or with one of your people. The goal is to remain reachable wherever and whenever you want to be, regardless of the phone number your customers or team members use.
Always reachable on the same phone number
Bizz Call Connect can help you clarify things. This solution ensures you are always reachable at one phone number, be it on your landline, your smartphone or your voicemail. Aside from that, every team member can have his own number.
If you want to, you can keep you mobile number hidden so, when you call with your smartphone, your customer will actually see your fixed number on his screen.
Answer calls in a professional way
You can transfer calls to the right person from your landline and your smartphone. If you want to, you can even do this automatically. For example: when your own line is busy, or you are unavailable, on certain pre-set times or depending on the phone number that is calling you.
Of course you can also choose your Music-on-Hold and personalise call menus. All of that helps you provide a professional service to your customers, during and outside of business hours.
Conference call
If you want to have a quick call with your team about a certain project, you can use the conference call functionality. That way, you can consult your team members, even when they are out of the office and only have their smartphone available.
Extensive package
Standard, Bizz Call Connect comes with two fixed phone numbers that let you call without limit to all landlines from all of your phones. Need more lines? No problem, you can extend this at any time to suit your own needs. You pay a monthly fixed fee per user, so you only pay for the lines you need.
Manageable via app and web
And last but not least: managing Bizz Call Connect is a piece of cake. You can do this via the Bizz Call Connect web portal, or even on the go via a smartphone app (iOS or Android).