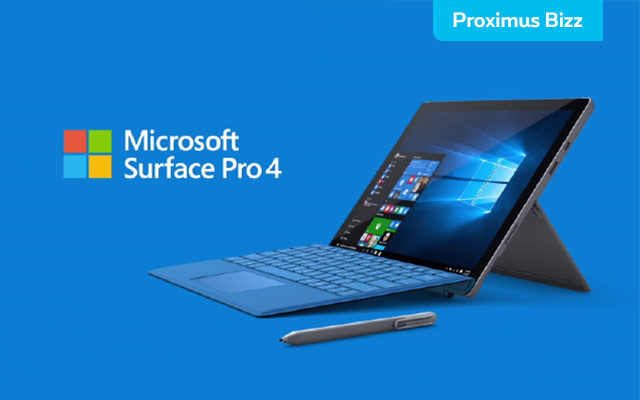 Looking for a tablet that can really replace your laptop? Microsoft's Surface Pro 4 is indispensable for exacting entrepreneurs. Extremely powerful, reliably efficient, more silent and better-cooled than its predecessors and equipped with a battery that can handle 9 hours of non-stop operation.
If you've had your hands on a Surface Pro 4 for a day, chances are you won't want to go back to your laptop. This is without a doubt a true laptop replacer.
The device features a crystal clear 12.3 inch screen, comparable to an A4-format. Under the hood: the most recent Intel processor, a must for demanding multitaskers. The Surface Pro 4 works on Windows 10 Pro and offers – as can be expected – full support for all Microsoft Office solutions.
With the newest Windows 10 companies can now manage future updates how and when they like, thanks to Windows Update for Business.
The specific Windows Store for Business, Mobile Device Management (MDM) and Azure Active Directory Join provide everything you need to keep your business going via your tablet.
Want to see more specs? How about the 128 GB SSD hard drive and 4 GB RAM on the standard Pro 4. Other types manage 256 or 512 GB storage and an 8 or 16 GB RAM. Peripherals connect via USB 3.0.
Optimised security with Windows Hello
Security has been a hot topic for many years now and Microsoft has chipped in to provide optimal data protection. With Windows Hello passwords are a thing of the past. The 5 megapixel front camera allows you to login through simple 3D facial recognition, a feature that is not only convenient, but also very safe. Tests show that facial recognition works extremely well. This technology can, for instance, recognise you with or without spectacles. It can even distinguish between two identical twins, as this short video from The Australian shows. Thinking about holding up a picture to the camera? Sorry, won't work!

Premium feel
With a weight of 786 gr, the Surface Pro 4 is slightly heavier than the average tablet, but still considerably thinner than most notebooks. The device's shell is metal with gives it a distinct premium feel. The built-in rear kickstand allows you to adjust the viewing angle for your comfort.

Natural stylus
The tablet comes with an advaced stylus. The Surface Pen lets you quickly jot notes, but with no less than 1024 pressure sensitivity levels, it's also very precise for drafting and drawing. The virtual eraser comes in quite handy. And just like with a real pen, you can click the top end. One click is all it takes to launch Microsoft OneNote. The stylus has a built-in battery, but Microsoft claims that a single charge is enough to work a whole year.
Not using the stylus? Then simply attach it to your Surface Pro 4's side with the powerful, built-in magnet.
Stability
Not included in the basic package is the keyboardcover with backlighting. The so-called Type Cover (€149,99) got a makeover with brand new keys and a glass trackpad that it bigger and more precise than ever. Magnets attach the Type Cover to your Surface Pro 4 in the blink of an eye. Compared to the previous version, the keyboardcovers is not only thinner and lighter, but also much more stable when you set the tablet in your lap. That really comes in handy when you're travelling by rail or airplane.
In short: combine the Surface Pro 4 with the Type Cover and you get the real, full laptop experience.
Microsoft's Surface Pro 4 is available now. Prices as from €999