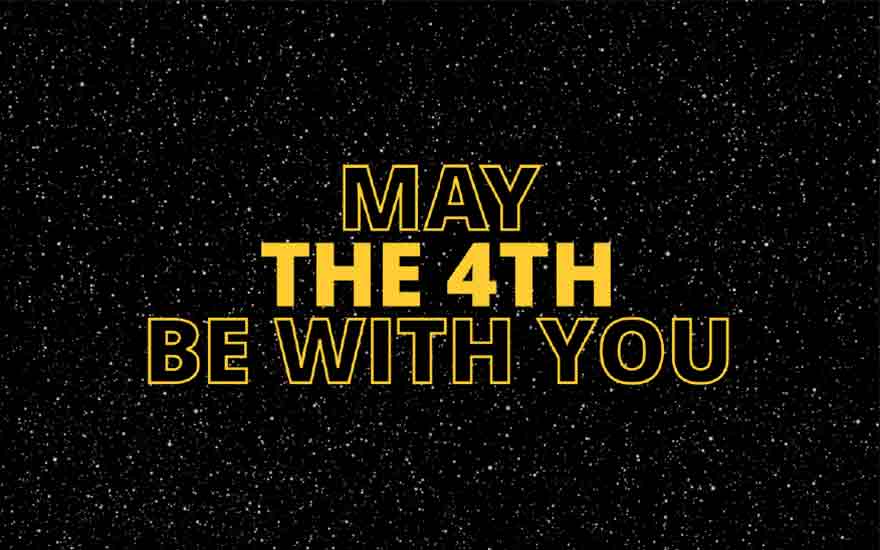 4 May is 'Star Wars Day', a date that all Star Wars fans have clearly marked in their diaries. Even if you are not so familiar with the world of Luke Skywalker and Han Solo, as an entrepreneur you can learn a great many lessons from the films. About presentations, for instance.
The familiar catchphrase from the film: "May the force be with you!" made 4 May (the fourth…) the obvious choice for Star Wars Day.
What can Star Wars films offer entrepreneurs, apart from entertainment? Well, more than you might think. Wise, Yoda-like lessons about giving presentations can be learnt from the films.
Seek the three key ideas
Try to limit the number of story lines in your presentation. Just as there is no time in a film to develop twenty-five different ideas, in a presentation, too, it's a good idea to limit yourself to a maximum of three ideas. That will make it a lot easier for your audience to remember your presentation. And don't get lost in the details. Assume that your audience has little prior knowledge and be clear and to the point. Just like The Empire Strikes Back, for instance. Not like The Phantom Menace.
Play on emotions


Emotions have no place in business, you hear people say. That's not true. Our entire lives revolve around emotions. Why should that suddenly change at the office? So don't hesitate to include some emotion in your presentation. You don't have to aim for tears, but an honest, experienced, witty, taken-from-life presentation will be remembered far longer than a dry list of facts and figures. Don't believe us? Which scene from Star Wars do you remember best? The ones with lots of emotion, naturally: the death of Obi Wan Kenobi, the explosion of the Death Star and of course, "Luke, I am your father!"

Show, don't tell


Which is the most exciting? Someone who tells you about a group of people trying to escape from a room where the walls are about to crush them? Or watching the same scene unfold before your very eyes? Exactly. Showing video images or photos often makes things far easier to understand, clearer and more convincing that just text. So use photos and videos in your presentations, too.

Come out from behind your desk


One of the simplest ways of attracting your audience's attention is to come out from behind your projector or your desk and stand in front of the screen. That way, your audience can see far more clearly that you are actually speaking the words that they hear. It also gives you the chance to use body language and gestures. Even here, you can use film techniques. For example, by stepping dramatically towards them when you want to make an important point. Just as Darth Vader does.
Read also:
Need to make an impact with a presentation to a (potential) customer? For that, you need a good projector.
Source: www.greatleadershipbydan.com/2017/02/six-ways-to-make-your-presentation-hit.html