Annelies Delmoitie: social media are the best marketing tools
Published on 27/10/2015 in Your stories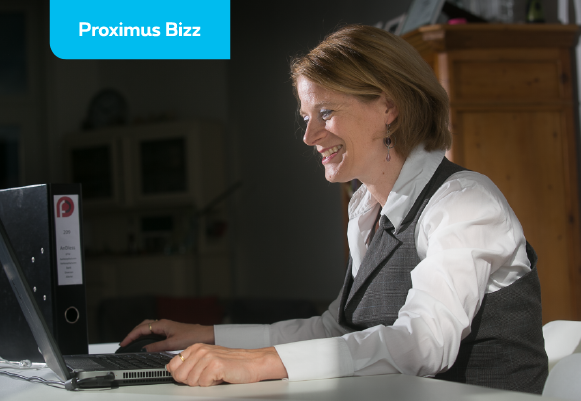 As an entrepreneur or small business owner, you usually don't wait around until customers come find you. Social media offer a simple and rather cheap tool for that. We asked Annelies Delmoitie, who offers free lance sales- and marketingservices, how this works for her.
Annelies Delmoitie started her own business after a 16-year span at a multinational. From big multinational to starter is quite a leap, especially since she now has to take care of her own promotion. To do that, she uses social media.
"LinkedIn is my biggest social media marketing tool," Annelies explains. "My account is linked to my own web site. Whenever I change something in my profile, it's automatically published on my own site too."
Recommendations
Annelies: "I've been in sales and marketing for 16 years, so marketing has become a second nature. As a starter, I have no choice but to do my own marketing and sales. Sites such as LinkedIn are excellent tools to achieve that. For me, it acts as a recommendation to prospective customers. They can see my curriculum and can immediately get a birdseye view of what I'm capable of delivering, especially since I always add new experiences to my profile."
Visibility
"After a course in social media, I took up the habit of conversing with people on LinkedIn, to reply on questions and to respond to messages. That keeps you on their radar for very little money, and that is really important. By remaining visible, I was invited to a breakfast with the mayor of Antwerp, where I met some new customers. Things keep moving that way. You meet people, you stay in touch and you're on your way."
Personal contact
"When I meet new people at a fair or seminar, I'll contact them the same night or the day after with a personal message, instead of the standard, preset LinkedIn message. You can't have a one-woman business and not promote yourself. I find it very easy to work this way. It works for me, but a lot depends on your line of business. A creative person might get more out of Pinterest or other media."
More than just LinkedIn
"I already had a profile on Pinterest, which gave customers a good idea of who I am. It lists books I've read or want to read, inspirational quotes and also a "Purple" board, because I live and breathe that colour. I've also made my first moves into the Twitter realm, mainly to share inspirational quotes, but I also intend to use it more often at the events I attend."
Professional vs personal
"I have a second Facebook profile for my company, just to connect to (ex-) colleagues and to post status messages about customers, trainings, seminars, etc. To me, Facebook is really a private thing. Colleagues don't need to know what my children have been up to. And that goes both ways: when I achieve something professionally, that is of no concern to my nieces and nephews."
Proximus Bizz team
A team of more than 40 experts bringing independent entrepreneurs and small companies the best ideas and solutions for their needs.
Other articles of Proximus Bizz team
Questions about our offers?
An advisor is at your service